Heart-Shaped Sweet and Savory Hand Pies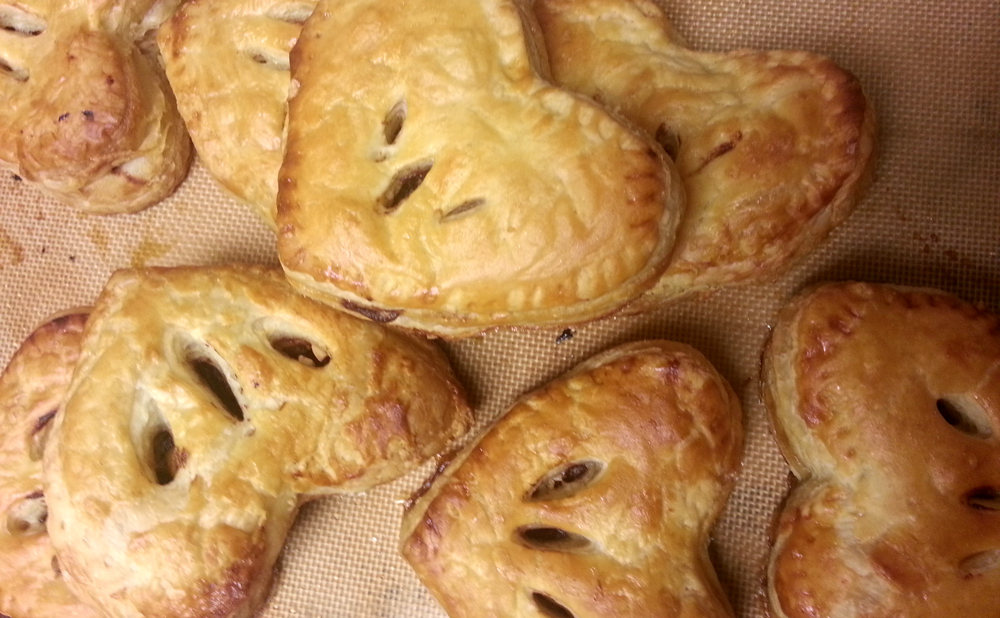 I've always been lucky to have exceptionally creative friends. It's fun, it's inspiring, and even better to be each other's cheerleader. Rebecca is one such friend, and I will live the rest of my life trying to impress her. I also credit her for introducing me to another exceptionally creative friend, Jordan from Oh Happy Day.
In the fall I enjoyed contributing food to a few of Jordan's gorgeous dinner parties, but lately we've been dreaming up treats and snacks for her fun new craft nights.  When I heard she was planning an evening making letterpress valentine cards, hand-held heart-shaped pies seemed like just the thing to nibble on between turns at the letterpress.
Is making something heart-shaped for Valentine's day too… uncreative?  Who cares?! When they are made of buttery pastry and oozing full of creamy goat cheese or chocolate, most people are prepared to forgive a lot.
Each guest received a little box with one savory and one sweet little pie- artichoke goat cheese for savory and chocolate hazelnut for sweet. We served them room temperature, so they would certainly fare well if you slipped a few into your Valentine's lunchbox.  But they are even better straight out of the oven. All you need to make these pies heart-shaped is a large heart cookie cutter.
More food and recipes as seen on Oh Happy Day.
Preparing the Pies
The technique for either filling is the same.  Start with good quality puff pastry – look for a brand that is made with butter, such as Trader Joe's (which is sadly seems to only be available around the holidays), or in the freezer section of nicer grocery stores.  In a pinch, the readily-available but non-butter Pepperidge Farm version will still do the trick!
Roll out puff pastry slightly to flatten it out.  With a large, heart-shaped cookie cutter, cut out two hearts for each pie.  Place half of the hearts on a cookie sheet lined with parchment or a silicone liner, and set the other half aside for later.
Beat an egg with a tablespoon of water and set aside. Pile a small amount of filling in the center of each heart, keeping about 1/2″ around the edges clear. Brush the edges with the egg mixture. Carefully place reserved pastry heart on top, and gently press down edges to seal, making sure to not let any filling ooze out.  Crimp edges with a fork. Brush top with egg mixture, and cut a few vents with a sharp knife.  Garnish artichoke pies with a sprinkling of parmesan if desired.
Bake at 400˚F for about 15-20 minutes, or until nicely browned.
Once cool, drizzle chocolate pies with melted chocolate.
Chocolate Hazelnut Hand Pies
Buy the big jar of Nutella.  Do it.
Filling:
Nutella

toasted hazelnuts*, chopped
When filling, start with spoonfuls of Nutella and top with toasted hazelnuts.
To toast hazelnuts: Pour hazelnuts into a pan or rimmed baking sheet. Place in 350˚F oven for about 10-25 minutes, or until skins have turne flaky and dark. A handful at a time, place hazelnuts in a clean kitchen towel (I've got a waffle-textured towel that's perfect for this) and rub in towel to remove loose skins.  Don't worry about the ones that don't easily rub off.
Artichoke Goat Cheese Hand Pies
This filling is endlessly adaptable for what you like- feel free to go cheesier or add extra vegetables and flavors like spinach, sun-dried tomatoes, or green olives.
Filling:
1 cup artichoke hearts (from frozen, or rinsed and well-drained from a can)

4 oz goat cheese, softened

2 tablespoons pesto

1/4 cup parmesan

1 egg

salt and pepper to taste
Chop artichokes somewhat finely, or pulse in a food processor.  Combine with other ingredients and season to taste.