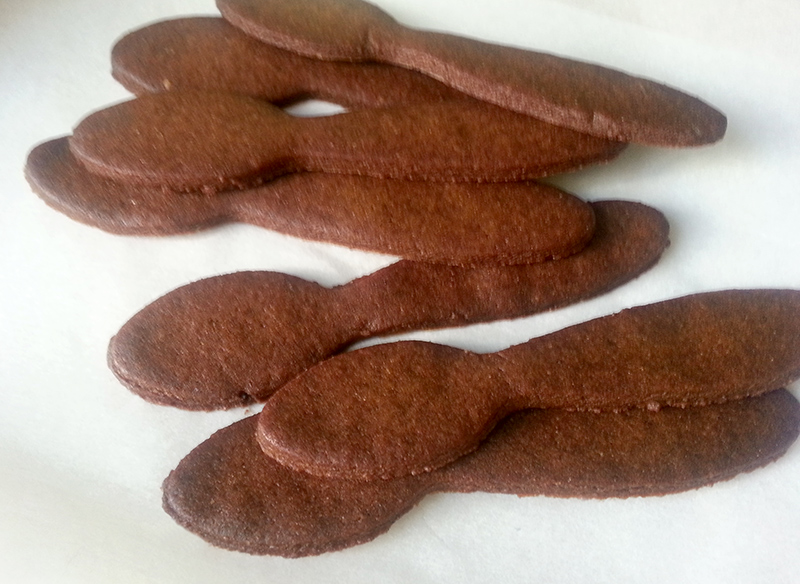 I've been haunted by the idea of edible spoons for years, and when my mom actually found me a tiny spoon cookie cutter a year or two ago, the feeling only intensified.  But I had never actually gotten around to make them.  So it was the first idea I pitched for snacks at the Calligraphy Craft Night for Oh Happy Day.
After a few less-than-successful attempts, I learned that crisp, sturdy cookies are the key to functional spoons, and tweaked my recipe accordingly.  The most difficult part was switching from butter to shortening, which goes against  everything I believe. But in this case it helps keep your cookies from spreading in the oven.
Find the full rundown and pictures over at Oh Happy Day!
I had to bend my cookie cutter to get the shape I actually wanted.  The end result was a spoon about 3 1/2 inches in length.
Don't worry if you can't find a spoon cookie cutter, you can always make custom cookie shapes by making a template of cardboard or thick paper. Just draw or print out your design and cut it out. Place the template on your dough, and cut around it with a small, sharp knife.
Serve with these adorable Key Lime Pot de Creme, or lemon sorbet.
Gingersnap Cookie Spoons
2 1/2 cups flour

1/2 teaspoon baking soda

1 tablespoon cinnamon

2 teaspoons ground ginger

1/2 teaspoon ground cloves

1/2 teaspoon salt

1/2 cup vegetable shortening

1/2 cup brown sugar

1/2 cup molasses

about 1 tablespoon water

 
Preheat oven to 350.
Blend together flour, baking soda, cinnamon, ginger, cloves, and salt in a bowl and set aside.
In a mixer, combine shortening and brown sugar. Add half flour mixture and combine, then molasses, then remaining flour mixture. Dough may be dry and crumbly.  Add water a tiny bit at a time, until dough comes together.
Roll out dough between two sheets of parchment as thinly as possible- about 1/16″. Cut out shapes and carefully transfer to cookie sheet lined with silicone baking mat or parchment.  Stick the dough in the freezer for a few minutes if it is too soft to transfer without distorting the shapes.
Bake in oven about 8-10 minutes, keeping a close watch.  Cookies will need to be firm to the touch coming out of the oven and browning around the edges in order to cool to a crisp cookie, but watch carefully for burning!
Allow to cool.  You can store cookies in an airtight container for about a week.