Mad Men Party Menu: Shrimp and Spicy Sausage Skewers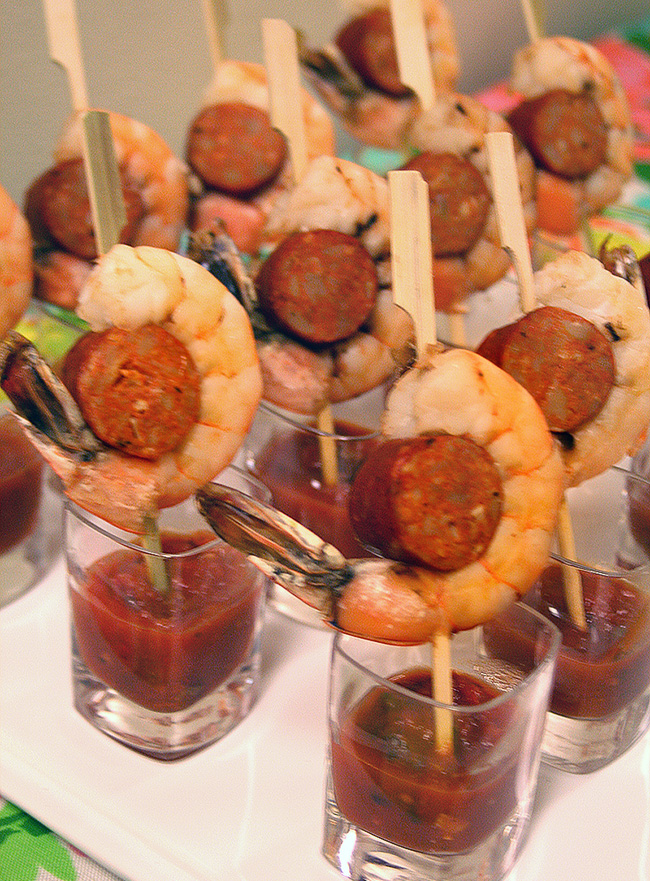 For the Mad Men-inspired party menu, I was trying to figure out a more flavorful and beautiful take on the retro classic shrimp cocktail. I love shrimp paired with sausage, so I didn't even have to think about it that long.  And everything is more beautiful (and more fun) on a stick.
Of course you can lay these skewers out on a platter with a communal bowl of sauce, but a little height and individual glasses of sauce take it to a Betty Draper level of chic. I don't really love the traditional cocktail sauce that is served with shrimp, so I made an easy puttanesca sauce for dipping instead.  It makes the whole thing a little more special. But, you can make this a very easy appetizer to serve by using a bottled cocktail sauce instead.
The skewers stand up nicely in a shot glass filled with sauce. My shot glasses are the Strauss shot glassese from Crate and Barrel and I love them so.
Shrimp and Spicy Sausage Skewers
1 1/2 lbs raw giant prawns or shrimp
1 package (4 links) andouille sausage (fully cooked, pork or chicken, or other spicy sausage)
puttanesca sauce (below), or cocktail sauce for dipping
Shell and devein shrimp if they have not been already (I left the tail on).  Slice sausage into fat rounds, about the same thickness of the shrimp at it's widest. Wrap shrimp around the round side of the sausage and thread onto a long skewer.  Make sure the skewer goes through both ends of the shrimp.
Place skewers on a broiler pan, and place under broiler for a few minutes, watching closely. Once shrimp has turned opaque pink and the sausage starts to brown, remove from oven a flip over each skewer.  Return to broiler and remove once the other side has turned opaque pink and the sausage has just browned.
Serve with puttanesca sauce or cocktail sauce for dipping.
Easy Puttanesca Sauce
1 28 oz. can whole peeled, diced, crushed, or pureed tomatoes, with juices
1 onion, peeled and halved
4 tablespoons butter
1/4 cup chopped parsley
1/2 tsp red pepper flakes
1/4 cup chopped olives
2 tablespoons chopped capers
Salt and pepper, to taste
Combine the tomatoes, onion, butter, and  in a saucepan over medium heat. Bring the mixture to a simmer, then reduce the heat to keep the sauce at a low, steady simmer. Stir occasionally, crushing any large chunks of tomato. Simmer about 30 minutes. Add olives and capers, and continue to simmer until extra liquid has been reduced, about 15 more minutes. Remove from the heat, discard the onion chunks, and add salt and pepper to taste.
More from the Mad Men Inspired Party Menu here.