Mad Men Party Menu: Fresh Fruit Terrines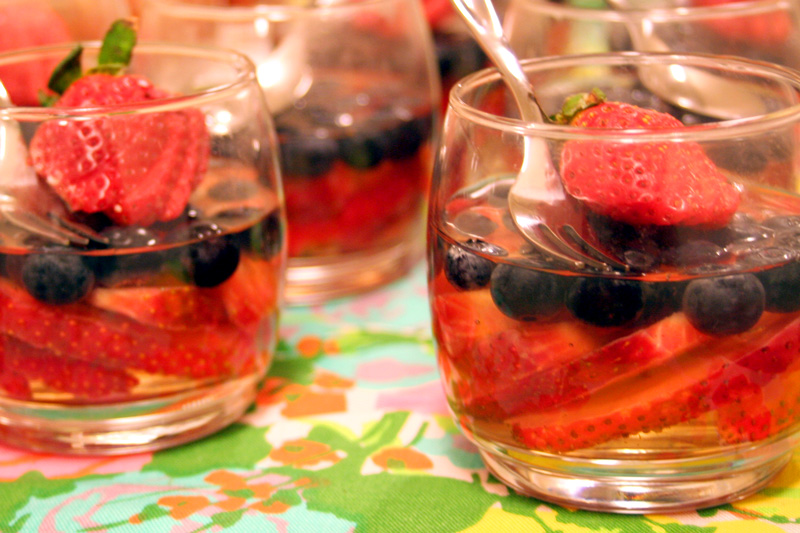 You really can't have a retro menu without something encased in gelatin. Did you know that previous generations had access to celery-flavored Jello? I found a long-forgotten box in my grandmother's pantry once and it blew my mind.
So for the Mad Men Party, savory gelatins were out because I'm not crazy and fruit is the only way to go. I modernized this gelatin dish by skipping the artificial flavor of Jello and made my own with actual fruit juice and unflavored gelatin. You can use whatever fruit juice you like for this, but I chose a clear white grape juice to show off the fruit inside. The end result is a fresh-tasting, refreshing treat to balance out the richer menu items.
I wanted to make nice layers of fruit so I erred on the side of caution and didn't put all the fruit and gelatin at once. I created a thin layer without fruit first and refrigerated until barely set, then added the strawberries in a neat layer, poured the the gelatin mixture to cover and refrigerated again, and then created the last layer before putting it back to finish setting completely. I imagine if you don't need the layered effect you could throw in all the fruit and gelatin mixture at once and still have a lovely result.
For a previous retro-inspired dinner party I made a similar dish as one big mold, where it was the surprise hit of the night. For this appetizer-centric party, I instead chose to serve in individual drinking glasses. I fully intended to top each with a dollop of creme fraiche, but it sadly it fell victim to my tendency to always leave one thing at home in my fridge. I will never learn.
Fresh Fruit Terrines
Serves 8
2 (7 gram) envelopes unflavored gelatin
1/2 cup cold water
2 1/2 cups fruit juice (such as white grape juice), divided
fresh fruit, sliced for layering (such as strawberries and blueberries, avoiding these)
creme fraiche or whipped cream for topping (optional)
Pour the cold water into a small bowl. Sprinkle the gelatin over the water and allow to stand for about 10 minutes. Do not stir.
Meanwhile, heat 1 cup of the juice in a medium saucepan until almost boiling. Turn heat to low and add the gelatin mixture. Stir until the gelatin is completely dissolved, just a few minutes, not enough to bring the mixture to a boil. Remove from heat and stir in the remaining 1 1/2 cups of juice.
Arrange fruit in mold or individual glasses. Pour mixture over the fruit and carefully transfer to refrigerator. Refrigerate for 6 hours or more, until completely set.
To create layers:
Pour a small amount of mixture in bottom of mold or individual glasses. Carefully transfer to refrigerator and chill for about an hour, or until set.
Arrange first layer of fruit (I used a skewer to move around pieces of fruit in narrow glasses). Pour gelatin mixture over to cover. Return to fridge for another hour, or until set.
Repeat process with last layer of fruit. Return to fridge for 4 hours or more, until completely set.
More from the Mad Men Inspired Party Menu here.