Heirloom Tomato Panzanella with Kalamata Olives and Fresh Mozzarella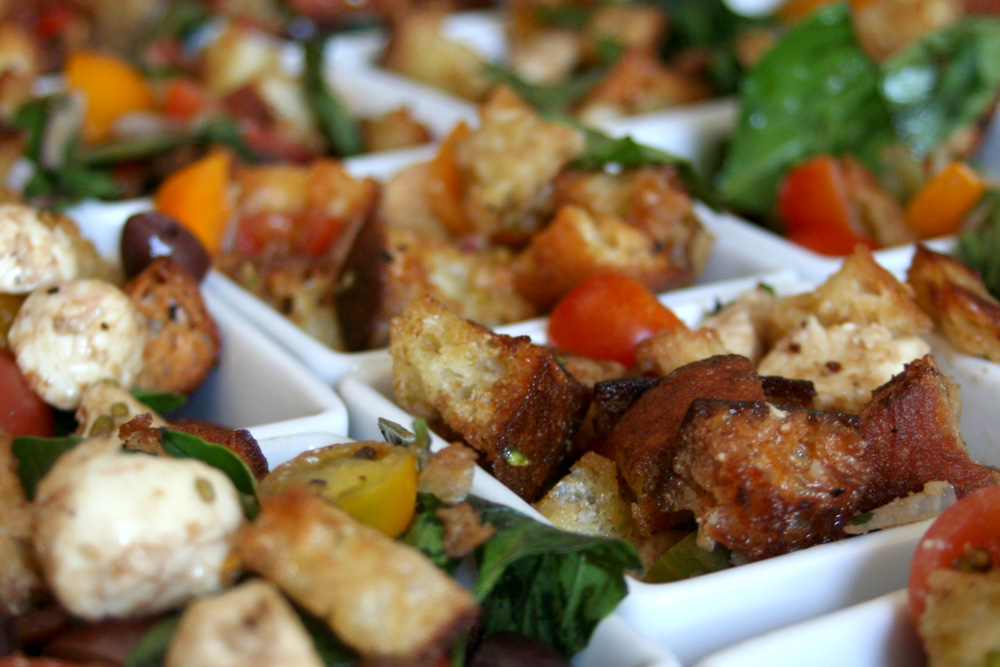 Panzanella, otherwise known as bread salad, was kind of a hard sell for me. I was envisioning something really soggy or really crispy like croutons. In reality it is neither, and is better than I ever imagined. It's like bruschetta in a bowl!
You can throw anything into a panzanella, but this version is inspired by a caprese salad with the never-fail combination of tomatoes, basil, and fresh mozzarella. My brilliant mother suggested the addition of some kalamata olives. The end result is colorful, bursting with summer flavor, and satisfying!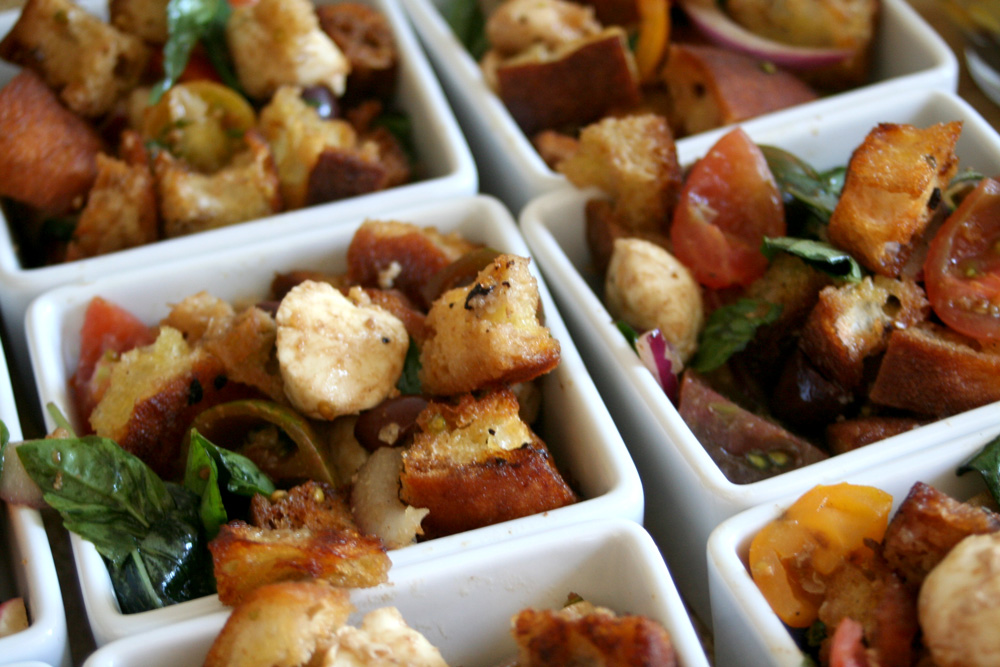 Do ahead prep on this dish for Jordan's Housewarming Open House worked surprisingly well- I toasted the bread well in advance and stored it in a plastic bag. I then chopped up all the vegetables and cheese and threw them into a large container (large enough to eventually hold the bread as well). I didn't even bother to stir things up at this point, just stuck in the fridge until right before the party. Then I tossed the bread into the container and stirred everything up, drizzled in the olive oil and balsamic vinegar, and tore in some fresh basil leaves. Done!
We divided the salad into these beautiful ceramic bowls, ready to be grabbed by a guest. But this also is beautiful served on a platter as a light summer dinner or as a side at a barbeque or picnic.
Heirloom Tomato Panzanella with Kalamata Olives and Fresh Mozzarella
1 lb loaf ciabatta bread (or similar), chopped into approx. 1 in cubes (about 6-8 cups)
1/3 cup olive oil
3 cloves garlic, minced
1 lb heirloom (or other fresh) tomatoe, chopped
1/2 red onion, thinly sliced
1/2 cup pitted kalamata olives, halved
1 lb fresh mozzarella cheese (I used the small Bocconcini balls), chopped (or halved for balls)
1/4 cup fresh basil leaves, chopped or julienne
1/4 cup olive oil
2 tablespoons balsamic vinegar
salt and pepper
Preheat oven to 400°F.
Spread bread out on a baking sheet and drizzle with 1/3 cup olive oil. Top with garlic and salt and pepper. Toss until well coated. Bake in oven for 15 to 20 minutes until a little crisp and golden. Remove from oven and allow to cool.
In a large bowl, toss tomatoes, onion, olives, and mozzarella. Add in bread cubes and toss until combined. Add basil and drizzle with the 1/4 cup olive oil and the balsamic vinegar. Toss until combined and allow salad to sit for about 20 minutes to allow bread to soften and blend flavors.