Easy Make Ahead Cream Biscuits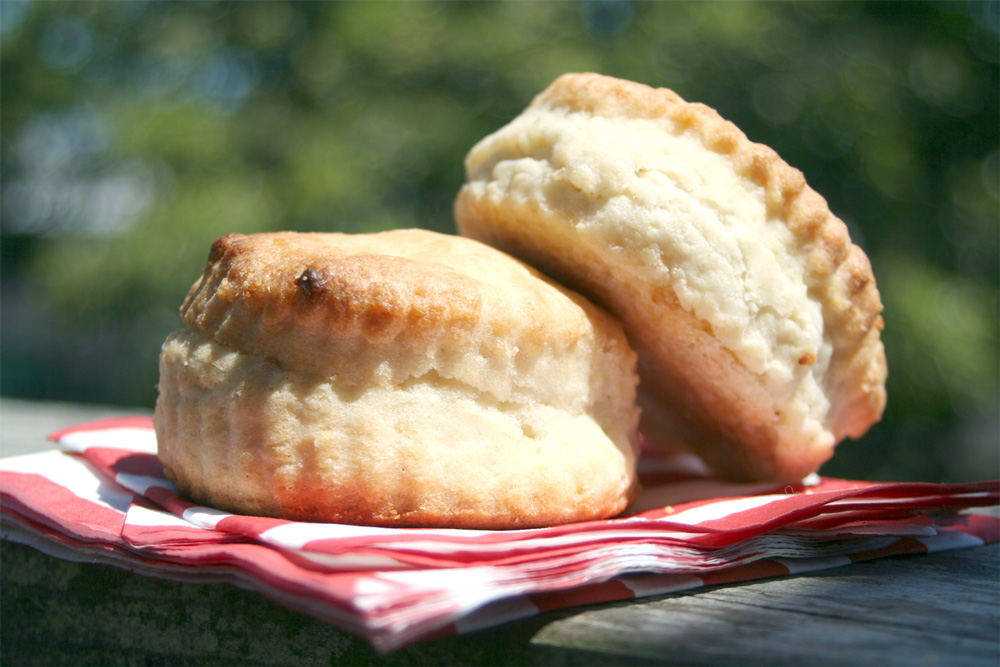 I love biscuits, but haven't been completely in love with any previous recipes I've used so I went trolling for a new one for the Kentucky Derby party. Cook's Illustrated saves the day, since this recipe is a keeper. And for once, Cook's Illustrated has the easiest method, which never happens. Love you, Cook's Illustrated, don't ever change.
The most surprising thing about these biscuits is the absence of butter or shortening.  The usual (sort of annoying) step of cutting in cold butter or shortening is replaced by simply stirring in cream. They really couldn't be easier.
Biscuits really only have a window within a few hours of being made where they taste fresh, which can be limiting. Thankfully, just about any biscuit recipe can be made ahead up to the point of putting them in the oven- get them all ready to go on a baking sheet, cover with plastic wrap, and stick in the freezer until ready to bake. You can stick the whole sheet in the oven directly from the freezer, no thawing necessary. They will just need a few extra minutes of baking time.
For the Derby, of course I served these with a sausage gravy for smothering.
Easy Make Ahead Cream Biscuits
Adapted from Baking Illustrated, makes about 12-16
4 cups flour
2  teaspoons sugar
2 teaspoons baking powder
1/2 teaspoon salt
1 1/2 cups cream
If baking immediately, preheat oven to 425. Prepare a baking sheet with a baking mat, parchment paper, or light layer of cooking spray.
Whisk together the flour, sugar, baking powder, and salt. Add cream and stir until mostly incorporated and a dough has started to form. Transfer to a lightly floured surface and knead about 30 seconds, or until smooth.
Pat dough to about 3/4 to 1 inch thick. Cut dough into rounds or squares using a sharp cutter or knife. Place onto baking sheet. If freezing for later, cover in plastic wrap and place in freezer. Heat oven to 425 when ready to bake.
Bake about 15-20 minutes if baking immediately, or 20-25 minutes if baking from frozen.
See more from the Kentucky Derby Party Menu.