Asparagus Salad with Oranges and Tomatoes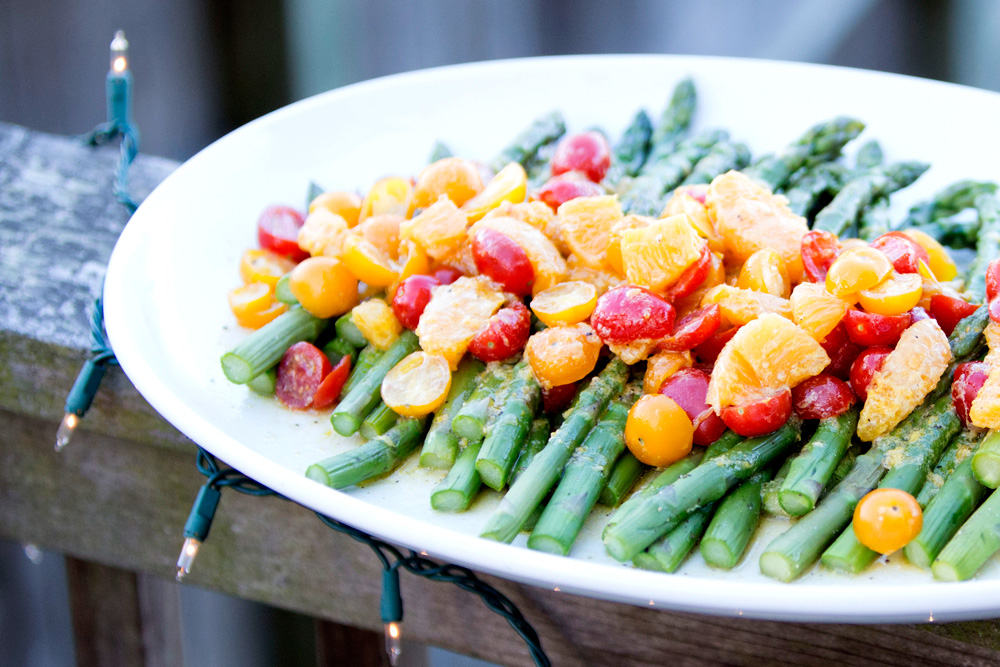 I like to think my Kentucky Derby party menu had an authentic amount of butter, cream, and bacon but I did need a lighter dish to balance things out a bit. At some point in my research I came across mention of a Southern dish of asparagus with an orange dressing. Is this a traditional Southern dish?  I have no idea! I ran with the idea anyway and whipped up a zesty orange vinaigrette and topped off the asparagus with fresh and flavorful oranges and tomatoes.  It's an unexpected but favorite flavor combination of mine. And I love the way this salad practically glows.
Asparagus Salad with Oranges and Tomatoes
2 pounds asparagus
1/2 pound cherry tomatoes
2 or 3 oranges
Trim off bottoms of asparagus spears. Bring a large pot of salted water to a boil. Add in asparagus and cook just for a few minutes, until bright green and still mostly crisp. Drain and rinse with very cold water until asparagus is fully cooled and cooking has stopped. Toss with a little of the orange vinaigrette.
Halve the cherry tomatoes and section the oranges. Toss together with a little of the orange vinaigrette. Arrange asparagus on a large platter and top with tomatoes and oranges. Drizzle with more vinaigrette if desired.
Orange Vinaigrette
zest of 2 oranges
1/2 cup orange juice
juice of 1 lemon
1/2 cup olive oil
1 teaspoon dijon mustard
1 coarsely chopped shallot
salt and pepper
Set aside orange zest, and blend everything else in the blender until shallot is finely chopped and dressing is fully combined and emulsified. Stir in orange zest and season with salt and pepper to taste.
More from the Kentucky Derby party menu.
photo by Adam Findley