Bluth Frozen Bananas and Ice Cream Sandwiches with Homemade Chocolate Cookies and Gelato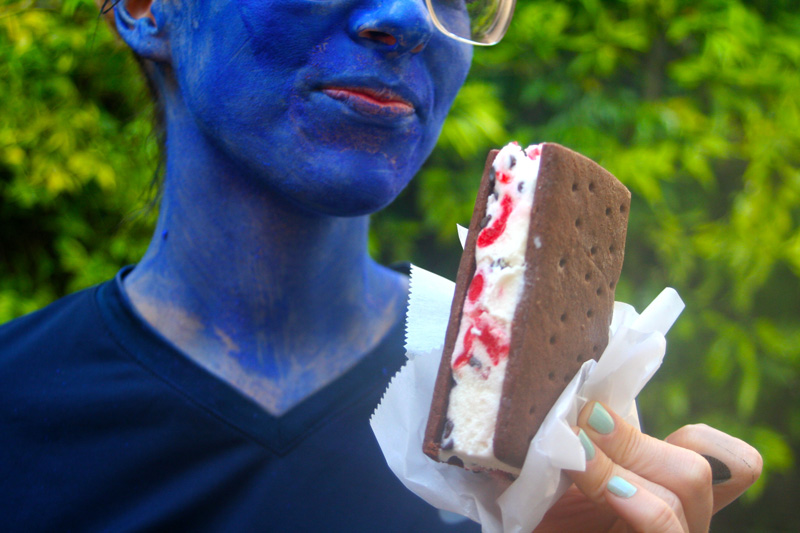 I really do want to marry these ice cream sandwiches. The outside is my favorite chocolate cookies, and the inside is my favorite, easy to make gelato. It's made from just a few pure ingredients and tastes so fresh and light and intensely vanilla. It also doesn't freeze to a solid brick when stored in your freezer. I love it when the easiest recipe and the best recipe are one and the same.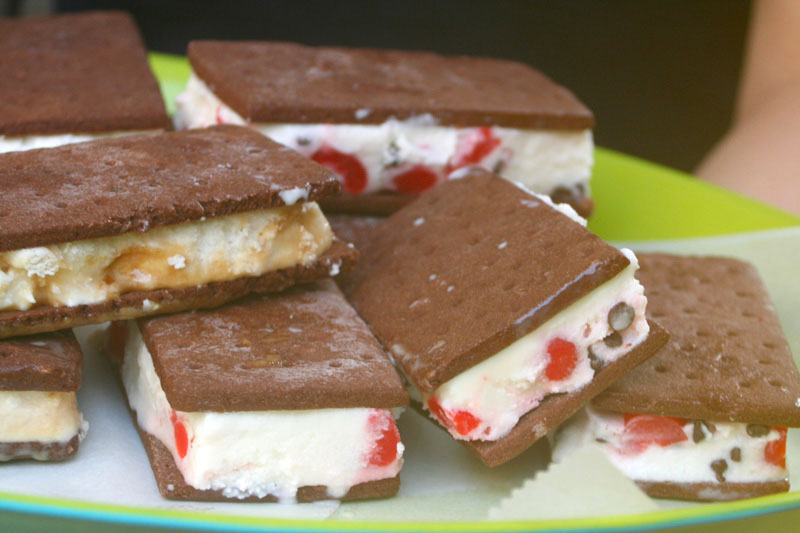 Of course you can use a store-bought ice cream or gelato instead. I made several batches and made each batch a separate flavor by just folding in a few toppings. One batch got chopped maraschino cherries and mini chocolate chips, and another got a swirl of salted caramel sauce. Don't ask me to pick a favorite, I CAN'T CHOOSE.
The technique of assembling the sandwiches is pretty cool. Simply spread the soft gelato (or softened store-bought ice cream) in a lined pan, checking for the desired thickness. Then you freeze this until it's firm enough to cut to the same size as the cookies.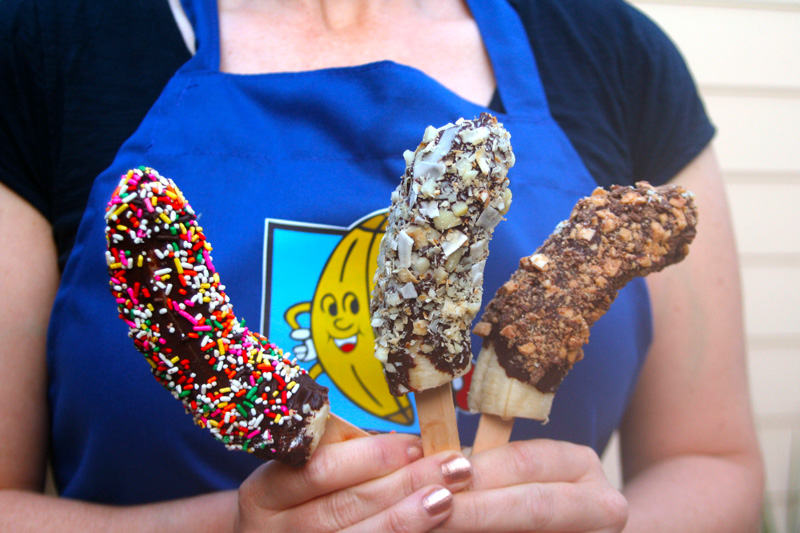 The frozen bananas are just crazy easy. You don't even need to be Mr. Manager to master them.  They are also accidentally the healthiest party dessert I have ever made. Good thing I rolled most of them in toffee pieces to negate that a little.
More from the Arrested Development party menu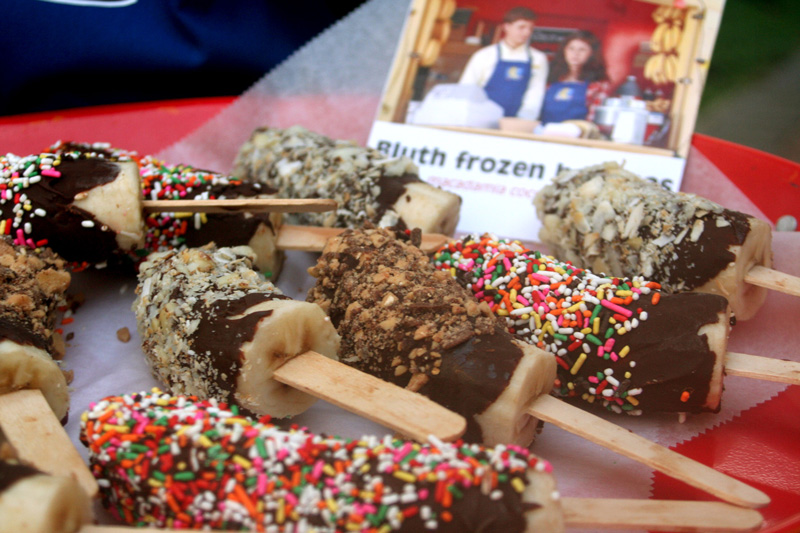 Bluth Frozen Bananas
Bananas (a little on the green side)
2 cups chocolate chips or chopped semi-sweet chocolate
about 1/2 cup vegetable oil
garnish (I used chopped toffee, a combination of chopped macadamia nuts and toasted coconut, or sprinkles)
Peel bananas and carefully insert a popsicle stick in one end (I cut off about the bottom third or fourth of the banana first to make this easier and create a shape that was easier to work with). Place bananas on a cookie sheet lined with parchment or waxed paper and freeze for at least 15 minutes, or until solid enough to work with and not fall off the stick.
Combine chocolate chips and about 1/4 cup of the vegetable oil in a double boiler or in the microwave and heat until melted (stop to stir it every 20-30 seconds to prevent burning).  Check the chocolate for thickness- a thick chocolate will make a very thick coating. Add more oil as needed until not too thick (mine was about the thickness of maple syrup). Dip one banana in the chocolate until coated.
Working very quickly, roll in desired toppings, as the chocolate hardens very quickly after hitting the cold banana. Place completed bananas back on the parchment-lined cookie sheet and return to freezer. Can be made many days in advance.
Ice Cream Sandwiches with Homemade Chocolate Cookies and Gelato
Makes 8
For Assembly
1 batch chocolate cookie dough (below)
1 batch easy gelato (see below) or about 1-1.5 quarts other ice cream or gelato, softened
mix-ins such as maraschio cherries and mini chocolate chips, or salted caramel sauce
Heat oven to 350.
Roll out cookie dough to about 1/8″ thick. With a clean ruler and sharp knife, cut into 2×4″ rectangles. Carefully transfer to baking sheet lined with parchment or silicone baking mat. Poke holes in each cookie with a sharp skewer for decoration.
Bake for about 10 minutes (will vary depending on thickness of your cookies), until cookies have firmed up around the edges.
Meanwhile, line an 8×8″ square pan with foil (you may use another size pan if you prefer, this size pan is what gave me the height I wanted for the gelato once spread out. You may need more ice cream or gelato to get a good thickness with a larger pan), going up the sides so a little foil hangs over the edge of the pan. Smoothe out as many wrinkles as possible. Spread gelato straight from ice cream maker (or softened store-bought) into pan. If adding mix-ins, sprinkle over the top and stir in slightly with a knife. Level off the top and place in freezer until very firm, about 3 or 4 hours.
Working quickly, remove foil and ice cream from pan and flip onto a cutting board. Discard foil. With clean ruler and sharp knife, cut 2×4″ rectangles of the ice cream. Press rectangle between two chocolate cookies. Place in a pan or container lined with waxed paper or parchment. Return to freezer to firm up again before serving, about 2 or 3 hours. Can be made many days in advance.
Chocolate Cookie Dough
This is a half recipe of my favorite, go-to chocolate cookies. Full recipe posted here. Adapted from Smitten Kitchen.
1 1/2 cups flour
1/4 teaspoon salt
1/4 teaspoon baking powder
1/2 cup  butter, softened
3/4 cups sugar
1 egg
1/2 teaspoon vanilla extract
1/3 cup unsweetened cocoa
Cream together butter, sugar, eggs, vanilla, and cocoa until well combined. In a separate bowl, whisk together flour, salt, and baking powder. Add to cocoa mixture and continue beating until fully incorporated and smooth.
Cover dough and chill just long enough to make dough stiff enough for rolling out.
Easy Gelato
3 cups half and half (or half milk, half cream)
1 cup  sugar
1/2 vanilla bean or 1 teaspoon vanilla extract
Heat half and half and sugar over medium to low heat just barely bubbling and until sugar has dissolved. Remove from heat and add vanilla. Let cool to room temperature. Transfer to the refrigerator to thoroughly chill- about 3 or 4 hours.  Freeze in ice
cream freezer.
 More Arrested Development party ideas