Chocolate Cinnamon Babka Crown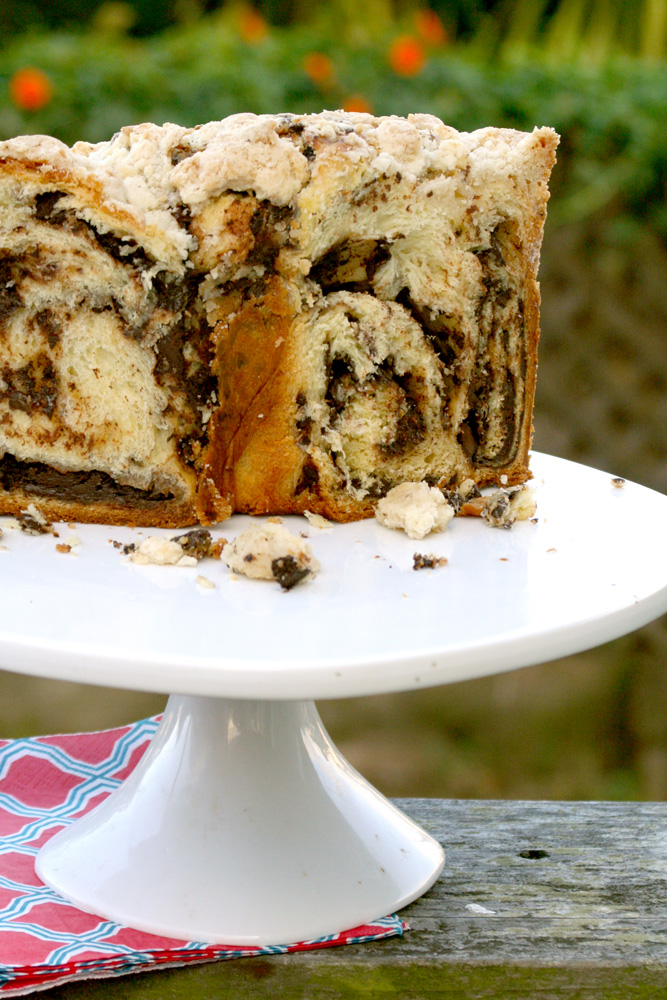 BRUNCH SHOWSTOPPER. That's what this is. It makes cinnamon rolls, prior brunch champion, look like a pile of garbage. Or health food.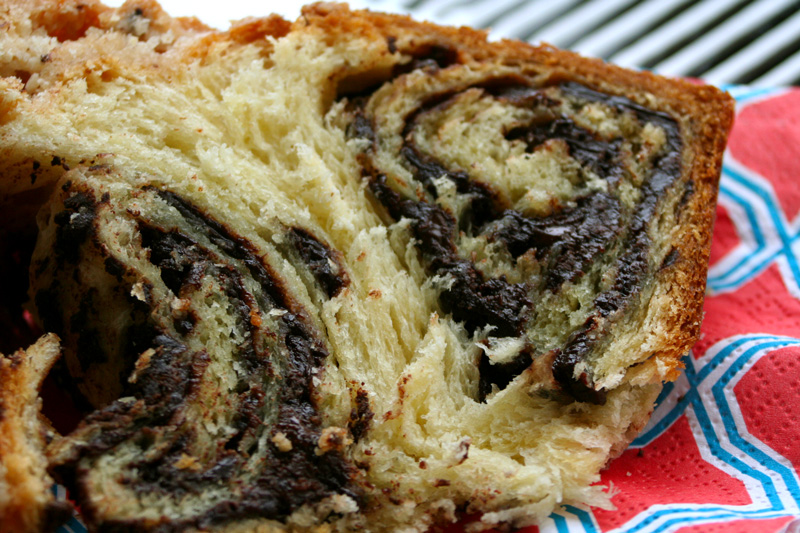 It's technically a bread, tender and buttery like a brioche or challah. But then it is stuffed to bursting with swirls of a sometimes crumbly, sometimes gooey filling of chocolate and cinnamon.
I'm not kidding about bursting- go ahead, look at the recipe and see how much chocolate is in this thing. It is not messing around.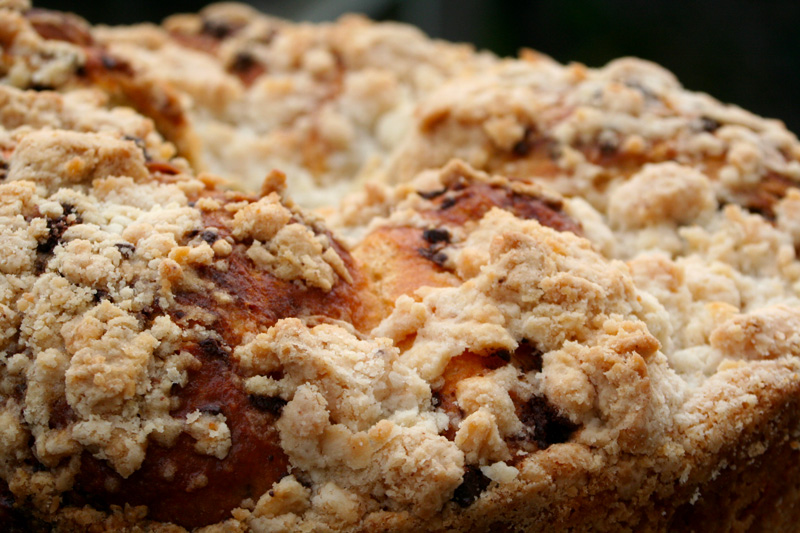 And then the whole thing is topped with a crumbly streusel topping. With more butter. Oops.
There was a time I only knew of the existence of babka from a Seinfeld episode. But then I stumbled across this recipe and it's been a brunch go-to ever since. This time I actually made it to share with my colleagues at the university, as we get ready for fall semester. It travels well and can be snacked on all day.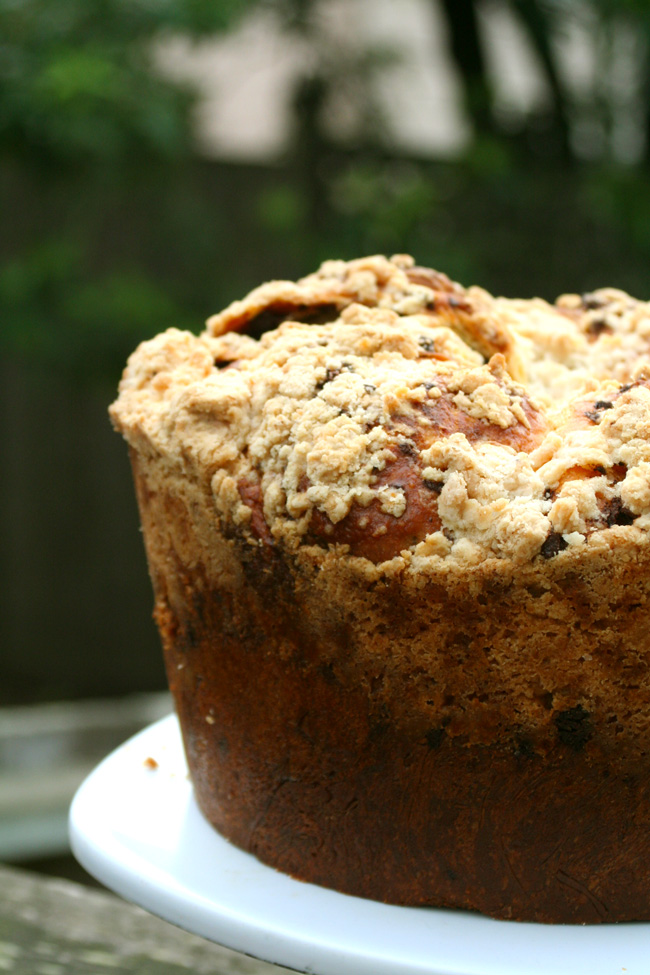 I have previously baked this in the traditional loaf form, but a boring loaf shape just doesn't do justice to something so spectacular. So I've taken to baking it into a large crown, perfect for reigning over brunch on a cake plate.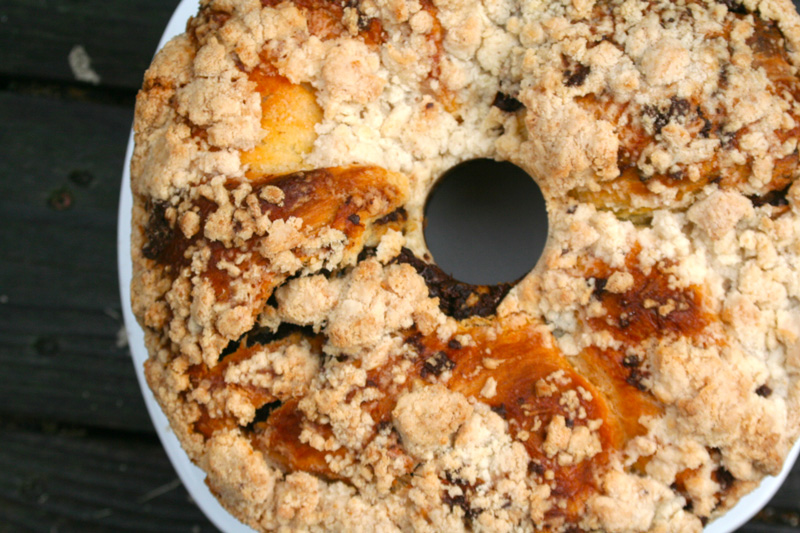 For this you will need a 10″ (4″ deep) angel food cake pan. Bundt pans vary in size, but most bundt pans will be far too small for this monstrosity. And the angel food cake pan has a removable bottom, making it much easier to unmold the babka without disturbing the precious streusel in the process.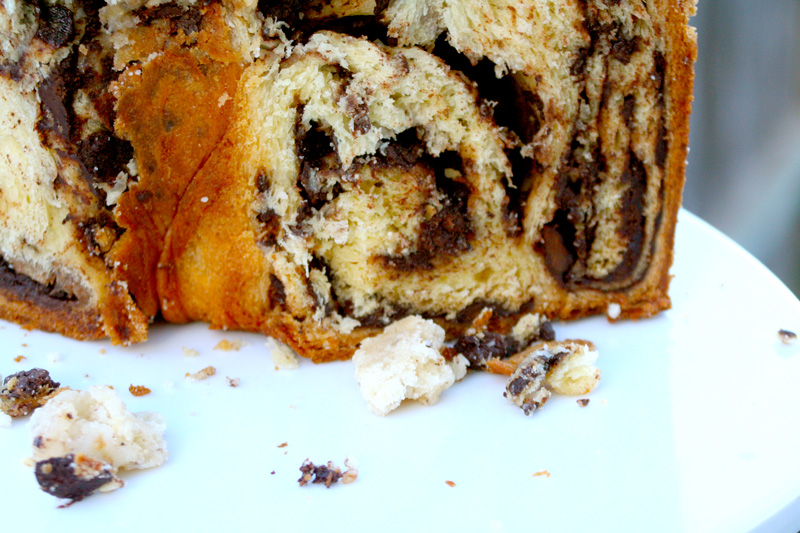 Chocolate Cinnamon Babka Crown
Serves 16. Adapted from Smitten Kitchen.
Dough
1 cup warm milk
3 1/2 teaspoons yeast
1/2 cup sugar
2 eggs, room temperature
1 egg yolk, room temperature
4 cups flour
1 teaspoon salt
11 tablespoons 

(1 stick + 3 tablespoons) 

butter, room temperature
Place warm milk in a small bowl. Sprinkle with yeast and a pinch of sugar. Set aside for about 5 minutes.
Whisk together sugar, eggs, and egg yolk in a large bowl. Add yeast mixture and whisk until combined.
Combine flour and salt. Add to egg mixture and stir until flour is mostly incorporated.
Transfer to an electric mixer fitted with a dough hook. Add butter and beat until completely combined. Continue beating about 10 minutes, until dough is soft and smooth. Dough will be a bit sticky.
Knead a few times on a floured surface. Place in a  greased bowl, and turn until coated. Cover with plastic wrap and allow to rise in a warm place for about an hour, or until doubled.
Chocolate Cinnamon Filling
1 1/2 pounds semisweet chocolate, finely chopped
2/3 cup sugar
2 tablespoons cinnamon
1/2 cup (1 stick) butter, room temperature
Combine chocolate, sugar and cinnamon. Cut in butter until combined and crumbly. (I start with coarsely chopped chocolate, pulse in the food processor until fine, and then add everything else and pulse until combined and crumbly).
Egg Wash
1 tablespoon cream or milk
1 egg
Whisk together.
Streusel Topping
1 cup + 2 tablespoons powdered sugar
2/3 cups + 2 tablespoons flour
1/2 cup (1 stick) butter, room temperature
Combine powdered sugar and flour. Cut in butter until coarse and crumbly.
For Assembly
Butter a 10″ angel food cake pan.
Punch down the dough and transfer to a floured surface. Let rest for 5 minutes. Cut dough into two equal pieces.
Roll out each piece into a 16 inch by 16 inch square. Brush the edges of each square with egg wash. Spread each square with 1/2 of the chocolate mixture, leaving about a 1/2 inch border from the edge.
Roll up each square like a cinnamon roll. Seal along the long edge, then crimp the short ends together to seal all filling inside. Carefully twist each roll 5 or six turns, turning equally throughout the length of each roll and being careful to avoid letting the chocolate out if possible.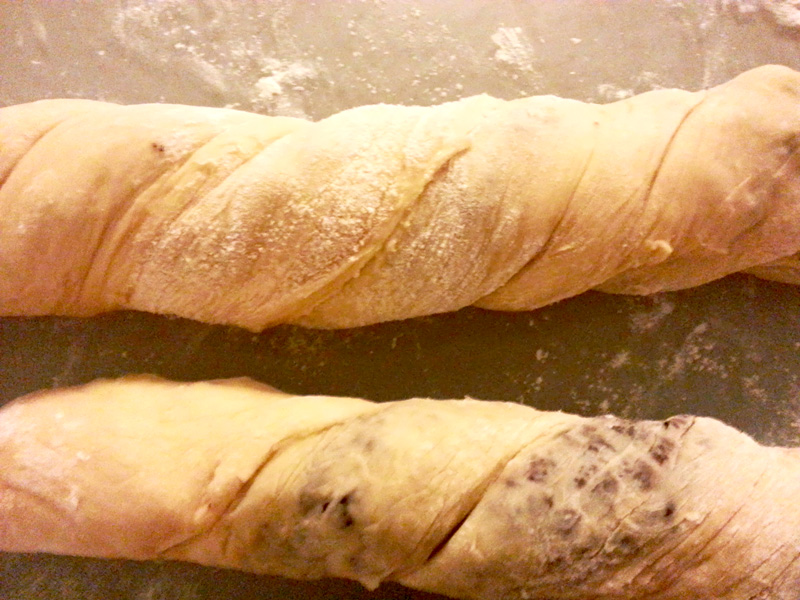 Brush the top of each roll with egg wash. Fold each roll over onto itself, and twist 2 or 3 more times to make a complex twist. Don't worry about perfection, the goal is just a nice and swirly interior.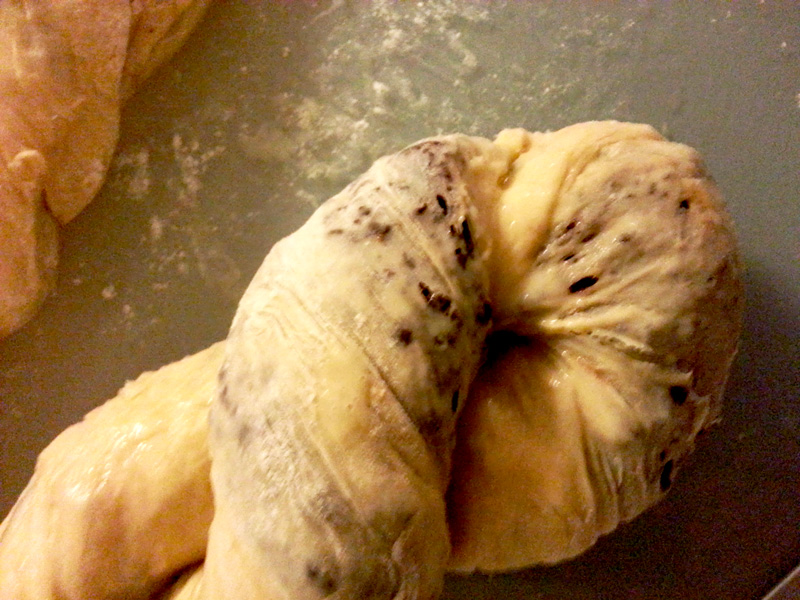 Place first twist into one side of the pan, creating a half circle. Add the second twist around the other side of the pan, making sure the two twists are snug and touching.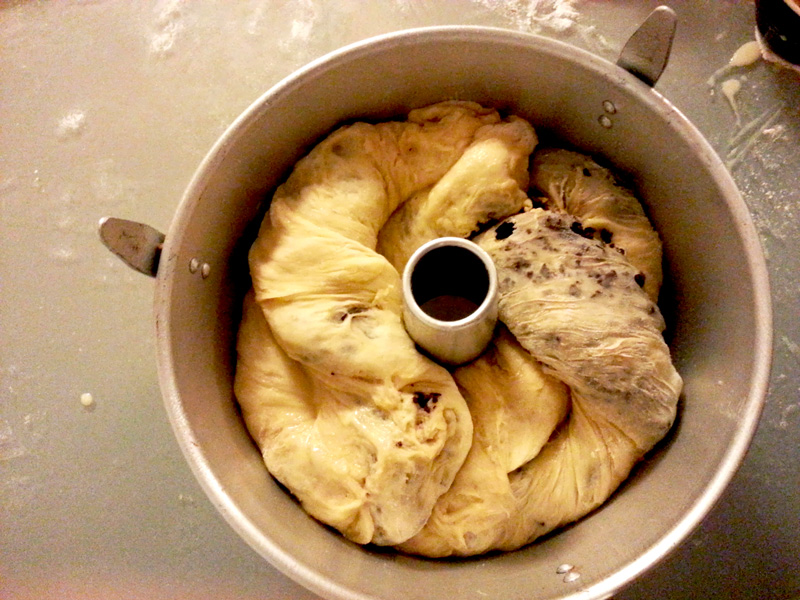 Brush the top generously with egg wash, and top with streusel topping.
Cover with a towel and let rise in a warm place, about 30 minutes.
Preheat oven to 350. Bake for about 60-70 minutes, until golden. Cool before serving.