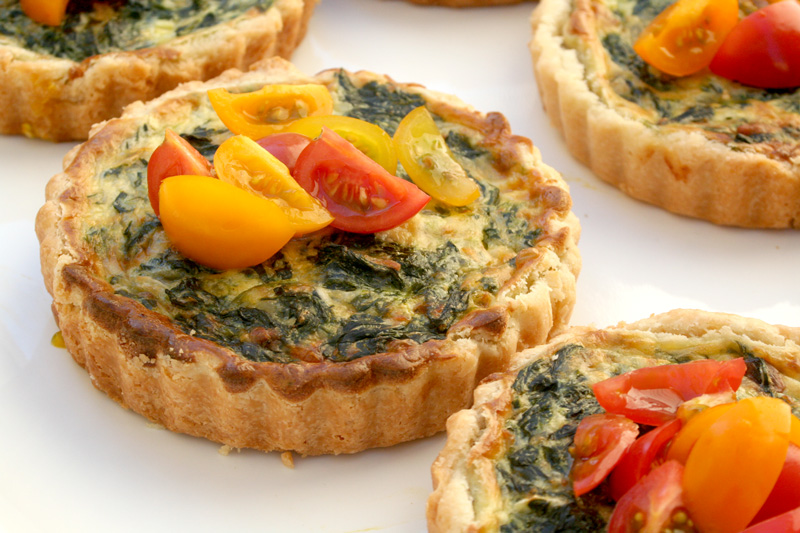 Often when I am baking for company or for an event I like to use the opportunity to make something new and dazzling. But this Spinach Gruyere Quiche is a recipe I return to over and over with great success. It's familiar and comforting, but gets lots of bonus points for execution. It's still pretty and impressive enough for an event, and the flavors of the cheeses give it an unexpected flavor boost.
I especially like this recipe because the addition of cream cheese in the filling avoids the frequent quiche problem of the big bite of rubbery egg. Instead, this has a softer, creamier filling.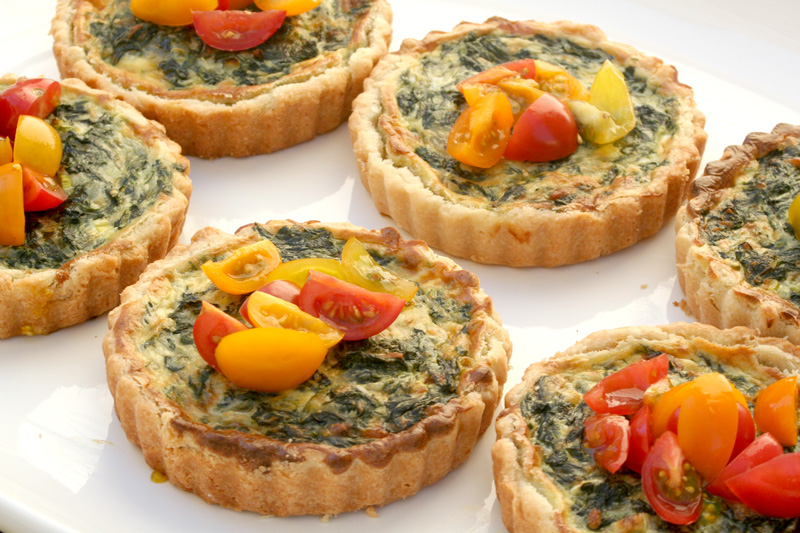 You will need 8 (4 – 5″) tart pans with removable bottoms, like these 4.75″ ones, available online (or I've seen them at Bed Bath & Beyond).
See more from my Baby Shower Brunch Menu for Sheila.
Spinach Gruyere Quiche
Makes 8 individual-sized, 4.75″ quiches (or 2 full-sized). Use 4 – 5″ tart pans with removable bottoms. Adapted from Smitten Kitchen.
8 unbaked and chilled crusts, below
2 pounds baby spinach (or 2 10oz bags of frozen)
1 8oz package cream cheese, room temperature
2/3 cup half and half
6 eggs
1 1/2 cup grated gruyere cheese
1/2 cup grated parmesan cheese
1 cup sliced green onions
1 teaspoon salt
1/2 teaspoon pepper
Wilt the spinach: Heat a large pot over medium heat. Add a drizzle of olive oil or small amount of water. Stuff the pot full of spinach leaves (it may not all fit, stuff in more as spinach cooks down and space becomes available). Cook, stirring occasionally, until all spinach is wilted. Remove from heat and transfer to a strainer. Allow drain until cool enough to handle. Squeeze out as much water as possible. Chop coarsely if desired and set aside.
Heat oven to 425.
Place cream cheese in a medium bowl or bowl of an electric mixer with a splash of the half and half. Beat until smooth, and gradually (to prevent splashing) add the rest of the half and half and eggs until smooth and combined. Stir in the cheeses, green onions, salt and pepper, and spinach. Taste for salt and pepper if desired.
Arrange unbaked, prepared crusts on a baking sheet. Divide filling between the 8 pans.
Bake for 20-25 minutes, until center is just set and crust is golden. Cool enough to remove from pans. Serve warm or at room temperature.
For crusts
Adapted from Martha Stewart. You can also use a good quality ready-made pie crust if you are in a time crunch. You will need 2 rounds for 8 quiches- cut each into four and re-roll or pat into rounds. I like to sprinkle a little salt over the top, as well, as I like savory crusts a tiny bit saltier than the dough used for sweet crusts.
2 1/2 cups flour
1 teaspoon salt
16 tablespoons (2 sticks) butter, cold
1/2 cup ice water
Combine flour and salt in a food processor and pulse to combine. Add the butter in small chunks and pulse until mixture is mostly combined but still coarse (if you don't have a food processor, cut in butter with a pastry blender). Add the ice water while the machine is running, just until the dough barely holds together.
Shape dough into a fat log and wrap in plastic. Refrigerate for about 2-3 hours or overnight.
Transfer dough to a lightly floured surface and slice into 8 discs. Roll each to 5 or 6 inches to fit tart pans Transfer dough to a tart pans and press into edges. Refrigerate again for about 30 minutes.