Mini Swansons – Buttermilk Chicken Drumsticks Wrapped in Bacon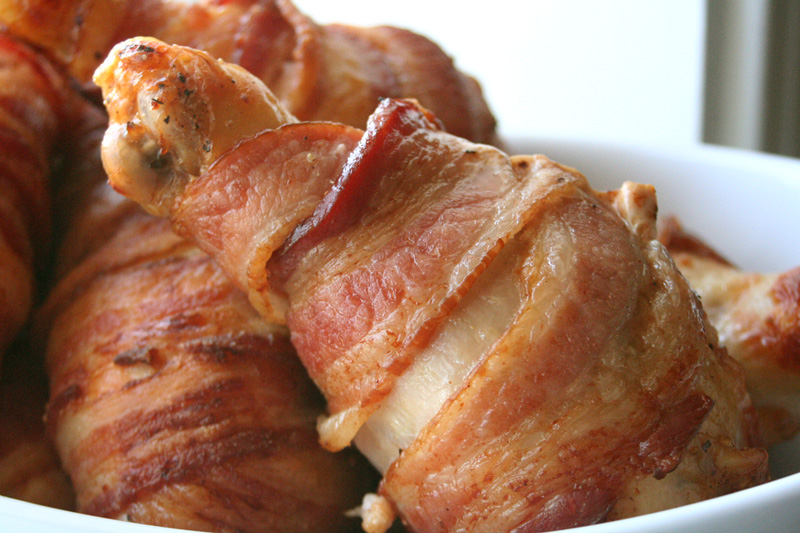 Ron Swanson knows what he is talking about. The town of Pawnee has known it all along, as local food vendors have long offered an item called "The Swanson"- a turkey leg wrapped in bacon. For my Parks and Recreation party I made a mini version of The Swanson- chicken drumsticks wrapped in bacon.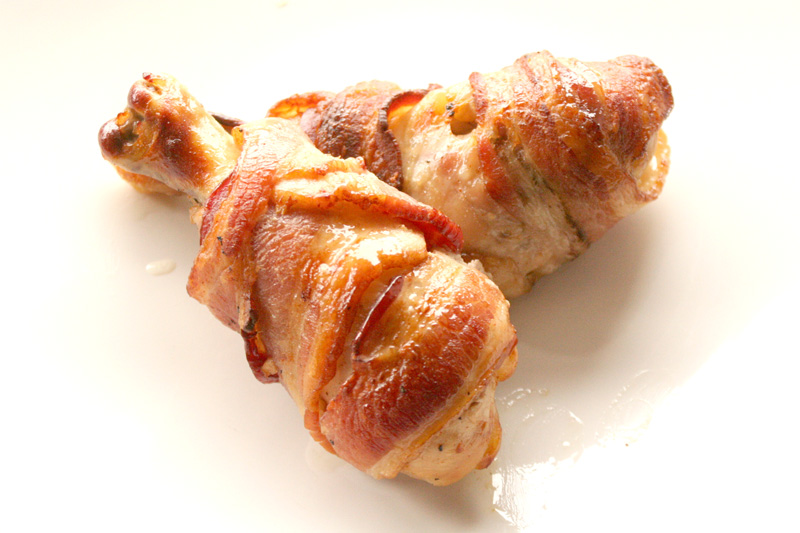 Now, obviously chicken wrapped in bacon will be good, but prepare yourself, because it's even better than a reasonable person would assume. The bacon completely transforms the chicken into a magical new (bacon-y) flavor that's greater than the sum of it's parts. And with a little extra planning, an overnight soak in buttermilk and spices turns the chicken phenomenally tender.
See more from my Parks and Recreation party.
Mini Swansons – Buttermilk Chicken Drumsticks Wrapped in Bacon
Plan ahead to soak 24 hours or overnight. In a pinch, a few hours should be fine, but a longer soak time is definitely better.
3 pounds chicken drumsticks (about 10-12), skin removed
2 cups buttermilk
1 tablespoon minced garlic
2-3 tablespoons hot sauce
2 teaspoons paprika
2 teaspoons salt
1 teaspoon pepper
1 pound thick cut bacon (at least as many strips as you have chicken drumsticks)
Place a large ziplock bad inside a medium bowl. Fill bag with chicken. Whisk together buttermilk and spices and add to bag. Arrange chicken to submerge in buttermilk mixture as much as possible. Seal the bag and transfer the bowl to the refrigerator. Let soak in the refrigerator 24 hours or overnight.
Heat oven to 400.
To assemble, remove chicken from buttermilk mixture, shaking off excess. Wrap each drumstick in a strip of bacon, tucking the ends back inside when possible. Place on a baking sheet lined with foil or a silicone baking mat.
Bake 30-35 minutes, until chicken is just cooked through (165 degrees with a meat thermometer) and bacon is crisped.