Squid Ink Carbonara with Bacon, Butternut Squash, and Pepitas for Halloween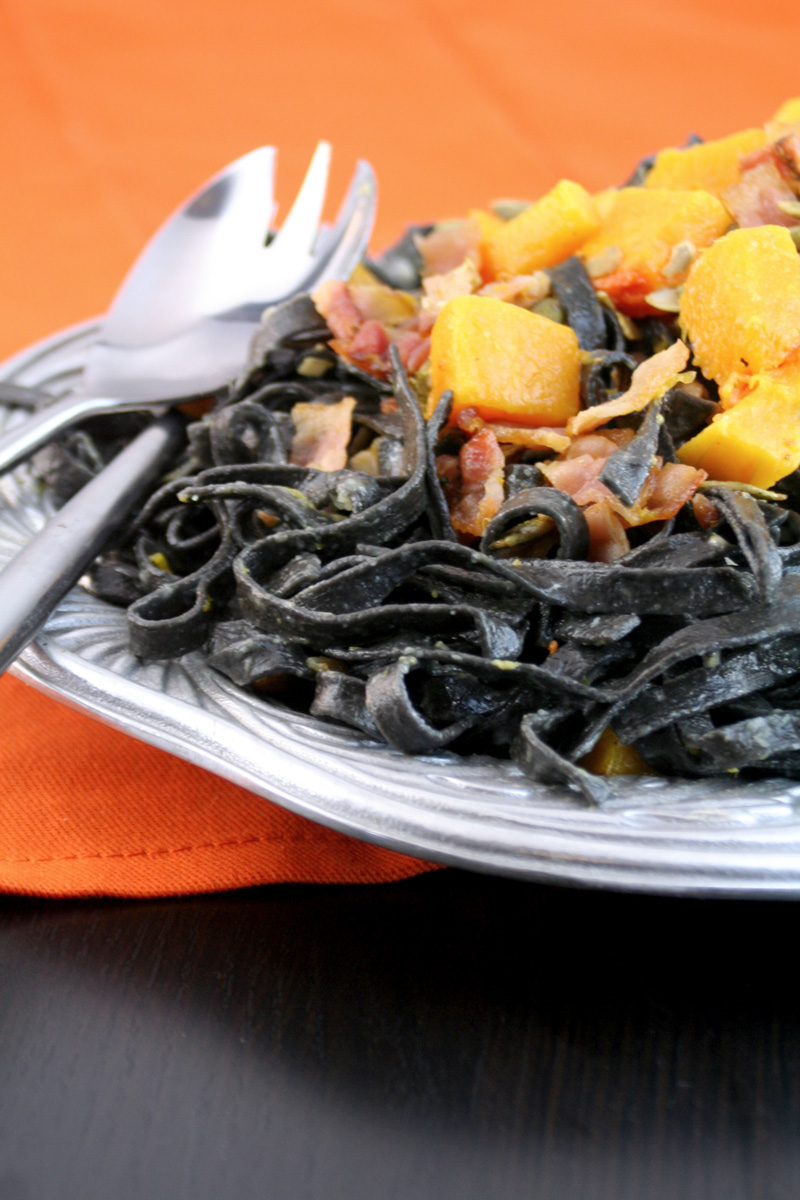 Squid ink pasta is so delightfully creepy. Let's make something for Halloween with it! Something simple, that highlights the linguini's inherent creepiness.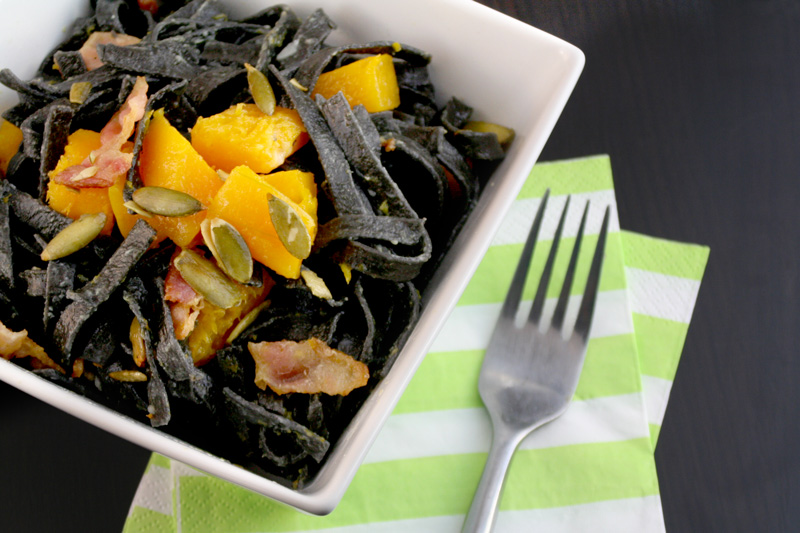 Sounds like a job for carbonara! It's one of my favorites and how can it not be? Bacon plus the world's simplest sauce- made from just eggs and parmesan. It's a classic for a reason. I gave it a little bit of a fall twist with some vibrant orange butternut squash and some toasted pepitas.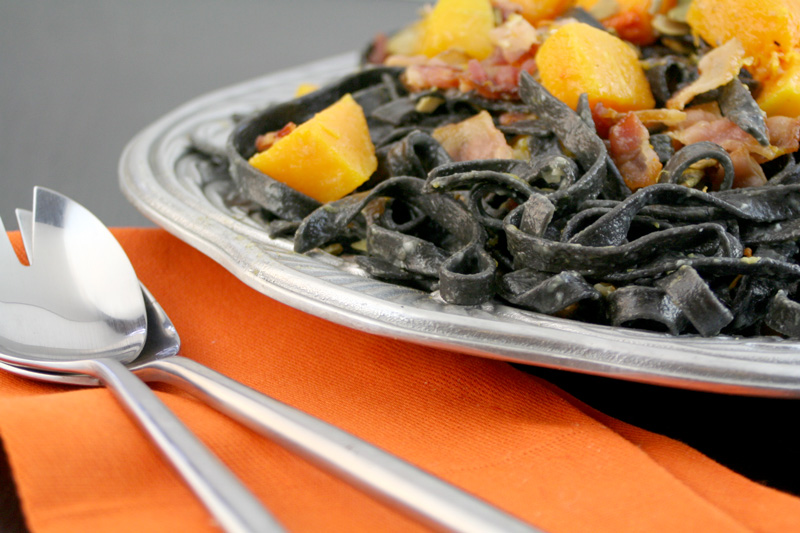 Squid ink pasta doesn't taste significantly different from regular pasta, so kids who like the change in color should still like it (maybe? I know nothing about feeding kids). It can be found in specialty shops or fancy grocery stores, italian delis, or of course online. Check for it in both the dried and fresh pasta sections.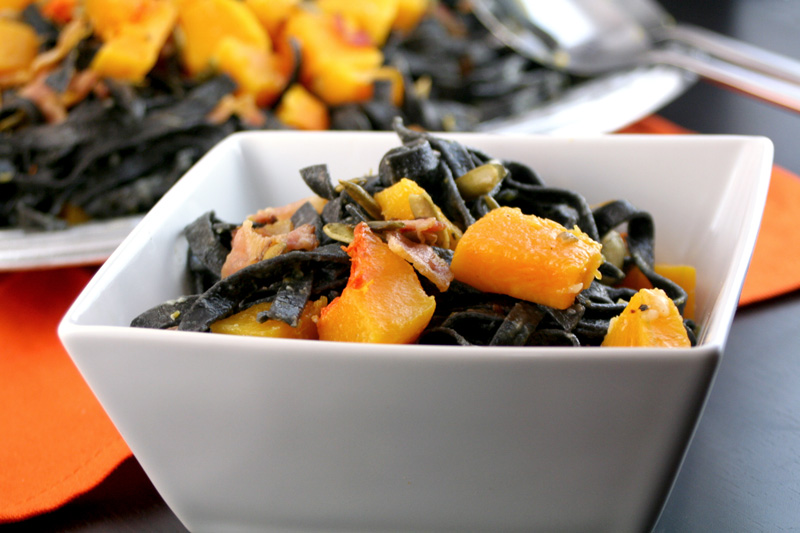 Carbonara is best when it just made, but comes together so quickly that with all the ingredients prepped it can still be great to serve to guests. The butternut squash can be made well in advance.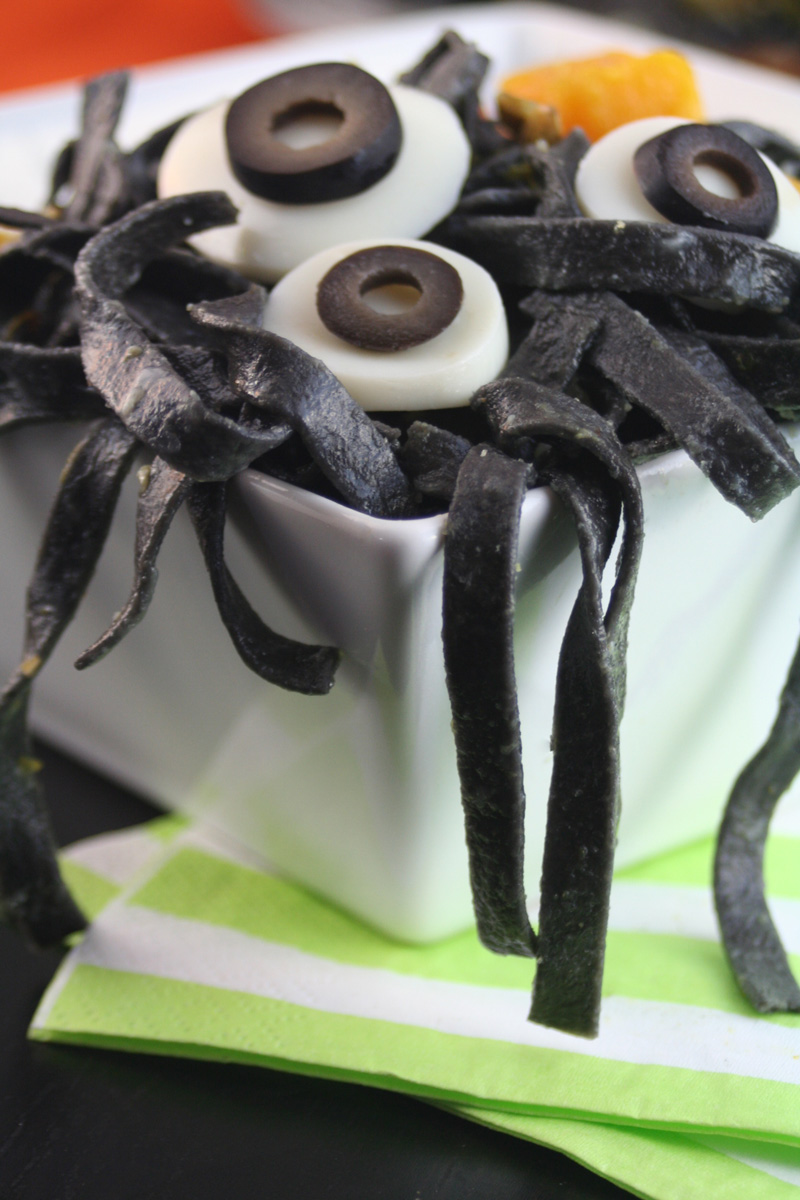 Oh no, it's come to life! AND IT'S COMING FOR ME!
(Sorry. Won't happen again.)
Squid Ink Carbonara with Bacon, Butternut Squash, and Pepitas
Serves 6-8
1 lb squid ink fettucine
1/2 lb bacon or pancetta
1 teaspoon minced garlic
2 eggs
1 cup grated parmesan
1/4 cup pepitas or toasted pumpkin seeds
Chop bacon or pancetta into small pieces. Heat a large sauté pan over medium heat. Add bacon or pancetta (add a little olive oil if using pancetta) and cook until almost crisp. Add garlic and cook another minute or two. Remove from heat and drain off most of the grease, leaving the pan coated with a thin layer.
Start the pasta cooking. While cooking, combine eggs and parmesan in a small bowl and set aside.
Cook pasta to al dente, d rain. Immediately add very hot pasta to pan with bacon and toss to coat. Pour in egg mixture and continue to toss until pasta is well coated and egg is silky and cooked but not scrambled.
Add in butternut squash. Transfer to serving dish and top with pepitas or toasted pumpkin seeds. Serve immediately.
Roasted Butternut Squash
1 small butternut squash, about 1 1/2 lbs
1 tablespoon olive oil
1 teaspoon salt
1/2 teaspoon pepper
Heat the oven to 400.
Peel the butternut squash, cut in half and remove the seeds. Chop into 1/2-1 inch pieces. Spread into a single layer on a baking sheet and drizzle with olive oil, salt, and pepper and toss to coat.
Bake until fork tender or a little browned, about 25 minutes. Set aside and keep warm.