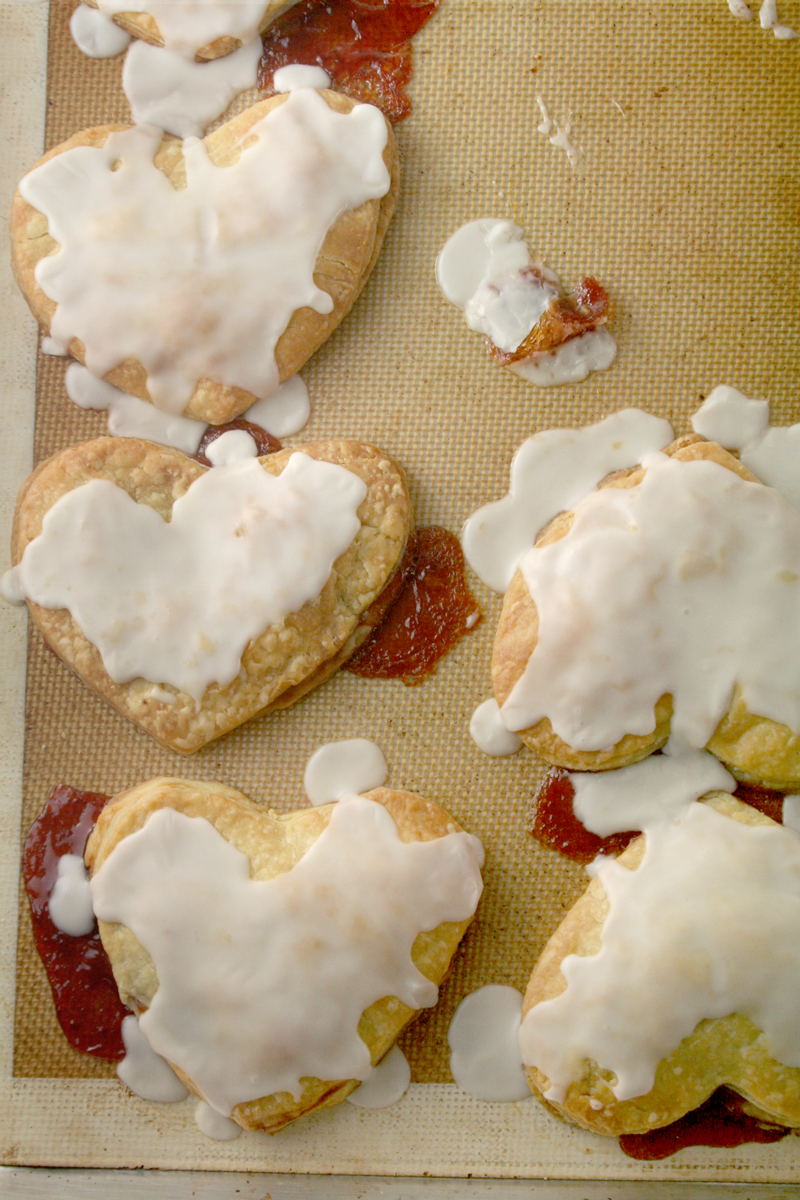 Now that the leftovers are gone, I miss these so much. I had made them before and was just waiting for an excuse to make them again. Now I'm back to where I started.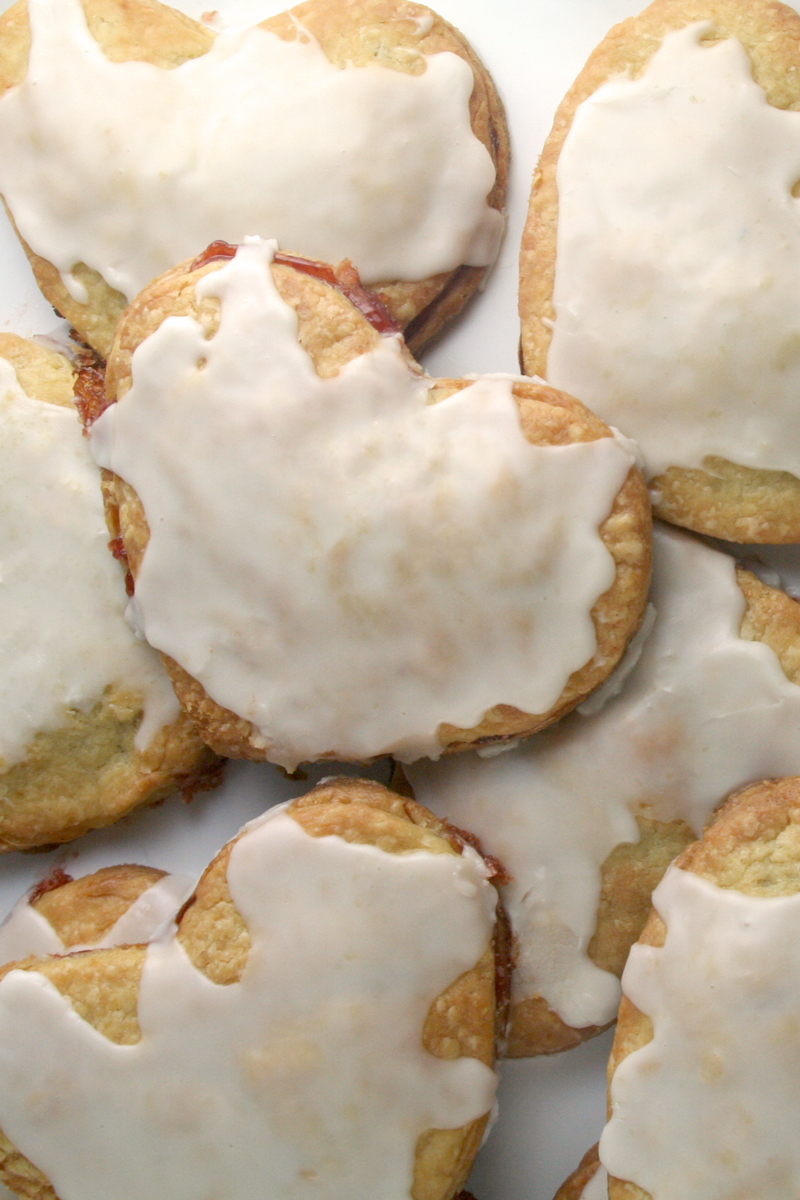 There's no way to get around comparing any frosted pastry filled with jam with Pop Tarts, but these are barely on the same planet. So buttery and tender and flakey, they just melt in your mouth, jam and all.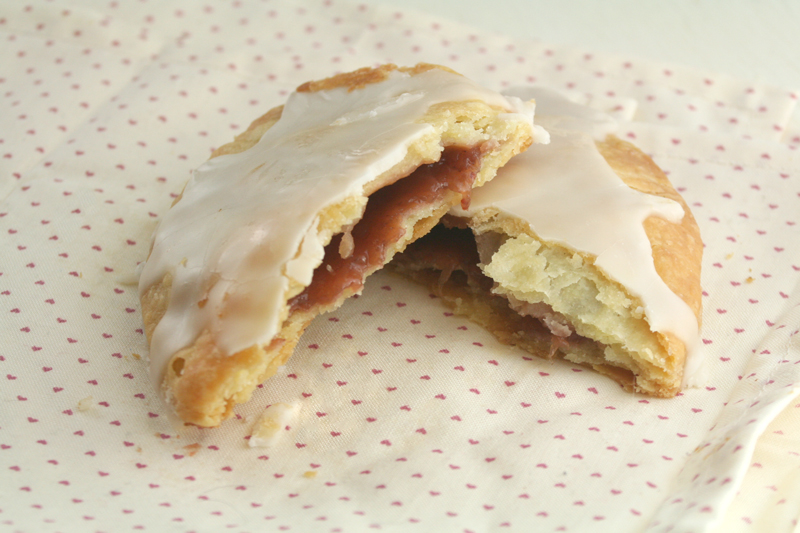 I miss you, perfect, magical pastry.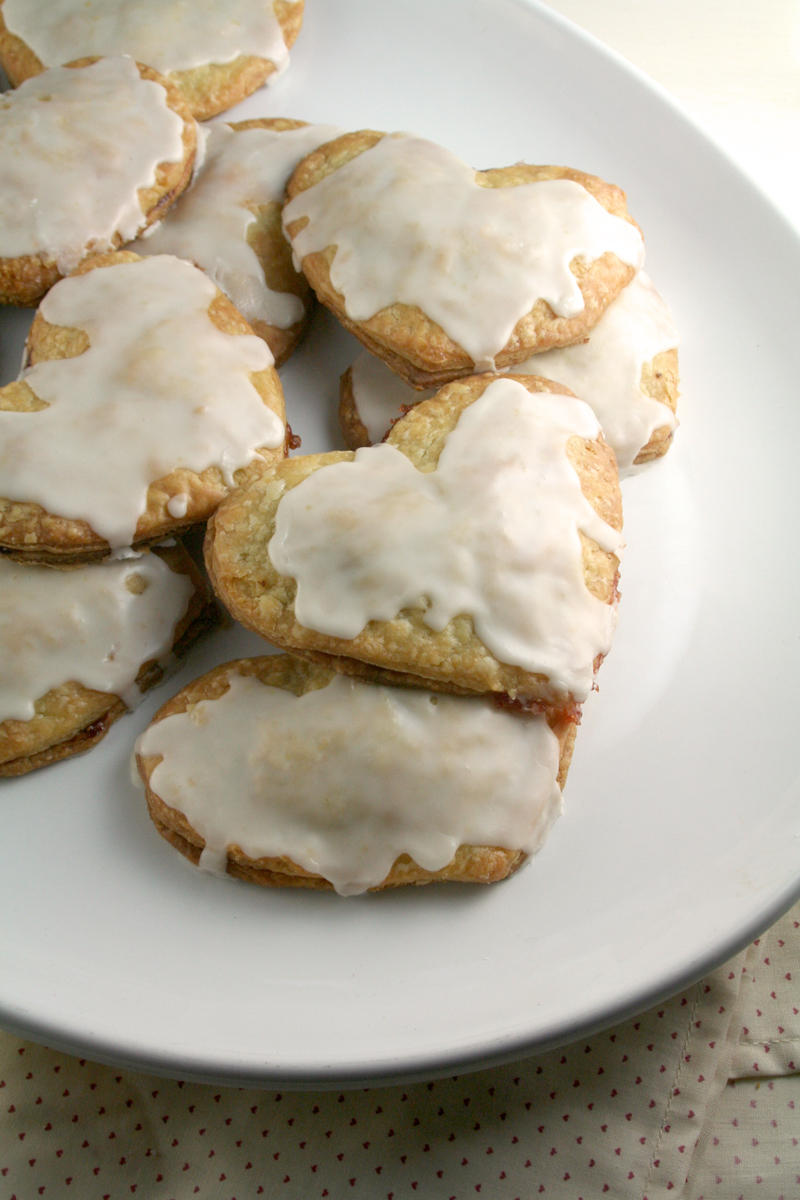 The heart shape perfect for Valentine's Day (or Galentine's Day!) and is courtesy of a large heart-shaped cookie cutter. If you don't have one, a template from a piece of cardboard works great. Or, of course, rectangles are perfectly acceptable and still delicious.
Part of my Galentine's Day Brunch Menu.
Heart Pop Tarts
Makes about 8 large pop tarts. Adapted from the Flour Bakery cookbook by Joanne Chang
Dough
1 3/4 cups flour
1 tablespoon sugar
1 teaspoon salt
1 cup (2 sticks) cold butter
2 egg yolks
3 tablespoons cold milk
Combine flour, sugar, and salt in a food processor and pulse to combine. Cut each stick of butter into several pieces and add to flour mixture. Pulse a few times until crumbly but some large chunks of butter remain.
In a separate bowl, combine the egg yolks and cold milk, whisking until well blended. Add mixture to the food processor and pulse until dough just comes together and ball barely starts to form. Turn out onto a piece of plastic wrap and pat into a thick flat disk. Wrap tightly in the plastic wrap and refrigerate for 2 hour or more, up to several days.
Assembly
About 1 cup strawberry or raspberry jam or preserves
1 egg
Heat oven to 350.
Divide dough in half and set one half aside. On a lightly floured surface, pat into a rectangle and roll out to about 12″ x 12″. Using a large heart cookie cutter, cut out shapes as close together as possible (or cut into even 3×5 rectangles with sharp knife). You will need two cut-outs for each tart. Roll out and cut out using remaining dough, re-rolling scraps up to 2 times.
Place half of the total amount of cutouts onto a baking sheet lined with a silcone baking mat or parchment. Beat the egg a bit in a small bowl and brush over each cut-out. Pile a small amount of jam, about 1 1/2 tablespoons, in the center of each cutout, leaving the edges clear. Top with a second cut-out and press all the way around the edges to seal together.
Bake about 35-40 minutes, until golden. Allow to cool completely and spoon or drizzle glaze over the top (below).  Allow glaze to set for 5-10 minutes.
Glaze
1 cup powdered sugar
1/2 teaspoon vanilla extract
2 to 3 tablespoons water
Combine powdered sugar and vanilla in a small bowl. Gradually whisk in the water a little at a time, just until glaze is a pour-able thickness. Whisk until smooth.