Caramelized Pork Tenderloin Bánh Mì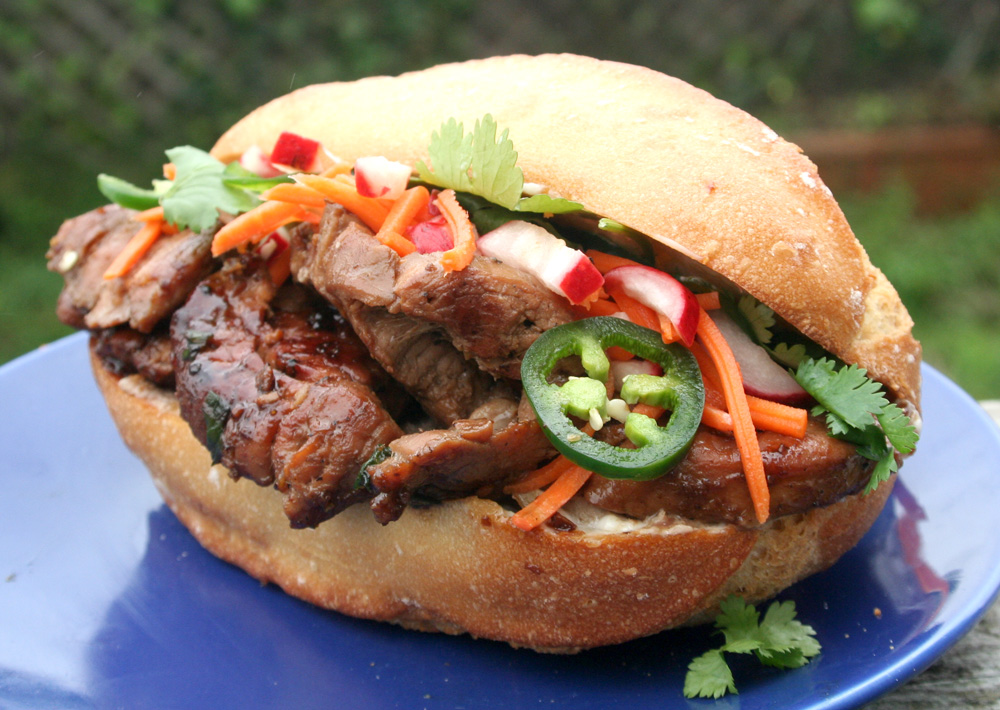 I had never had a bánh mì before I moved to San Francisco, and now I crave them on a regular basis. I had never thought of making them myself until I had some pork tenderloin and a large bag of radishes that needed to be used up. No, I can't explain why I had such a large bag of radishes, I don't get it either.
If you've never had one of these mind-blowing Vietnamese sandwiches, make it an immediate life priority. This version creates juicy, caramelized pork tenderloin, complemented by spicy jalapeno, cilantro, and sweet and vinegary carrots and radishes (I'm not normally that into carrots but they are amazing here). A smear of mayo and smear of pâté pushes things into ridiculous territory, all on a french baguette. Look for the lightest, airiest baguettes you can find. Mine were a bit to heavy so I hollowed them out a bit.
I just cooked the pork in a grill pan on my stove, but wouldn't this make for a fun backyard barbecue instead of the expected hot dogs and burgers? I am super doing this as soon as I have a respectable back yard.
Caramelized Pork Tenderloin Bánh Mì
adapted from Food52
Caramelized Pork
1 1/2 pounds pork tenderloin
3 tablespoons fish sauce
1/4 cup brown sugar
3 tablespoons soy sauce
1 teaspoon sesame oil
2 garlic cloves, minced
1 tablespoon minced ginger
1 green onion, thinly sliced
1/2 teaspoon black pepper
2 tablespoons olive oil
Slice tenderloin into 1/2 inch slices, cutting across the grain. Place slices on a cutting board and cover with plastic wrap. Pound each piece of meat until very thin, about 1/4 inch (a meat pounder, rolling pin, or small pan will work).
Cut tenderloin across the grain of the meat into ½ inch pieces. Flatten each piece to an even ¼ inch between two pieces of saran wrap using a meat pounder, rolling pin, or large bottle.
To make marinade, combine all remaining ingredients except for the olive oil. Marinate the pork in the marinade for about an hour.
When done marinating, heat grill pan (or outdoor grill) over high heat. Toss meat with olive oil until well coated. Make sure pan is very hot, then sear meat one or two minutes on each side. Check to make sure meat has just cooked through.
Picked Carrots and Radishes
1/4 pound peeled carrots
1/4 pound daikon or red radishes
1/2 cup water
1 cup rice vinegar
1 tablespoon salt
2 tablespoons sugar
Cut carrots and radishes into matchsticks (or shred). Combine with remaining ingredients. Let stand as little as an hour or up to overnight. May be stored in the refrigerator for several days.
For Assembly
french baguette or french bread sandwich rolls
mayo
pâté (optional, but recommended)
sliced jalapenos
cilantro
Cut bread in half and warm or toast slightly. Spread with mayo. Add a thick layer of pâté, and cover with hot pork slices to allow the pâté to melt a little. Top with pickled carrots and radishes, jalapenos, and cilantro.