Shrimp and Grits with Coconut Milk and Bacon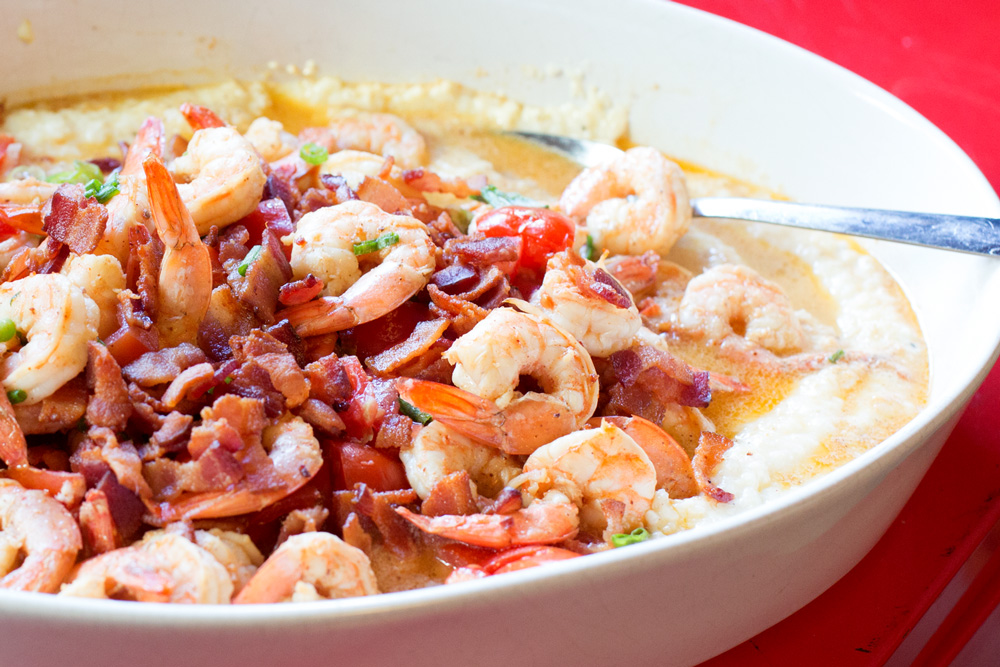 I don't have much experience with grits so I would never have guessed that this would far and away be my favorite thing from the entire Kentucky Derby menu. The shrimp soaked in coconut milk and cooked in bacon drippings certainly didn't hurt, all over a creamy, cheesy cloud of grits. I'm dying to make these again for a brunch.
Shrimp and Grits with Coconut Milk and Bacon
Adapted from the Strawberry Creek Inn
1/2 pound bacon
1 pound raw shrimp, peeled and de-veined
1 cup coconut milk
1 teaspoon cayenne
juice of 2 limes
1/2 cup sliced green onions
1 cup diced tomatoes
salt and pepper to taste
Dice bacon and cook in a large skillet until just crispy. Remove bacon pieces and set aside, leaving drippings in pan.
Meanwhile, toss shrimp, coconut milk, and cayenne and allow to soak for a few minutes.
Heat pan with bacon drippings over medium heat. Drain the coconut milk from the shrimp and cook in pan in small batches, being careful not to crowd the shrimp. Cook for a few minutes on each side until pink.
Toss with lime juice, green onions, tomatoes, and chopped bacon. Season with salt and pepper and serve over cheese grits.
Cheese Grits
2 cups whole milk
2 cups water
1 tsp salt
1 cup quick-cooking grits
1 1/2 cups sharp cheddar, shredded
1 tablespoon butter
Bring milk, water, and salt to a boil in a medium saucepan. Reduce heat to low and stir in grits. Cover and cook for 5 or 6 minutes, stirring occasionally until liquid is absorbed. Stir in cheese and butter.
More from the Kentucky Derby party menu.
photo by Adam Findley