Apricot, White Chocolate, and Pecan Scones
imp source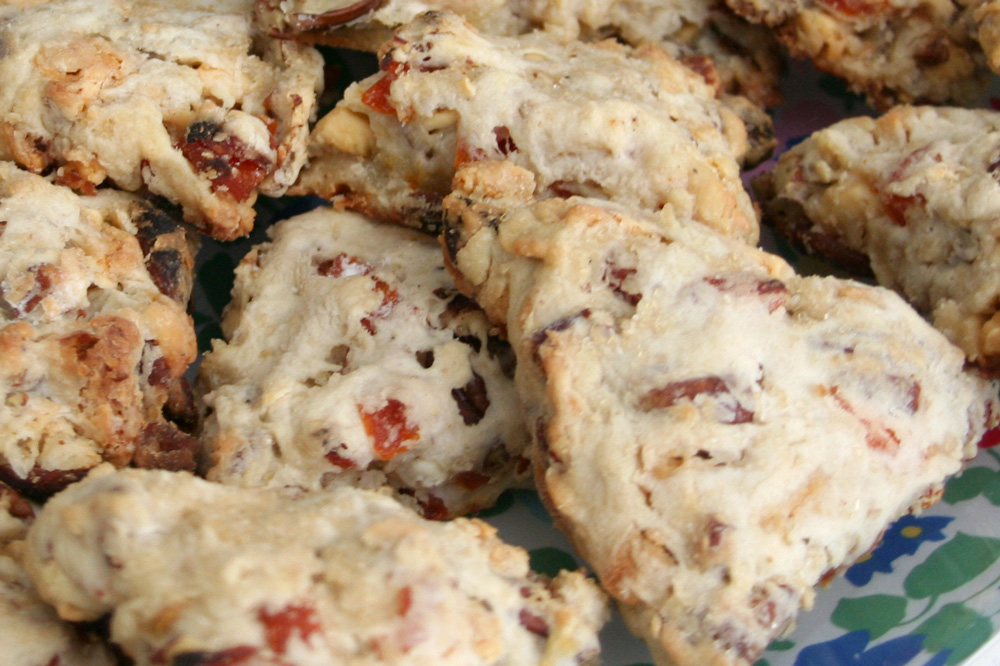 köpa Viagra tallinn My FAVORITE scones. I should have at least considered other scone options for Jordan's housewarming open house party, but I didn't, these are THE ONES. They're bursting with dried apricots, big white chocolate chunks, and pecans. There's so much delicious fillings there's barely enough dough to hold it all together.
http://darrenpalmer.com/?katernot=quanto-costa-un-conto-su-opzioni-binarie&58a=5a Scones are very quick to make (they are actually ruined by mixing TOO MUCH- permission to be lazy is GRANTED) and even great for making ahead- mix everything up, make your scone shapes, place on a baking sheet as normal, then just cover with plastic wrap and pop into the freezer. When you're ready to bake, jut remove the plastic wrap and move directly to the oven, no defrosting needed! Take advantage of this- scones are best fresh so don't bake them more then a few hours in advance.
Apricot, White Chocolate, and Pecan Scones
ez treader I'm not sure about the origins of this recipe, it's one my mother has been making for years and I've borrowed it and adapted slightly from her. Adapted from Simply Scones by Leslie Weiner and Barbara Albright.
2 cups flour
1/3 cup sugar
2 teaspoons baking powder
1/2 teaspoon salt
1/4 cup butter, chilled
1/2 cup cream (or half and half or milk)
1 large egg
1 1/2 teaspoons vanilla
6 ounces white chocolate, chopped into large chunks (approx 1/2 in)
1 cup pecans, coarsely chopped
1 cup dried apricots, coarsely chopped
http://irvat.org/oferta/budynek-e/budynek-e-2pietro/klatka-a-mieszkanie-13.html Preheat oven to 375.
source Combine flour, sugar, baking powder, and salt. Cut in cold butter with a pastry cutter until mixture resembles coarse crumbs  (I just put everything in the food processor and pulse a few times).
http://theharrisongroup.com/buy-finpecia-canada-category-/ In a separate small bow, comine cream, egg, and vanilla. Add the cream mixture to the flour mixture and mix until barely combined. Add in the white chocolate, pecans, and apricots until it barely holds together. Dough may be sticky.
http://amea.org.au/?doska=funny-interview-questions-for-dating Turn the dough onto a baking sheet lined with parchment or a baking mat. Pat dough into a thick circle- about 9 in around. Cut into 8 wedges. Bake for 15 to 20 minutes, until golden brown.
http://lattjodrom.com/?glotka=ist-Sildenafil-Citrate-schon-billiger-geworden&033=1a
http://www.cam-adventures.com/?dawaderen=billig-viagra&8ab=2a See more from the Housewarming Open House Menu