Kentucky Derby Party Ideas and Menu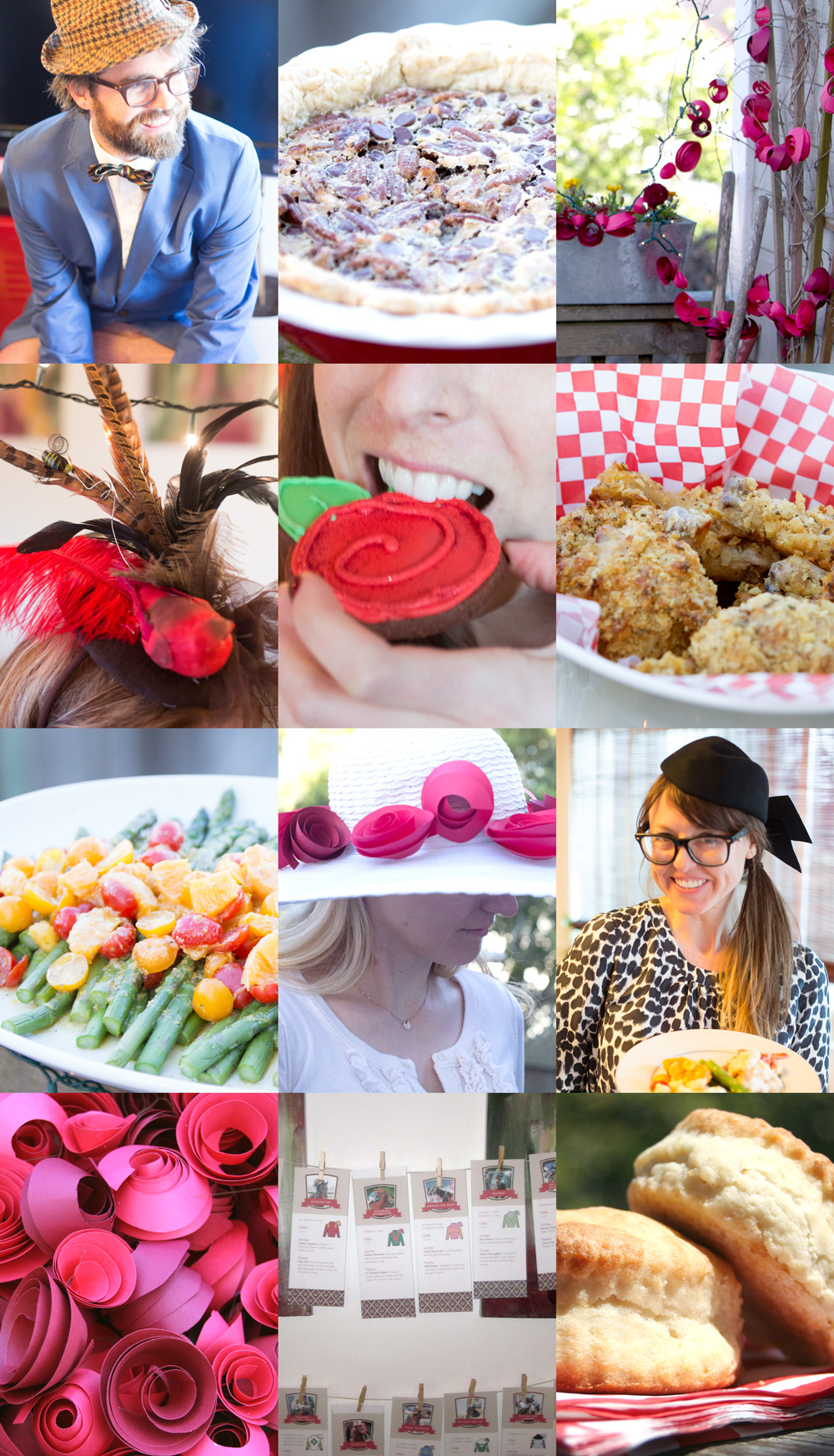 It's almost time for the Derby! I'm a California girl and I have zero interest in horses but it's such a fun excuse to throw a party – everybody dresses up and wears giant hats, you can serve a big spread of southern-inspired food, and the actual race lasts less than 2 minutes and is actually pretty thrilling. It's not like a super bowl party where you are stuck in front of the TV for hours.
The Derby is usually one of the first Saturdays in May, and it takes place in the middle of the afternoon (depending on your time zone). It's a nice time of day for a late lunch party.
Invitations and Outfits
In California, Derby parties are pretty rare so on the invitation I remind the guests that big hats are expected! I never know what to suggest for men to wear, but bowties, ascots, and vests have been popular.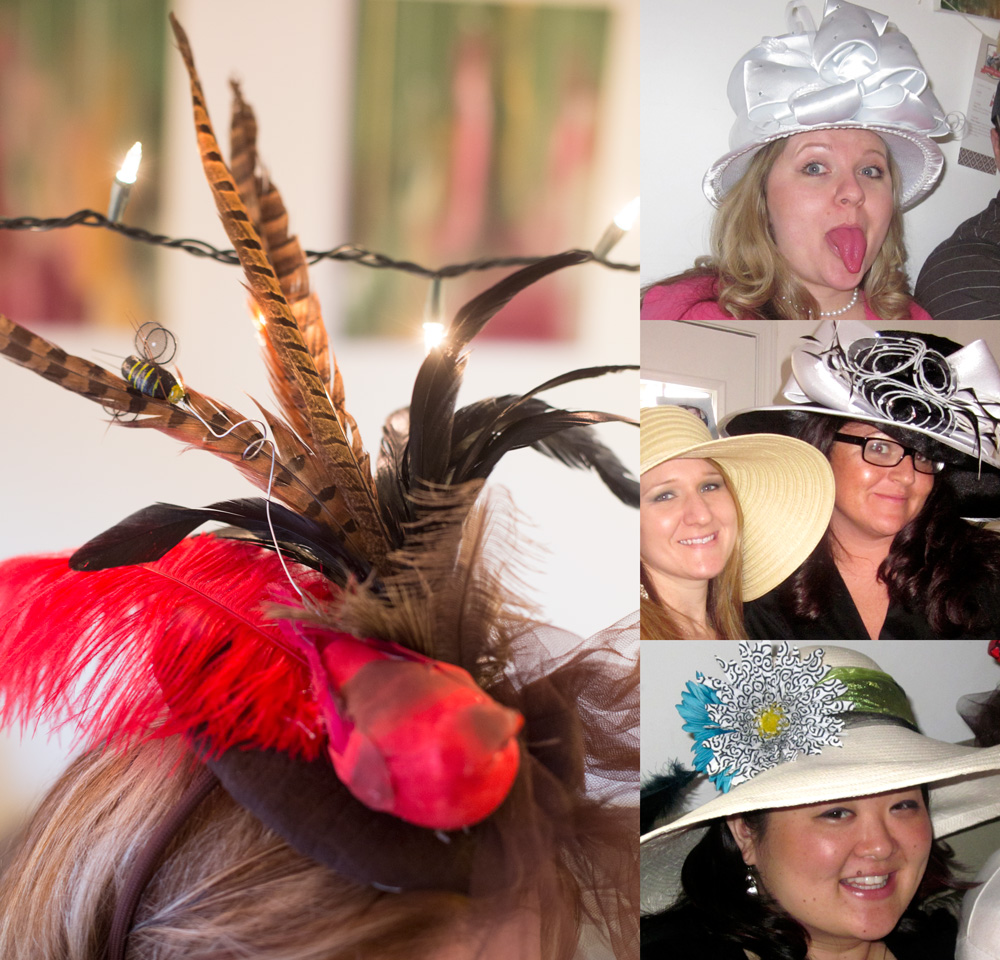 Here's my hat for the last few years- I made the cap portion out of bent cardboard, bubblewrap, and felt, and then hot glued on a giant bird, extra feathers, a big puff of tulle, and my favorite touch- a bee on a wire. I bent the wire into a spiral so that it has a little extra spring. It has to be pinned onto my head, but I'm okay with that.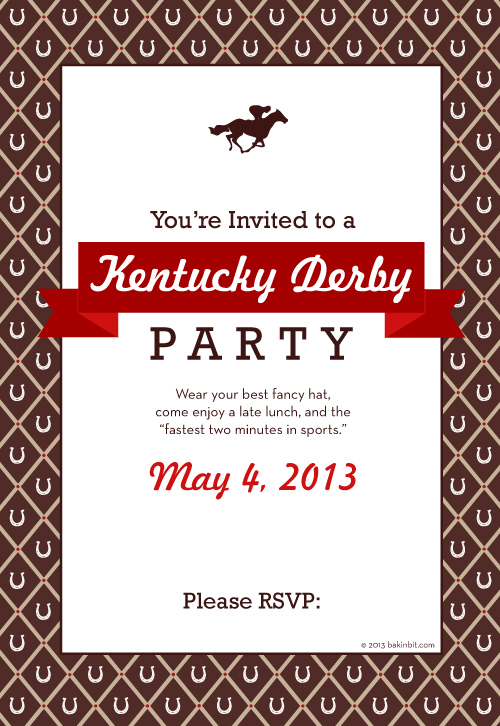 Cute derby invitations are hard to come by, so I designed my own! I'll let you download it, too:
Free Printable Derby Invitation 2013 (pdf)
Free Printable Derby Invitation Blank (pdf)
Use a straight edge and x-acto knife to trim at crop marks.
Decorations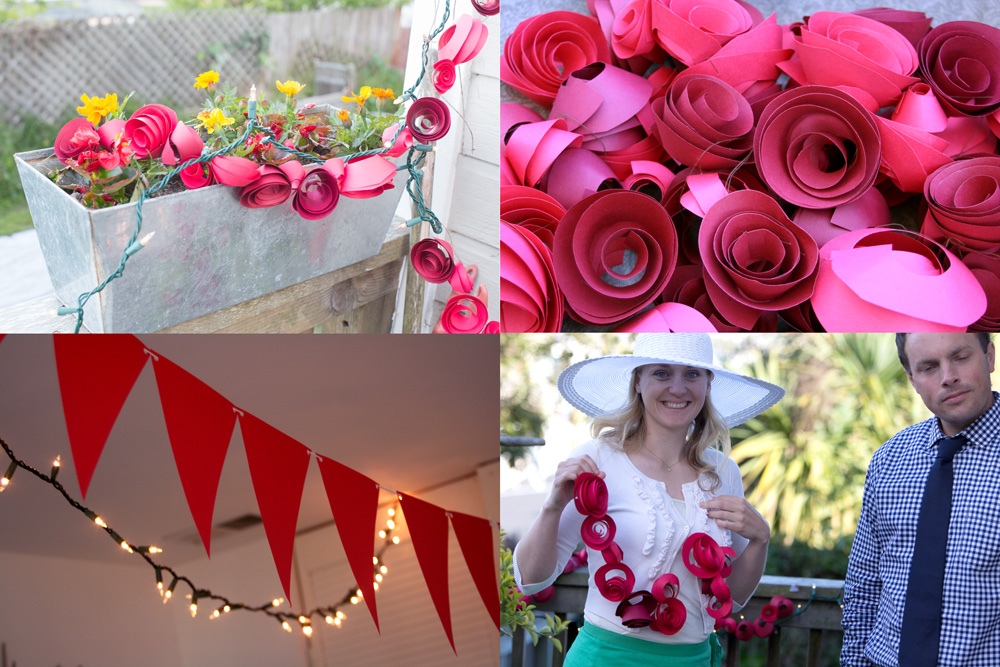 The Kentucky Derby is the "Run for the Roses", so in past years I've simply bought up bunches of red roses. This year I stepped it up a little by this simple paper bunting, white lights, and this paper rose garland.
Make your own garland by cutting a circle of paper, then cutting that circle into a spiral. Snip off the odd shaped ends of the spiral. Then, starting with the outside end of the spiral, start rolling. It will naturally form a rose shape as you roll!  Just remember the outside end will be the middle of your rose, and the inside end will now be the outside. I strung each rose on a thread using a sharp needle.  The thread is good for hanging and also helps keep the rose from unrolling too much. Slightly stiff paper will hold it's shape better than paper that is too lightweight.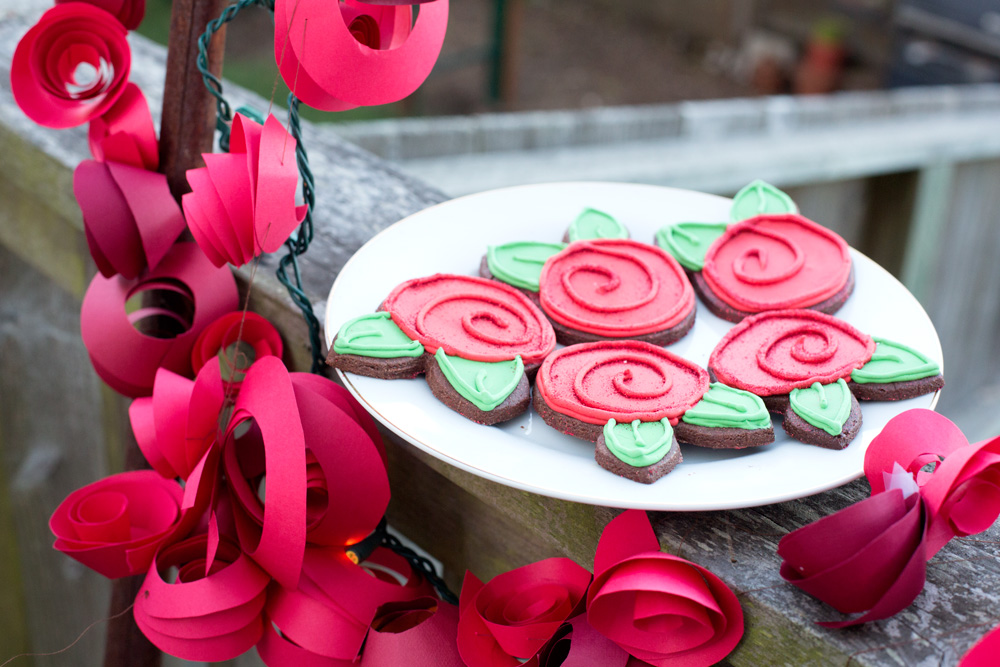 Horseshoes and Juleps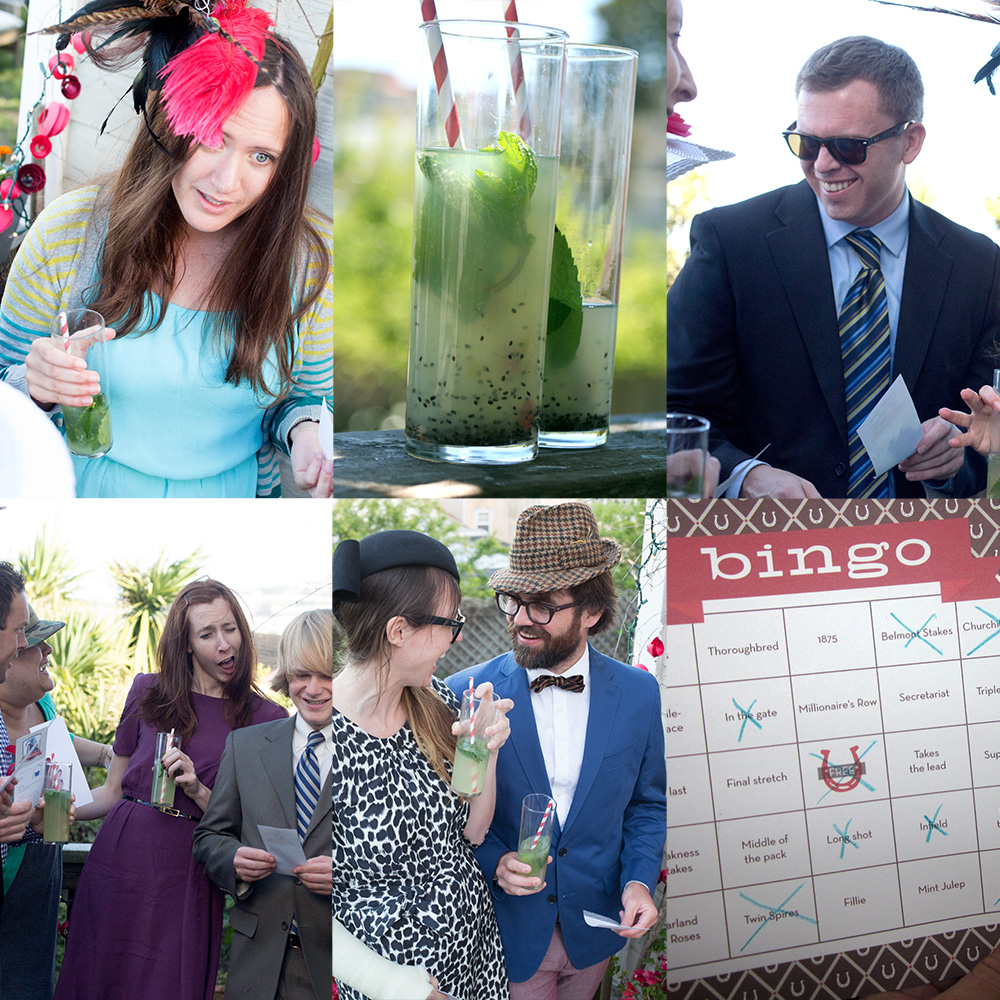 While guests arrive, I serve my version of the Derby classic Mint Juleps. Guests can sip their Juleps while playing a game of horseshoes on the lawn. I have just a boring set, but next year I think I'll make this cute beanbag version out of felt.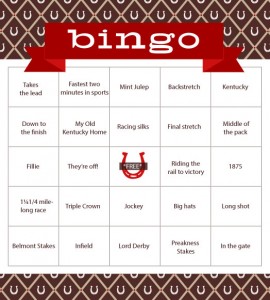 I've also done a bingo game for those wanting to sit inside and watch the pre-race coverage.
Download Kentucky Derby Bingo (pdf)
Set of 16 cards.  Print on cardstock and use a straight edge and x-acto knife to trim at crop marks.
Download Kentucky Derby Bingo BLANK (pdf) Blank card for your own unique bingo game!  Print on cardstock and use a straight edge and x-acto knife to trim at crop marks.
My mother also throws an annual Derby party and sets up a photobooth and props that guests can play with before the race. She has stick horses and fun accessories like hats and mustaches on sticks. I forget to do a photobooth every year, but IT WILL HAPPEN one of these times.
Pick a Horse!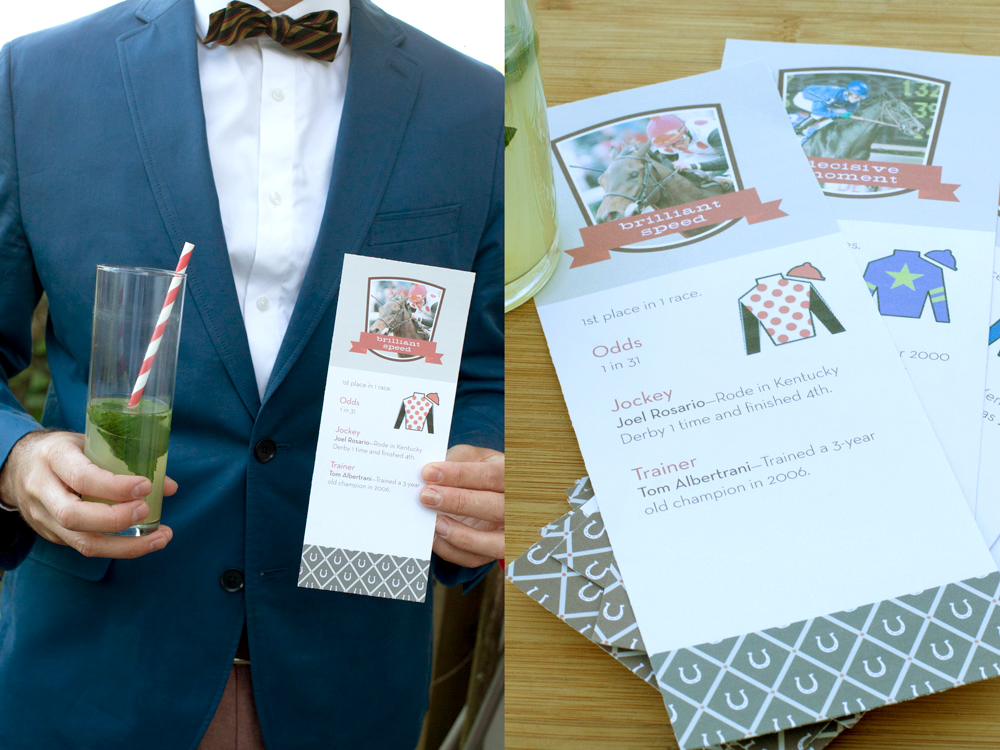 I'm not interested in the betting aspect of horse racing, but it's still way more fun if you've picked a horse and bragging rights and prizes are on the line! I make a card for each horse with all the relevant stats, and then hang them up so guests can carefully select a horse. I've been surprised that many of my guests get really into this process, doing their own research before the race.
Check back for a free download of this year's horse cards! Final horses usually aren't known until a few days before the race, so check back Thursday or Friday before the Derby.  2013 horse cards for download below! Use a straight edge and x-acto knife to trim at crop marks. Thanks to my darling father who compiles all the info every year! Odds are as of the time of card creation and do change.
Free Printable 2013 Kentucky Derby Horse Cards (pdf) – try viewing in Adobe Acrobat or Adobe Reader if it's not viewing properly in Preview, etc, I THINK I fixed the issue, though. 🙂
Addendum – Oops, download this one, too
2014 UPDATE: Find 2014 Horse Cards HERE.
2015 UPDATE: Find 2015 Horse Cards HERE.
2016 UPDATE: Find 2016 Horse Cards HERE.
2017 UPDATE: Find 2017 Horse Cards HERE.
Prizes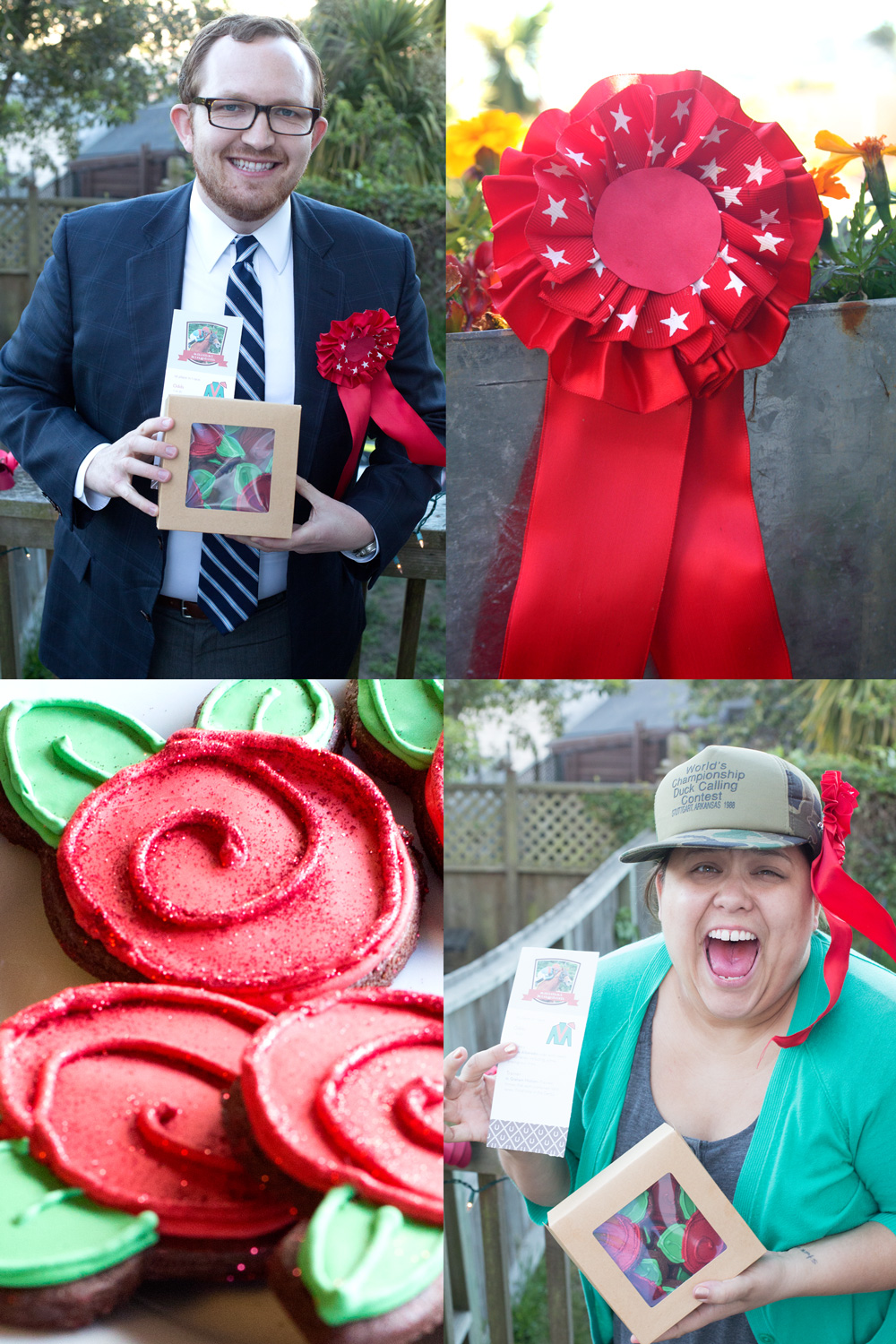 The person who picked the winning horse of course gets a prize. I also give prizes for last place horse and best hat.  Past prizes have included a dozen roses, a box of sweets like red velvet cupcakes or sparkly rose cookies, and a big red horse ribbon.
Horse Ribbon Tutorial from Design Sponge
Paper Award Ribbon Tutorial from Animal Head Vintage
Menu
Of course, the most important element to me is the food. I don't pretend for a second that  anything I make is authentic Kentucky cuisine or authentic Southern, but I've received no complaints with this spread of hearty comfort food. Recipes to come!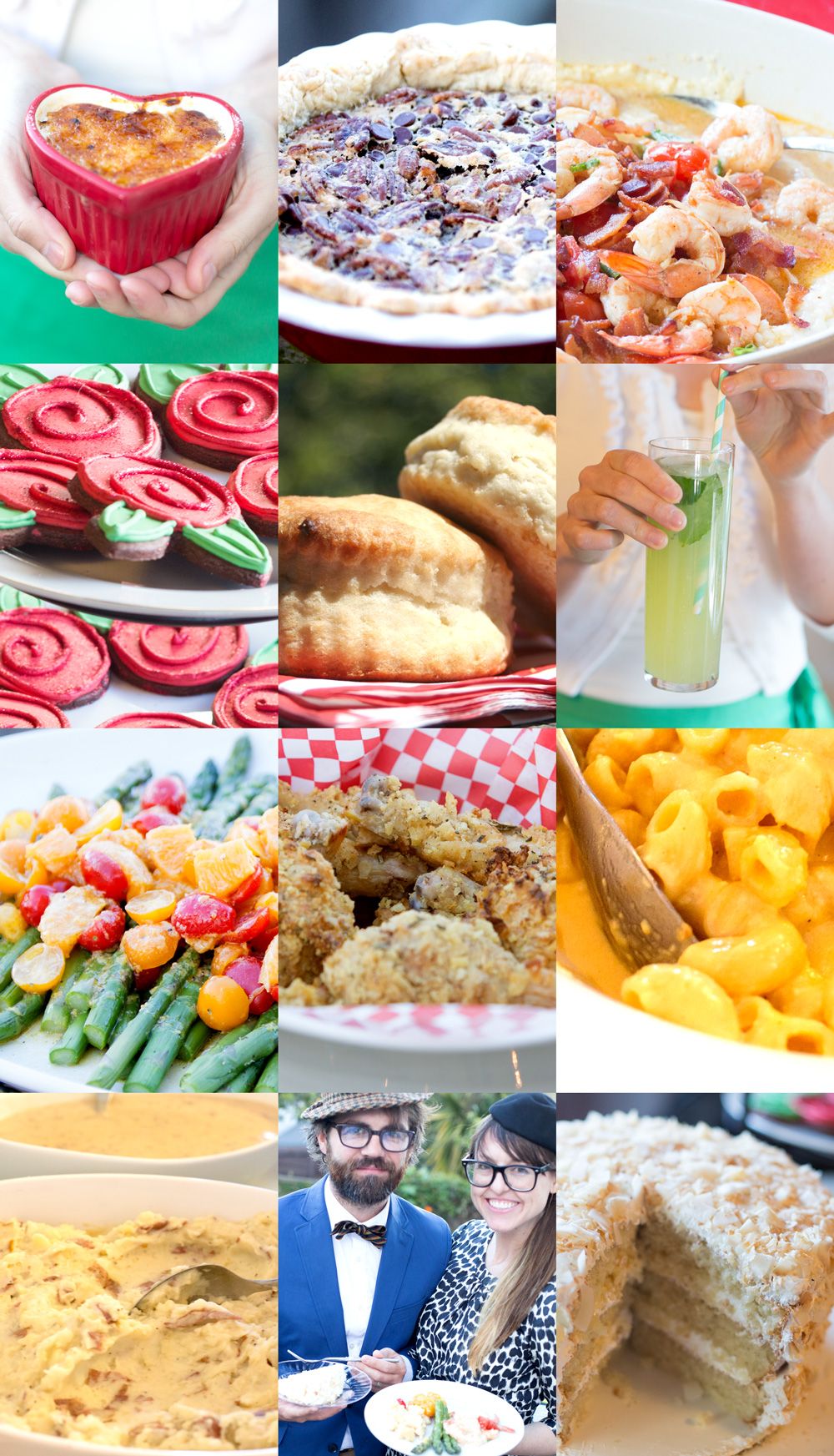 Kentucky Derby Party Menu
(I'll link to recipes here as they are posted – let me know if there's a particular recipe you would like to see)
Kiwi Mint Limeade "Juleps"
Oven-fried Chicken
Shrimp and Grits with Coconut Milk and Bacon
Dreamy Macaroni and Cheese
Asparagus Salad with Oranges and Tomatoes
Easy Make Ahead Cream Biscuits
Perfect Mashed Potatoes
Sausage Gravy
Coconut Cake with Marshmallow Frosting
Derby-style Chocolate Pecan Marizipan Pie
Rose Cookies
Most photos by Adam Findley