Lemon Cream Cheese Fruit Tarts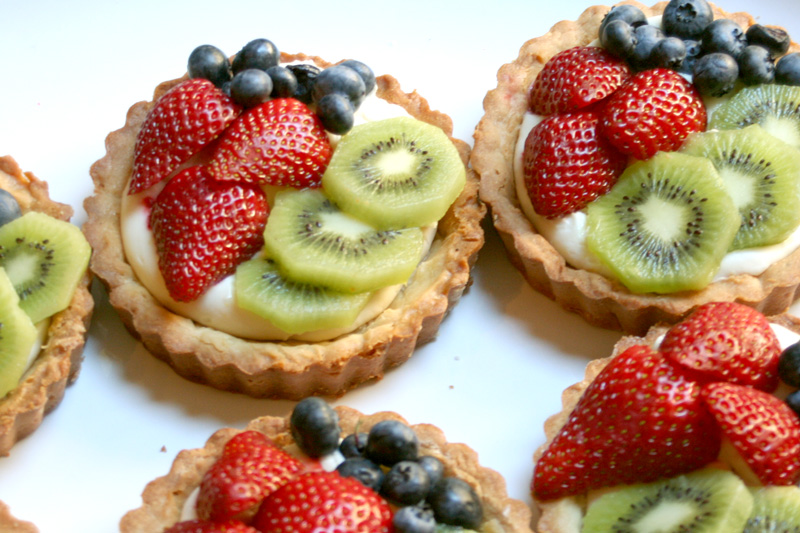 Let's just agree that the presence of cream cheese and fruit make these pretty tarts appropriate for brunch or breakfast. The filling is so easy but insanely good, like a lemon-y cheesecake. It's amazing any filling was left to make it into the actual tarts. Whatever colorful fruit that's in season at the moment will turn these into a showstopper.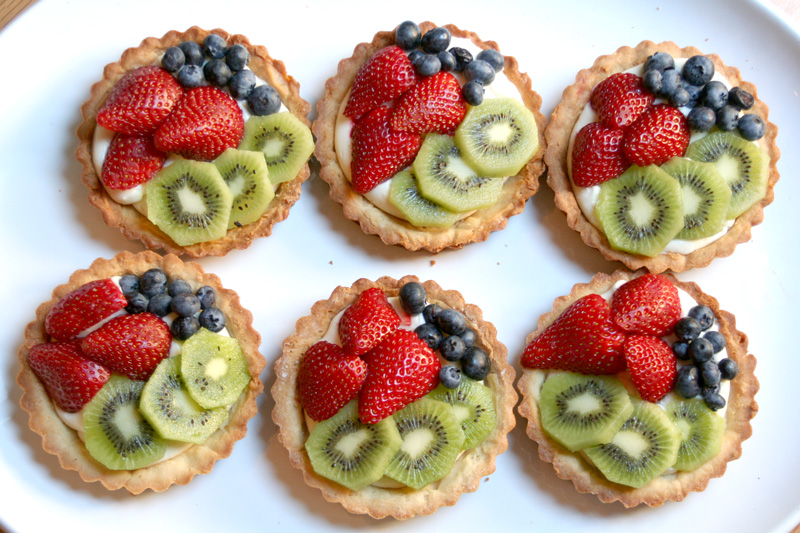 Here I used a traditional tart shell dough, which shapes beautifully and holds up well. But I think it would be just as good and less time-consuming to prepare with with sugar cookie dough or a graham cracker crust. Or even just pre-baked pie dough shells. In any case, you will need 8 (4 – 5″) tart pans with removable bottoms, like these 4.75″ ones, available online (or I've seen them at Bed Bath & Beyond). Or make lots of tiny ones or 2 big ones.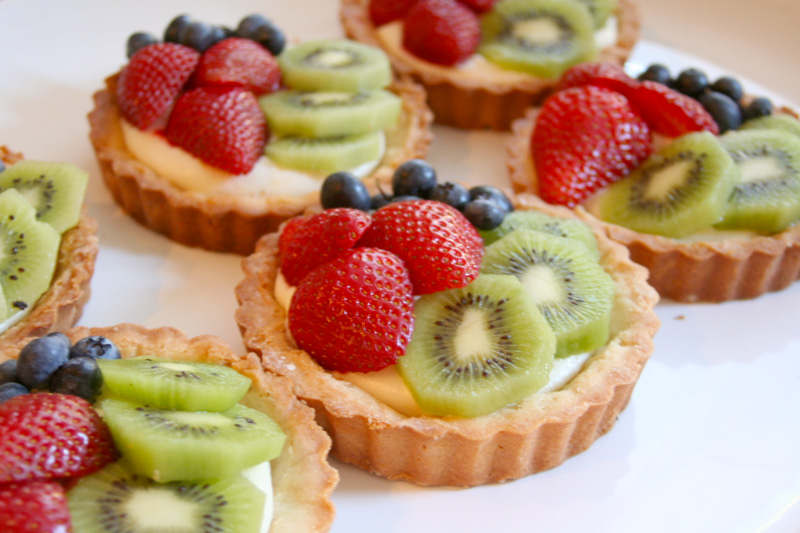 The shells and filling can be made well in advance, just assemble within a few hours of serving.
See more from my Baby Shower Brunch Menu for Sheila.
Lemon Cream Cheese Fruit Tarts
Makes 8 (4 – 5″) tarts
 Lemon Cream Cheese Filling
2 8oz packages cream cheese, room temperature
2/3 cup sugar
1 teaspoon vanilla
zest of 1 large lemon
juice of 1 large lemon
Combine all ingredients and beat with an electric mixer until smooth and slightly fluffy.
Tart Shells
This is a traditional tart shell dough, but I think it would be just as good and easier with sugar cookie dough or graham cracker crust. Or even pie crust dough. Makes 8 4 – 5″ shells. Use 4 – 5″ tart pans with removable bottoms.
2 egg yolks
2 tablespoons  milk
1 teaspoon vanilla
2 1/2 cups flour
1 1/3 cups powdered sugar
1/2 teaspoon salt
1 cup butter (2 sticks) butter, chilled
In a small bowl, whisk together egg yolks, milk, and vanilla and set aside.
In a food processor, combine flour, powdered sugar, and salt. Pulse to combine. Cut cold butter into small pieces and add to processor, pulse until butter until mixture is coarse and crumbly (If you don't have a food processor, cut in with a pastry cutter or forks until crumbly). Pour in the egg mixture with the machine running, and process just until dough forms into a ball, about 10-15 seconds.
Transfer to a sheet of plastic wrap and form dough into a fat log. Cover in plastic wrap and refrigerate for 2-3 hours.
Remove from refrigerator and cut log into 8 discs. Set out 8 4 -5″ tart pans with removable bottoms. Roll out each disk to fit in tart pans, about 6″. Press into pans. Transfer to freezer and chill for about 30 minutes.
Heat oven to 375.
Line each shell with foil and fill with pie weights. Place pans on a baking sheet.  Bake for about 20 minutes, or until golden brown. Remove foil and return to oven for the last few minutes if needed. Remove from oven and cool completely.
For Assembly
8 (4-5″) tart shells, baked and cooled
lemon cream cheese filling
assorted fruit, about 4 cups (I used strawberries, kiwi, and blueberries)
Transfer filling to a large pastry bag with a very large round tip (or no tip). Pipe a thick layer into shells. Arrange fruit on top.