Maple Roasted Pears with Berries, Pecans, and Fresh Vanilla Greek Frozen Yogurt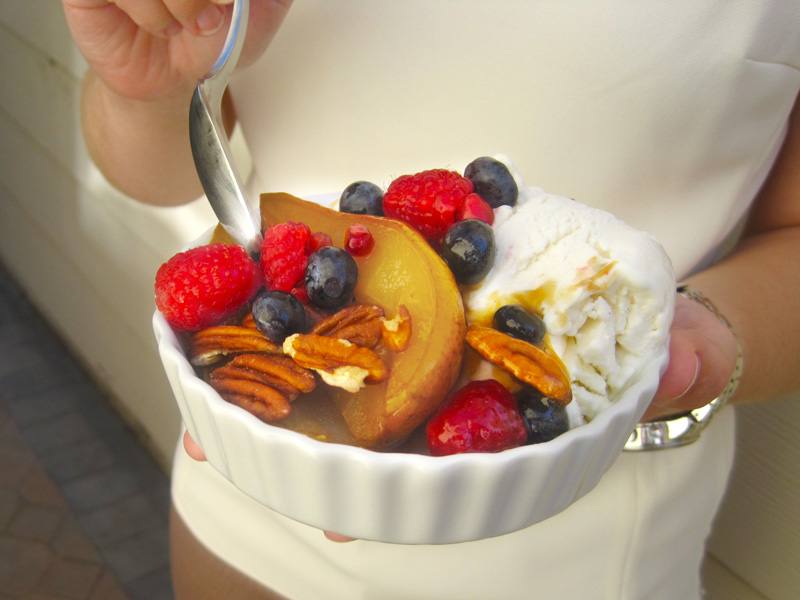 Serve frozen yogurt at your next brunch and prepare for your guests to freak out. It is somehow 1000 times more delicious than non-frozen yogurt, and 1000 times more like serving ice cream for breakfast. It's ridiculously simple to make with greek yogurt.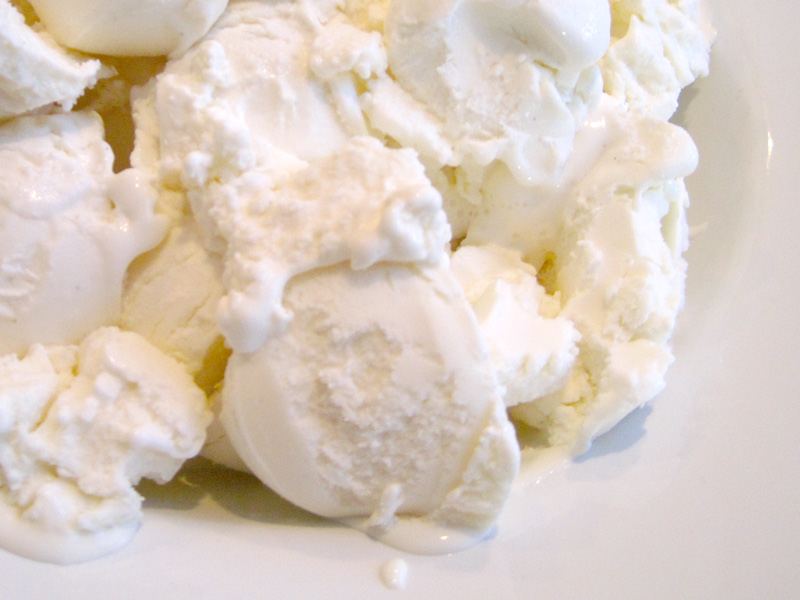 Even better, serve it sundae-style topped with fragrant, maple-infused pears, soft and warm from baking in a buttery syrup, and some berries and pecans. Best brunch ever. Also lovely for a light dessert.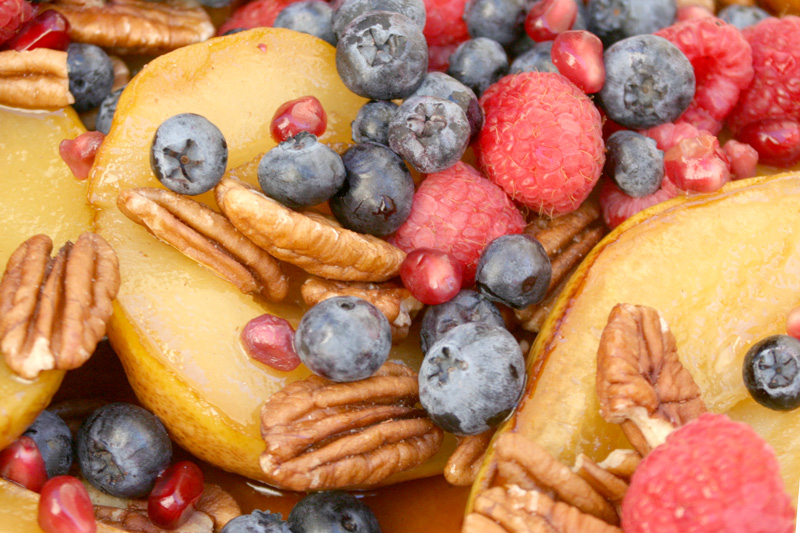 See more from my Baby Shower Brunch Menu for Sheila.
Maple Roasted Pears with Berries and Pecans
4 firm pears (I used bartlett here, though bosc or d'anjou are even better for this)
1/2 cup maple syrup
1/2 cup (1 stick) butter, melted
1 teaspoon vanilla
1/2 cup pecans
2 cups assorted berries (here I used raspberries, blueberries, and pomegranate seeds)
Heat oven to 400 degrees.
Halve and core pears. Arrange cut side down in a pan that just fits the pears, such as 13″x9″.  Combine syrup, butter, and vanilla, and pour over the pears, and make sure the mixture gets underneath them, as well. Bake for 20-30 minutes, until pears are soft (shorter for riper pears, longer for unripe pears).
Allow to cool slightly. Top with toasted pecans and fresh berries. Serve with vanilla frozen yogurt.
Fresh Vanilla Bean Greek Frozen Yogurt
2 cups plain greek yogurt (ideally not fat free)
1 cup sour cream
1 cup sugar
2 teaspoons vanilla bean paste (or seeds from 1/2 vanilla bean, or 2 teaspoons vanilla extract)
Combine all ingredients.  Refrigerate at least an hour before churning in ice cream freezer. Transfer to a container and let sit in freezer for a few hours before serving.