Fruitcake Reimagined – A Slice of Gooey, Chocolate Marshmallowy Cereal No-Bake Christmas Magic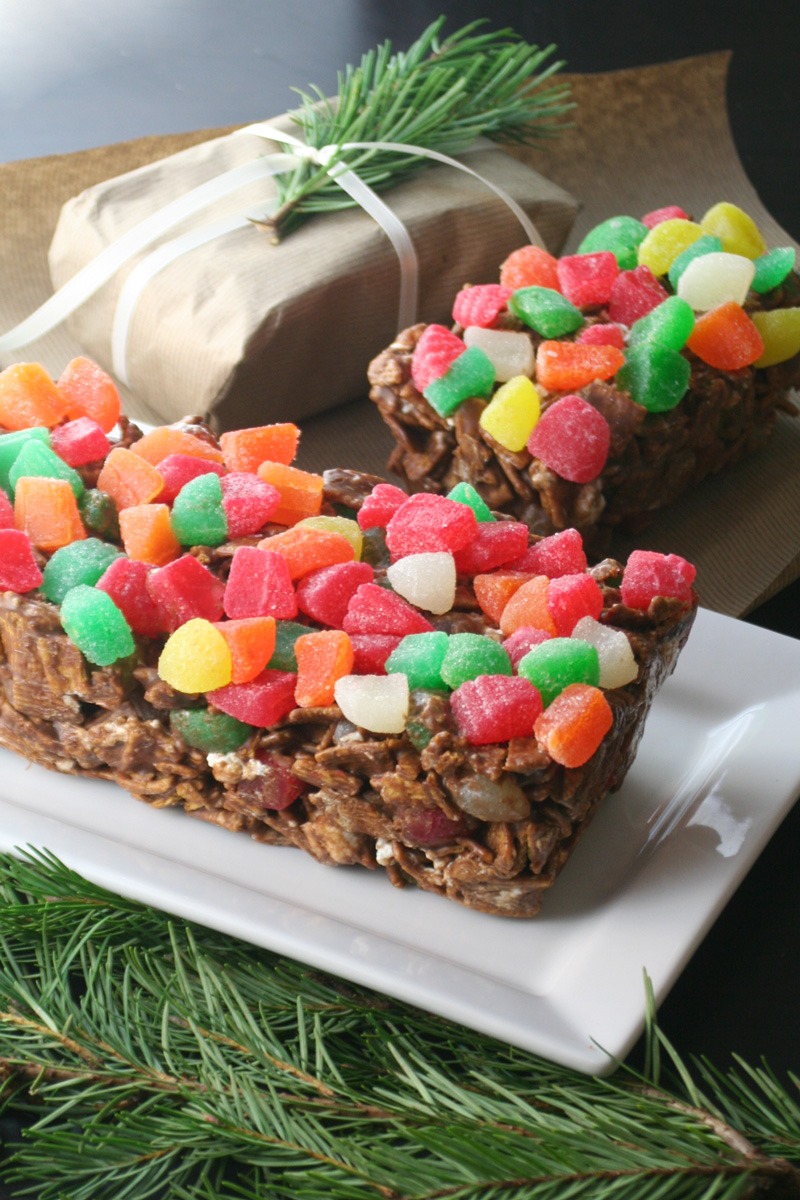 As iconic as it is as a Christmas dessert, fruitcake has a reputation for being disgusting. Fair enough. Time for a reimagining, perhaps? Let's just all agree that from here on out, fruitcake tastes like s'mores studded with gumdrops. Everyone on board? Okay.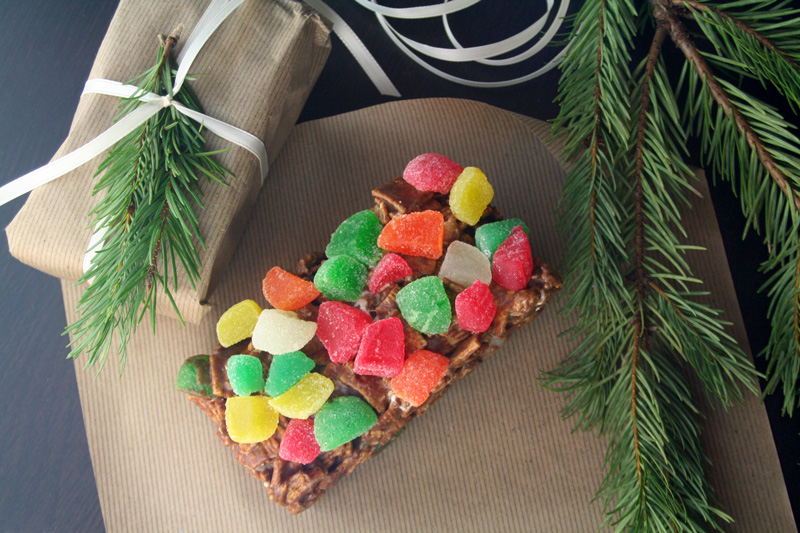 This fruitcake doesn't really have much in common with the traditional fruitcake, other than it's festive good looks and satisfying heft. It's based on the classic Indoor S'mores cereal bars- the more indulgent cousin of Rice Krispie Treats made from Golden Grahams cereal, chocolate, and marshmallows. They also happen to be one of all-time favorites. I know, I have a super classy palate.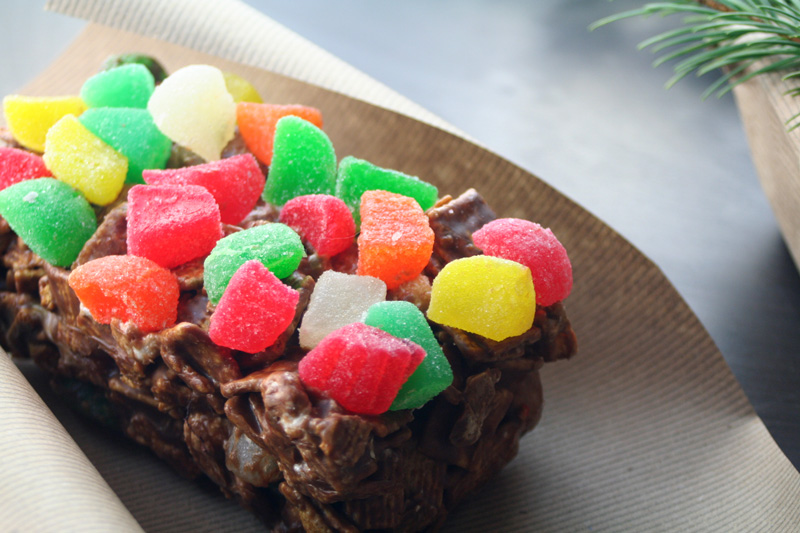 This masterpiece is the creation of my dear creative dad, where I may get a good portion of my tendency for kitchen extremes and experiments. It is inspired by a gumdrops studded rocky road candy he used to get in Australia. We made it for the first time a few years ago and instantly became a holiday favorite and new family tradition. It's one of those things that disappears sliver by sliver. This year I'm making a few small loaves to wrap up for neighbors and easy hostess gifts.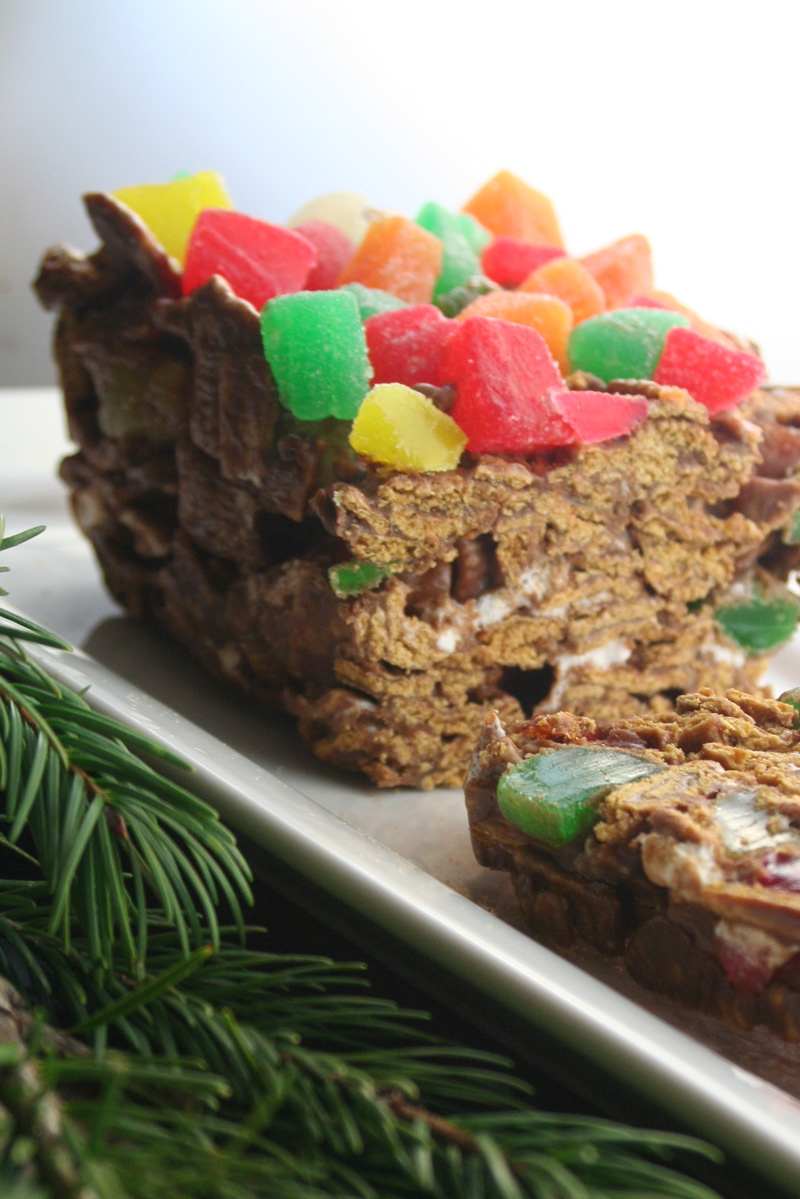 The large gumdrops can often be found in the bulk candy section, or I've found them with bagged candy. Avoid "spice" flavored gumdrops or spearmint flavors at all costs. You can also substitute fruit slice candies (I used some here since the store didn't have quite enough of the gumdrops), but the family has come to the opinion that the more subtle flavor of the gumdrops works slightly better.  At one point the recipe also contained nuts. With the crunch of the cereal they aren't necessary, but certainly no one would mind if you added some in. And they would be lovely decorating the top.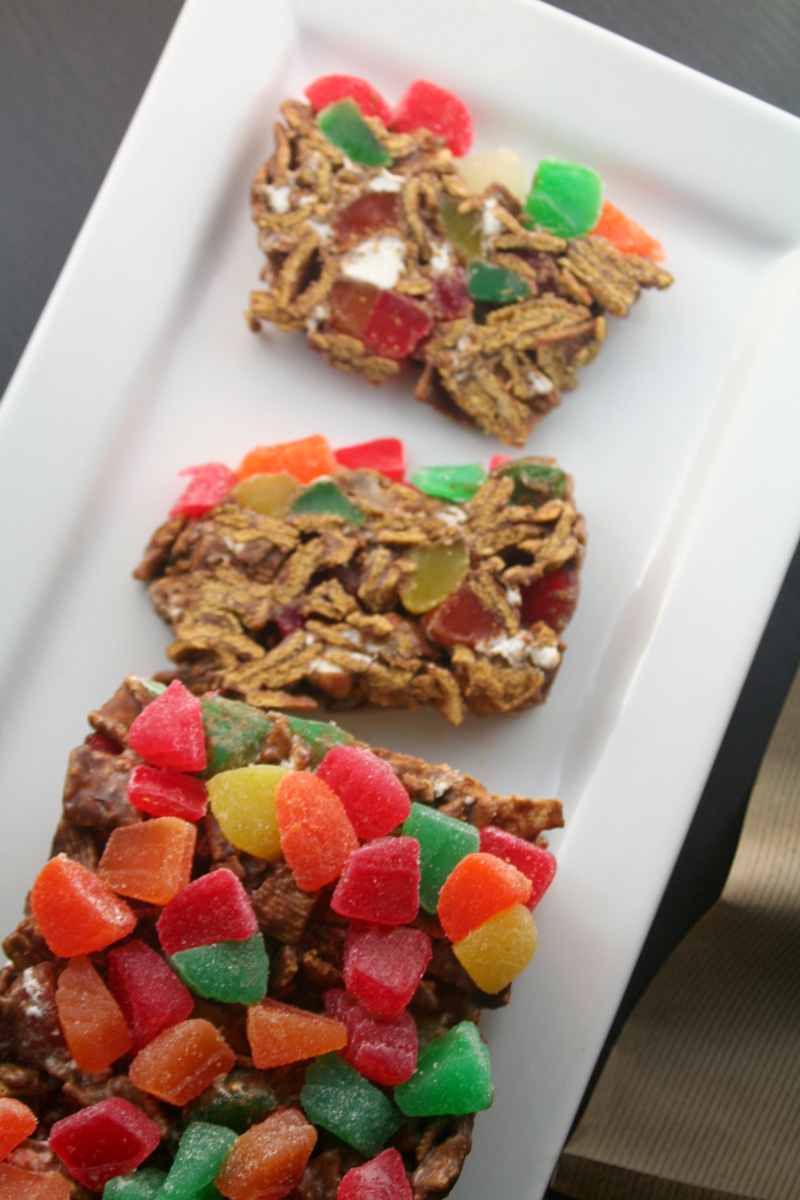 Chocolate Marshmallowy Cereal No-Bake Fruitcake
Recipe from my darling father, adapted from the old version of the Indoor S'mores recipe on the Golden Grahams box. Makes 2 average (8″x4″) sized loaves, or several mini-sized.
2 pounds large fruit-flavored gumdrops, all purple pieces removed
2/3 cup corn syrup
2 tablespoons butter
1 11.5 oz package (about 2 cups) milk chocolate chips
1 teaspoon vanilla
8 cups Golden Grahams cereal
2 cups miniature marshmallows
Line loaf pans with plastic wrap, allowing some to hang over the edge of the pan (to be handles for lifting out the loaf later).
Chop gumdrops into 3 or 4 pieces with a large, sharp chopping knife or with clean scissors. Toss with a little sugar if the pieces are sticking together, coating the cut edges. Divide into 2 piles and set aside.
In a medium saucepan, heat corn syrup, butter and chocolate chips just to boiling, stirring frequently. Remove from heat. Stir in vanilla. Stir in marshmallows at this point if you'd like them completely melted and incorporated.
Pour chocolate mixture over cereal in large mixing bowl, toss until coated. Stir in marshmallows if not already added, stir in half the gumdrop pieces.
Press mixture into pans (spray your hands or a rubber spatula with cooking spray to make the process less sticky). Press remaining gumdrops into the top. Let stand until firm, about an hour. Remove from pan by pulling up on the plastic wrap overhang.