Cardamom Cinnamon Churros with Chocolate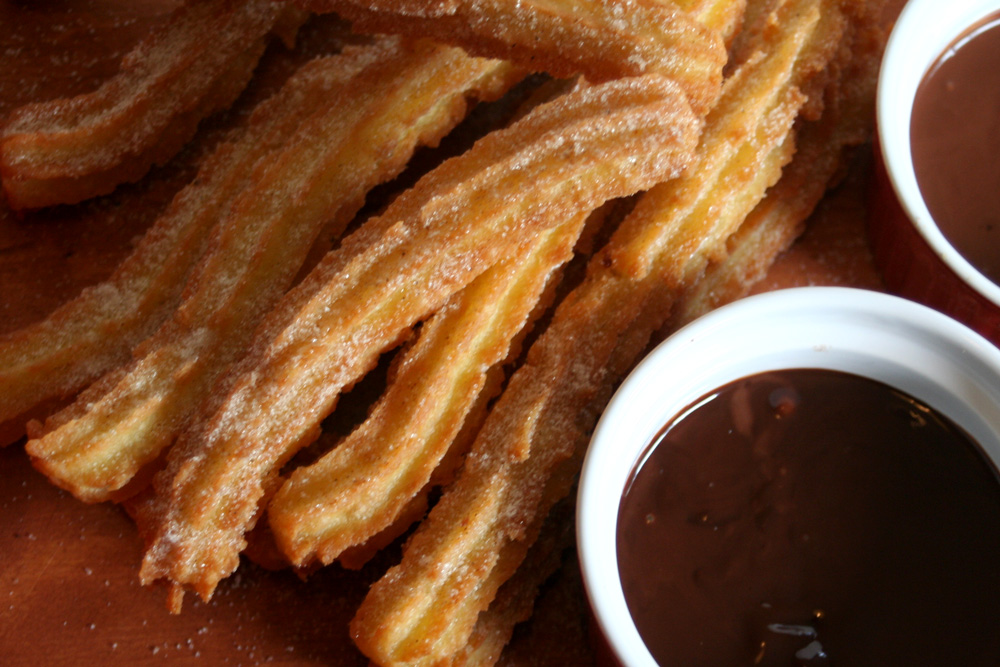 I was just going about a normal, non-pastry-filled day when I got a call from Jordan. Was I interested in whipping up some churros with some Ghirardelli chocolate?  Girl, please. OF COURSE.
Like I would turn down the chance for crispy pastry sticks rolled in cinnamon and sugar, and then dunked in chocolate. Please. But since I go overboard with everything, I had to go a step further. As if churros weren't good and aromatic enough from the dusting of cinnamon, I took the opportunity to up the spiciness a little with the addition of some cardamom. The simple reason for this is that I'm perpetually obsessed with cardamom, but it really does work nicely here and adds a subtle complexity to the flavor.  If you don't have cardamom, just cinnamon is still a classic.
To make churros, you start with a dough made on the stovetop, much like the pâte à choux that is used to make cream puffs and eclairs. This dough is then piped into hot oil and fried until crisp. A regular pastry bag with a large tip will do the trick- a star tip creates the ridges that are perfect for collecting sugar. But any tip will do, or you can buy a press made specifically for the purpose.
I have a small fear of frying things. It's one of my kitchen weaknesses. It's a reasonable fear, right?  I got this cute little fryer for wimps, though. It's about the size of a toaster and it somehow makes the experience much less terrifying. If you are like me or have not done much frying in the past, these churros are great for beginners.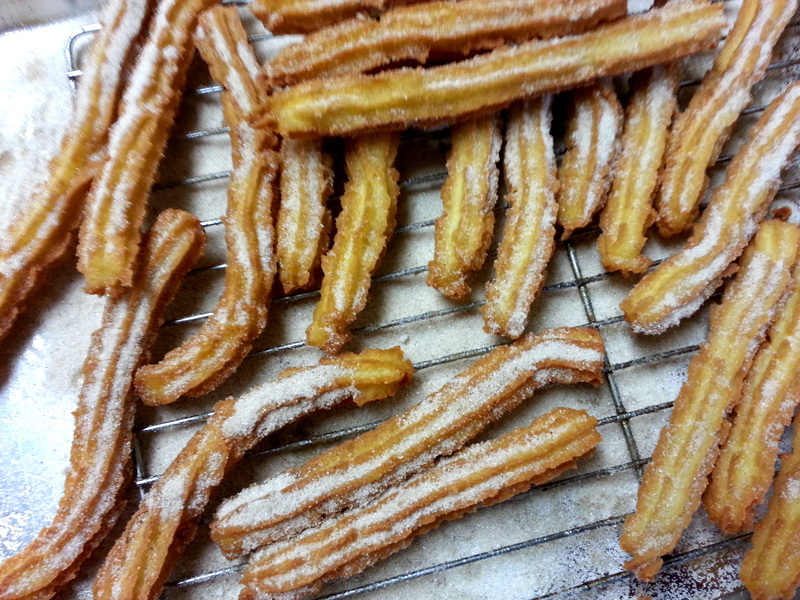 I couldn't decide which of the Ghirardelli chocolate bar flavors to use to create a sauce for dipping, so I picked three for a trio of chocolate sauces- cabernet (blackberry and grape), toffee, and the darkest chocolate they had. Far and away my favorite was the cabernet! The fruity flavor paired so nicely with the slightly spicy churros. Often the chocolate for dipping churros is closer to a thick hot chocolate, but I went a little thicker and more chocolatey to let the flavor of the chocolate really shine.
See Jordan's super cute Churros con Chocolate party at Oh Happy Day!
Cardamom Cinnamon Churros with Chocolate
adapted from Chocolateria San Gines, Madrid, Spain
1 cup water
1/2 cup butter
1/4 teaspoon salt
1 cup flour
3 eggs
1/4 cup sugar
1/4 teaspoon cinnamon
1/4 teaspoon cardamom (or extra cinnamon)
vegetable or canola oil for frying
Combine sugar, cinnamon, and cardamom in a small bowl and set aside.
To create dough, heat water, butter, and salt in a medium saucepan until boiling. Stir in flour and reduce heat to low while continuing to stir. Dough will be very thick. Remove from heat when a ball forms.  Stir in eggs, one at a time. Transfer to a large pastry bag fitted with a large star tip.
Meanwhile, heat oil to 360-370 degrees using a deep fryer or heavy pot with a thermometer. Once oil is heated, pipe in a 4-6 inch strips of dough. Once in the oil, the dough can be coaxed into a slightly straighter shape with some gentle nudging with tongs. Repeat piping in strips, being careful to not crowd the oil. Allow strips to cook for about 2 minutes before flipping, continue to cook for about 2 minutes more or until golden brown. Carefully remove from oil with tongs and place on wire rack to cool. Dust with a sprinkling of cardamom cinnamon sugar.
Serve warm with chocolate sauce for dipping.
Chocolate sauce
1 3.5 oz dark chocolate bar
1/4 – 1/2 cup half and half
Break chocolate into small pieces and place in a bowl. Heat half and half in microwave or on stovetop until steaming.
Starting with 1/4 cup, pour hot half and half over chocolate. Let stand for a minute or two to allow chocolate to soften. Whisk with a fork until chocolate is incorporated and smooth.  Add additional half and half a little at a time to reach desired consistency.
Serve warm with churros.