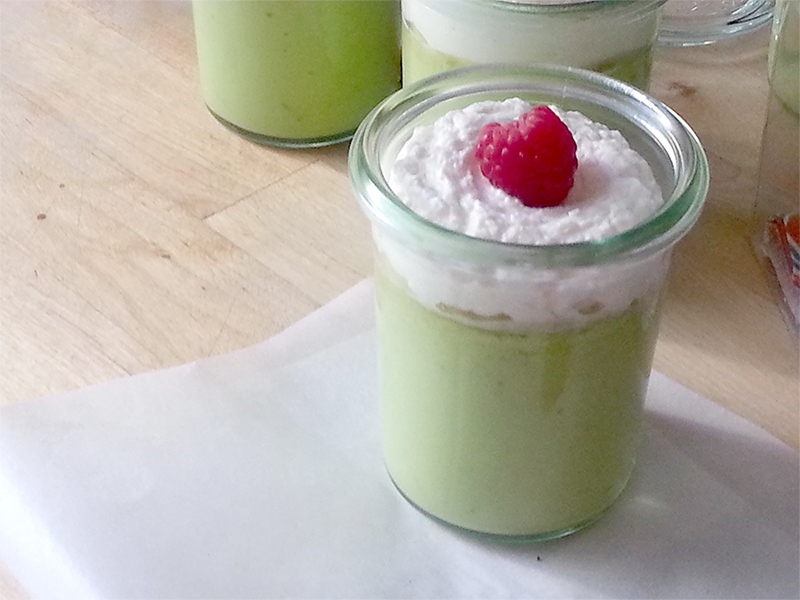 I love citrus.  I put lemon in almost everything. I wear a perfume with grapefruit notes. And today I had one of these Key Lime Pot de Creme for breakfast. Oops!
I needed something special to serve at Oh Happy Day's Calligraphy Craft Night, and hopefully these pot de creme, served with gingersnap cookie spoons, hit the mark. They are the perfect balance of refreshing and decadent, key lime pie and creme brulee, and impressive to your guests while still being quick and easy to make!
I tried a couple of techniques in the development process, starting with a traditional technique that starts with making a custard on the stove. But making it with sweetened condensed milk and no extra cooking beat it by a mile.  Everyone wins!
The beautiful, big green limes you are used to seeing are usually Persian limes, and the tiny, ugly ones next to them are the key limes. Key limes can be difficult to come by in Februrary, and even when you do find them they are a pain to juice.  But their flavor is just so lovely, it's worth at least trying to seek them out!  But don't be afraid to supplement with standard limes, which are good for zesting and so much easier to juice.  I won't even judge you if you don't use any key limes at all.
Speaking of no judgement, please, no one tell that I added a tiny bit of green food coloring here, since I wanted a pretty shade of green instead of the yellow the natural ingredients actually provide.  Feel free to leave it out!
We used these unbelievably adorable tiny Weck jars, but ramekins will also do the trick. Use a 1/2 cup ramekin for a similar portion size.
These are best served with gingersnap cookie spoons.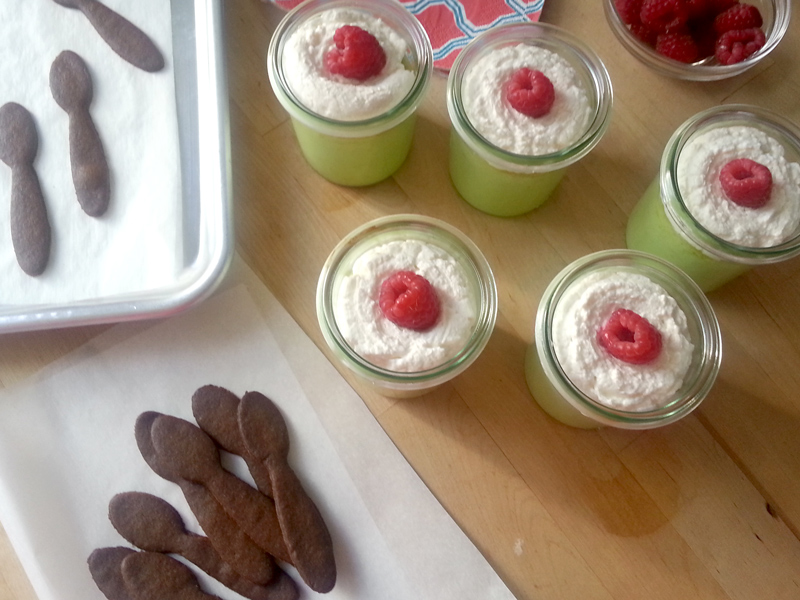 More food and recipes as seen on Oh Happy Day.
Key Lime Pot de Creme
Makes 4-6, depending on the size of your jars or ramekins.
1 can (14oz) sweetened condensed milk

1/2 cup sour cream

4 egg yolks

1/2 cup lime juice (combination of key lime and persian limes)

2 tsp lime zest

1/2 tsp vanilla

tiny drop green food coloring (optional)
Preheat the oven to 350.
Combine sweetened condensed milk, sour cream, egg yolks, lime juice, lime zest, and vanilla, and whisk until smooth.  Dip the tip of a toothpick into food coloring, and swirl into lime mixture.  Stir completely, and repeat process if needed until desired shade is reached. Transfer to a small pitcher or container with a pour spout.
Place jars or ramekins in a pan with sides at least 2 inches high. Pour lime mixture carefully into jars or ramekins, leaving a little space at the top. Wipe up any drips down the sides.  Fill the pan about halfway with hot water, being careful to not get any in the jars.  Carefully transfer to oven.
Bake for about 15 minutes, or until set.  Remove from water bath and allow to cool, then transfer to refrigerator to chill thoroughly.
When cool, top with fresh whipped cream and raspberries.  May be served cold or at room temperature.