Derby-style Chocolate Pecan Marzipan Pie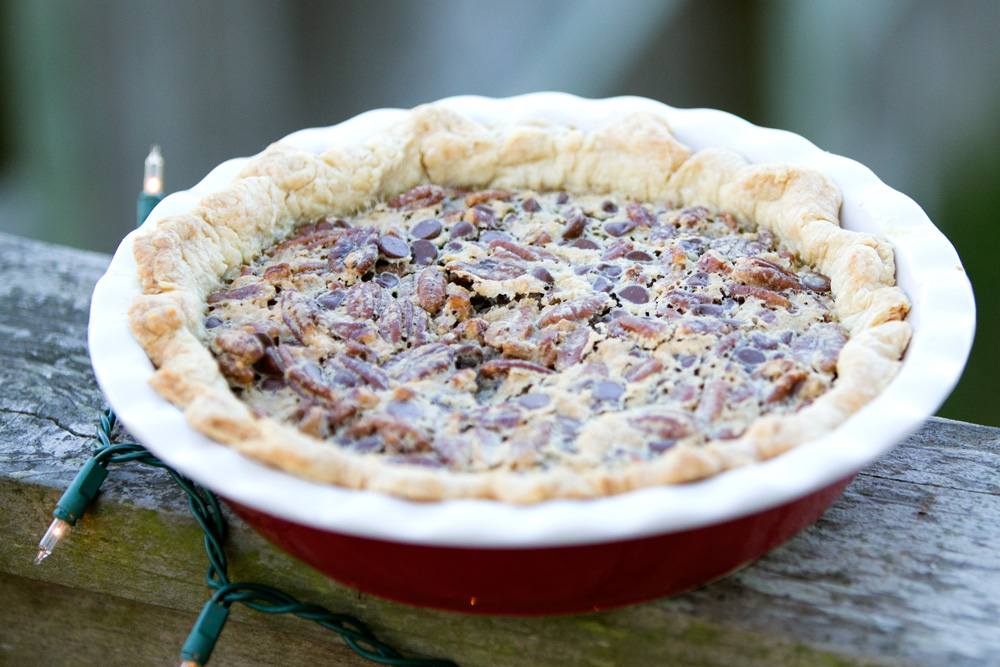 Ok, so there isn't actually marzipan in this pie, but my friend Rebecca described as marzipan and now I can't think of a better way to describe this hard-to-describe pie. It doesn't look like much, but it's absolutely out of this world- packed with chocolate and pecans with a gooey, marzipan-like interior, all inside a buttery crust. This pie came from a need to create an alcohol-free version of the traditional bourbon-filled Derby Pie. I simply replaced the bourbon with some almond flavoring with magical, marzipan-y results.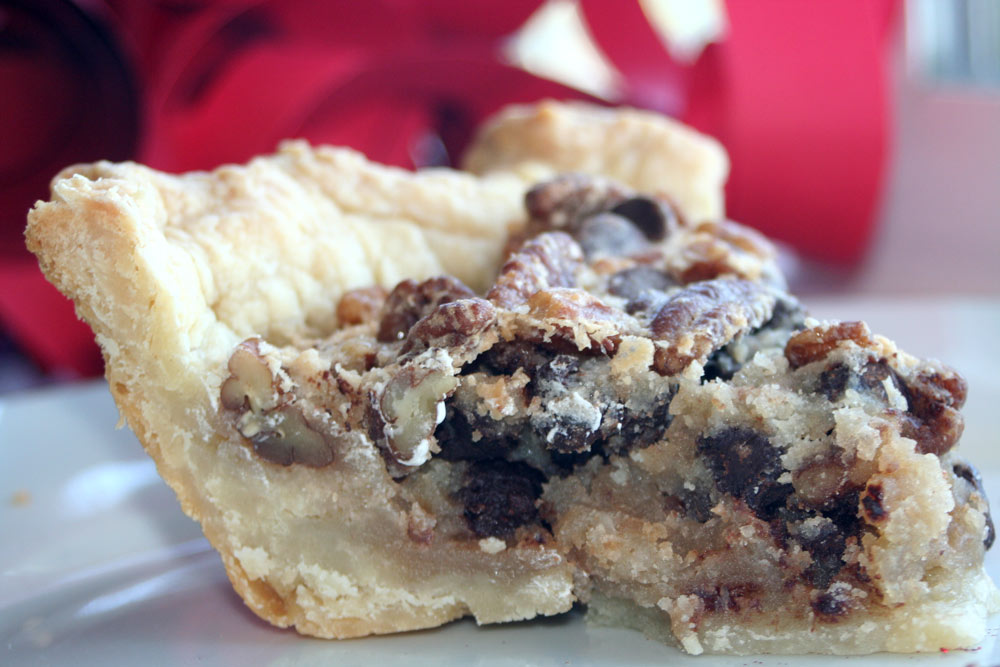 I had a major technology meltdown this week (two failed laptops and a failed internet connection), so I'm barely posting this recipe before the Derby. Thankfully this pie is super quick to make, and is made of ingredients you may just have in your cupboards already!
Derby-style Chocolate Pecan Marzipan Pie
Adapted from Martha Stewart
1 partially baked pie crust (recipe below)
2 large eggs
1/3 cup butter, melted
1 cup sugar
1/3 cup flour
1 1/2 cups pecans, coarsely chopped
1 cup semisweet chocolate chips
2 tablespoons almond extract
1 tablespoon vanilla extract
Mix together eggs and melted butter, then add sugar and flour and mix until well combined. Add in pecans, chocolate chips, and extracts. Pour into partially baked pie shell.
Bake about 25-30 minutes, until filling is set. Cool before serving.
Pie Crust
1 2/3 cups flour
1/2 teaspoon salt
10 tablespoons butter, cold
1/4 cup ice water
Combine flour and salt in a food processor and pulse to combine. Add the butter in small chunks and pulse until mixture is mostly combined but still coarse (if you don't have a food processor, cut in butter with a pastry blender). Add the ice water while the machine is running, just until the dough barely holds together.
Flatten dough into a disk and wrap in plastic. Refrigerate for about an hour.
Roll out dough on a lightly floured surface, to about a 12-inch round. Transfer dough to a pie plate and crimp edge as desired. Refrigerate again for about 30 minutes.
Preheat oven to 350 degrees. Dock the dough by pricking all over with a fork. Fill with pie weights (parchment paper and dried beans works great) and bake until just starting to brown but not entirely done, about 25 minutes. Remove pie weights and bake 5 more minutes.
More from the Kentucky Derby party menu.
photo by Adam Findley