Coconut Cake with Marshmallow Frosting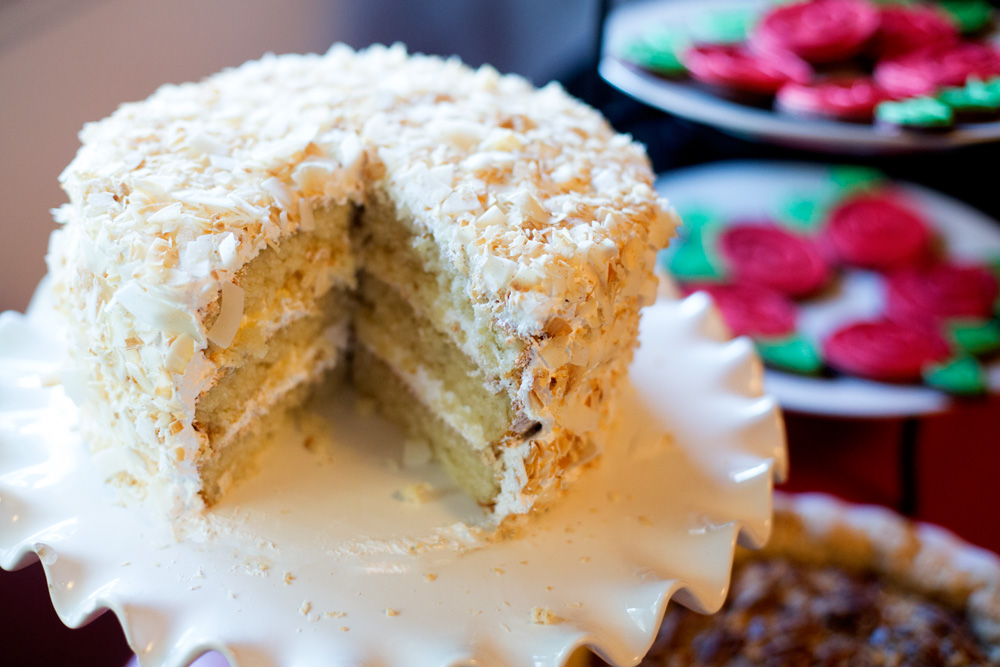 One of these years I may do a
Kentucky Derby party menu
that's all Southern desserts. Caramel cake, red velvet cake, peach pie, pecan pie. And this. A dreamy, moist, aromatic cloud of a cake, made with the magic of coconut milk.  Ever since I made this cake for my first Kentucky Derby party years ago, whenever I need to make a cake this one is the first that comes to mind. And it's now a new Kentucky Derby tradition to have a slice of this cake for breakfast the day after.
A cream cheese frosting would probably be more traditional here, but I wanted the over-the-top lightness of a marshmallow frosting. Be sure to make the frosting only when you're ready to frost, as it starts to set up and becomes too difficult to spread. Don't worry about doing a good job frosting, as you can cover the cake the cake with a layer of toasted coconut. Find these great big coconut flakes in the bulk bin section of a natural foods store, or from 
Bob's Red Mill
.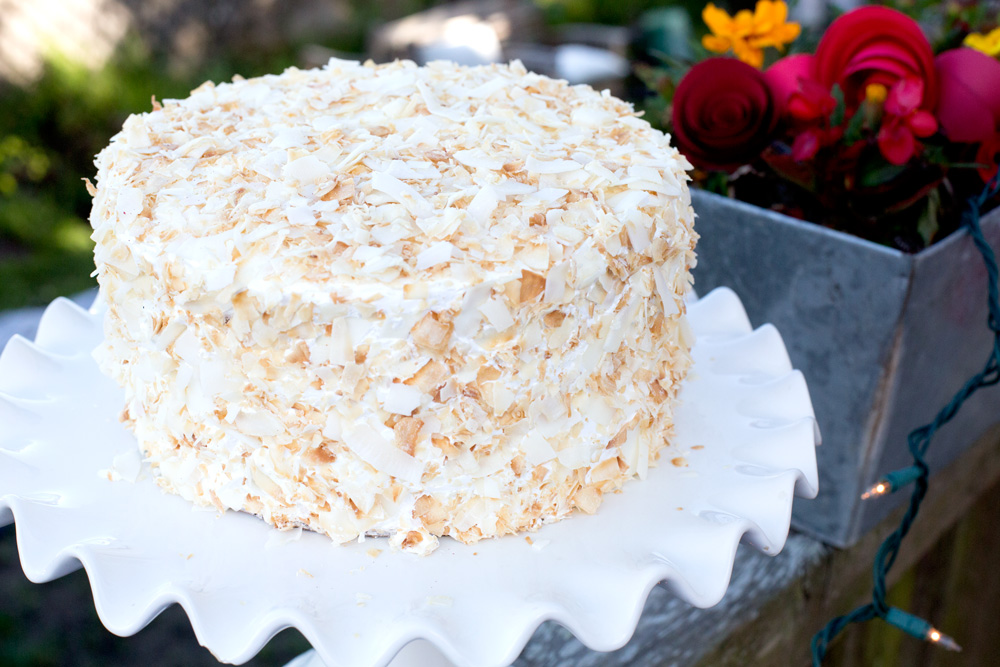 Note that this recipe uses cake flour. I've made it with all-purpose flour and it's still good, but the version with cake flour is far superior.
7 large egg whites
3/4 cup milk
2 teaspoons vanilla extract
1 teaspoon coconut extract
4 1/2 cups of cake flour
3 1/2 cups sugar
2 tablespoons + 1 teaspoon baking powder
1/2 teaspoon of salt
1 1/2 cups butter, softened
1 1/2 cup unsweetened coconut milk
Preheat oven to 350°F. Prepare three round 8-inch by greasing, lining with parchment paper, and flouring. (If you don't have 3 pans, don't worry, neither do I. Divide batter into equal thirds, using a scale if you have one, and bake in shifts).
In small bowl, whisk the eggs whites, milk and vanilla until thoroughly combined. Set aside.
Combine the dry ingredients in stand mixer on low speed. Add the butter and coconut milk and beat just to combine. Increase the speed to medium and beat about 2 minutes, until light and fluffy. Add the egg mixture a small amount at a time and continue beating for another minute.
Divide batter into pans. Bake for 30 minutes or until cake tester comes out clean. Cool in pans on racks for 10 minutes, then gently remove and complete cooling on racks.
Marshmallow Frosting
4 egg whites
1 cup sugar
1/2 cup corn syrup
pinch of salt
Fill the bottom pan of a double boiler with water. If you don't have a double boiler, fit a metal bowl over a medium saucepan (use the metal bowl of a stand mixer if you have one). Bring water to a simmer.
In the bowl, whisk the egg whites, sugar, corn syrup, and salt until well combined. Place the bowl over the simmering water and continue to lightly whisk until the sugar has dissolved and the mixture is hot (about 130°F).
Pour mixture into the bowl of a stand mixer fitted with a whisk attachment. Whip on medium speed until big and fluffy and cooled, about 5 minutes. Use frosting within 20 minutes or so, before it sets.
For Assembly
about 3 cups large coconut flakes, toasted, for garnish
Toast coconut: Spread coconut on a baking sheet. Place in 300 degree oven for about 15 minutes or until nicely browned, stirring every few minutes to prevent burning.
Level cake layers with a sharp knife if needed. Cover first layer with about 1/4 of the frosting. Stack next layer on top and cover with another 1/4 of the frosting. Top with third layer.  Create a crumb coat if desired, or just frost entire cake in one thick layer with remaining frosting. Gently press toasted coconut up the sides and on the top.
More from the Kentucky Derby party menu.
Photos by Adam Findley