Gluten Free Picnic: Sushi Salad with Lemon Wasabi Dressing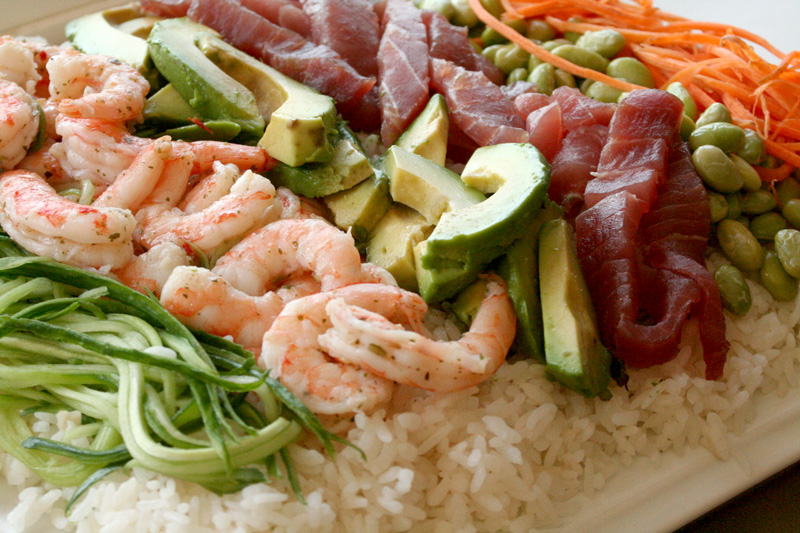 My dear friend Kate is moving away so we planned a little picnic now that our time together is so limited and precious. Kate is gluten free and it was set to be 89 degrees in the East Bay, so I settled on making a sort of deconstructed sushi-inspired salad. Laziness may have also played a small factor since I could have just made actual sushi rolls. Instead, I made a batch of rice in the morning, and in the time it was cooking I chopped up everything for the rest of the salad and whisked together a simple dressing to stick in the fridge until it was time for lunch.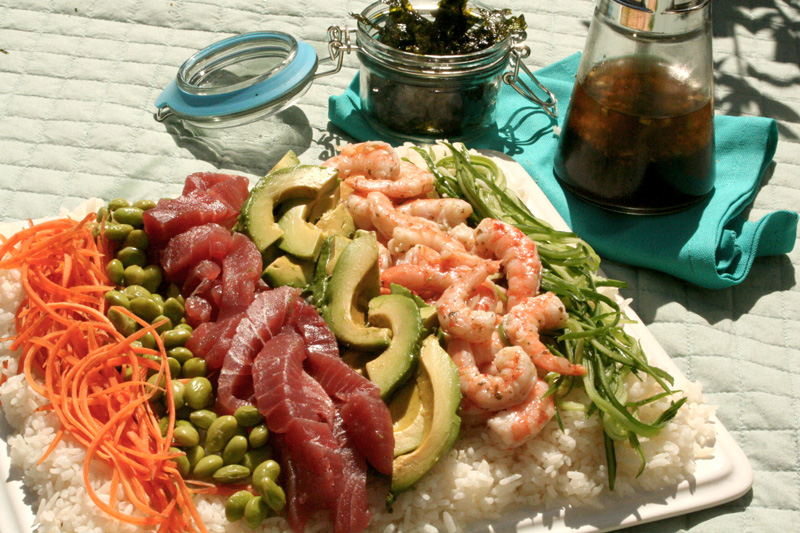 The ingredients of this salad are endlessly flexible. I included shrimp as a non-raw option and the ahi tuna because it was calling my name at the store, but salmon would also be great here. And I will certainly be making this again when it's crab season in San Francisco.
The avocado is non-negotiable in my opinion, but I also had cucumber and carrots in the fridge and seriously about 10 pounds of edamame in the freezer, so they rounded out this salad. I got this little handheld julienne tool as a gift and I'm kinda in love with it. It looks like a peeler but it makes the carrots and cucumbers for this salad into pretty ribbons.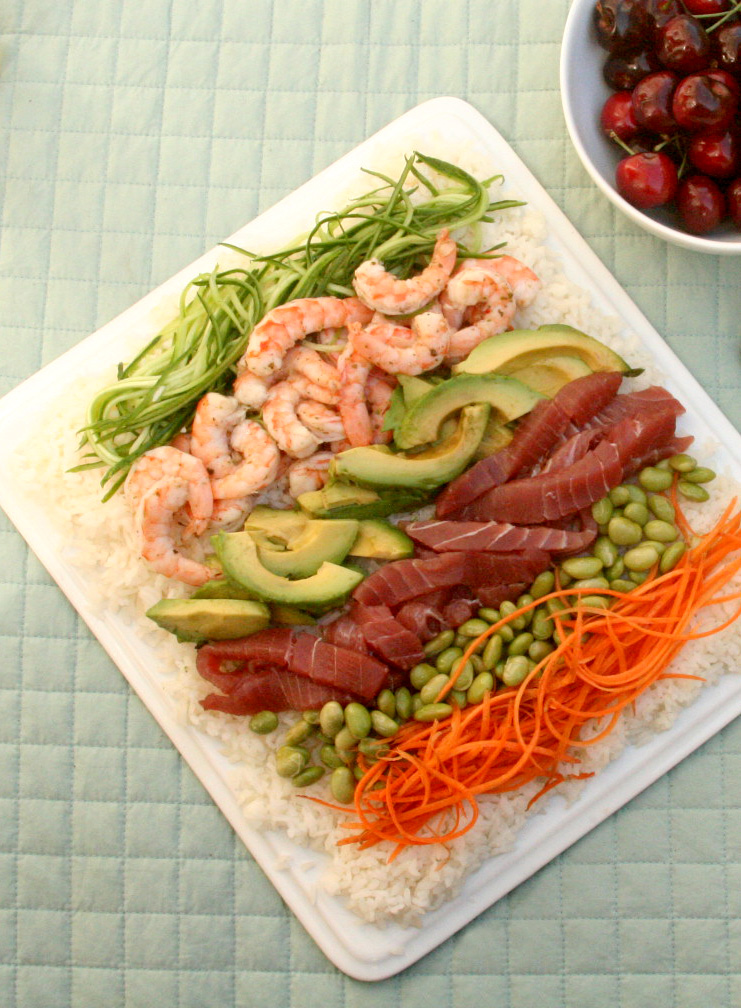 All the ingredients of the salad are naturally gluten free, but for the dressing I was careful to choose tamari sauce, which is not made with wheat like soy sauce. If you do not need gluten free dressing, soy sauce can be easily substituted.  I double checked to make sure my brand of wasabi did not have any stealth gluten ingredients and we were good to go.
I brought along a little jar of roasted seaweed strips to add at the last minute. For those I just cut up some roasted seaweed snacks. The Trader Joe's brand (in both regular and wasabi flavors) is labeled as gluten-free, so I used those, but I frequently also find them in regular grocery stores, Costco, my favorite Asian grocery, and online.
I usually can't help myself and make a bunch of dishes to complete a menu, but this salad seemed pretty complete by itself. I just served it with this Mango Pineapple Coconut Slush to keep cool.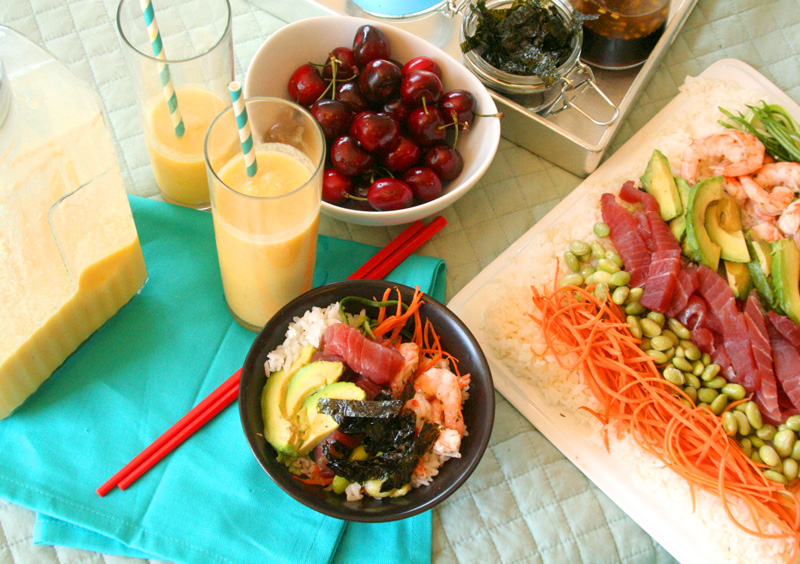 Sushi Salad with Lemon Wasabi Dressing
serves 4
vinegared rice (below)
about 1/2 pound sashimi-grade ahi tuna
about 1/2 pound cooked shrimp (I tossed mine in a little lime juice)
2 avocados, sliced
about 1 cup shelled edamame
1/2 cucumber, shredded or cut into matchsticks
2 carrots, shredded or cut into matchsticks
lemon wasabi dressing (below)
toasted seaweed snacks, cut into strips
Pat a layer of rice in a platter. Arrange tuna, shrimp, avocado, edamame cucumber, and carrots on top.
Serve with dressing and seaweed strips.
If making ahead: Prepare all fish and vegetables and store in refrigerator. Do not refrigerate rice. Assemble just before serving.
Vinegared Rice (Sushi Rice)
Place rice in a large bowl and fill with cool water. Swirl around the rice to wash it, and change out the water 4 or 5 times until the water stays clear.
Pour into strainer to drain and let stand for about one hour.
Combine water and rice in a medium pot that has a lid. Bring to a boil over high heat. Reduce heat to low, cover, and simmer for 10 minutes. Do not remove the lid. Remove from heat and let sit with the lid on for 10-15 minutes.
Meanwhile, whisk together seasoned rice vinegar, sugar, and salt. Stir until dissolved.
Transfer rice to a wide, shallow pan to allow for quick cooling. Fan it a bit, and drizzle with vinegar mixture. Fold in vinegar mixture, being careful not to stir and separate rice.  Cool to just above room temperature.
To store rice: Vinegar dressing should help preserve rice without refrigeration. Cover and store in a cool area. Refrigeration will cause rice to harden.
Lemon Wasabi Dressing
1/4 cup tamari sauce (for gluten free) or soy sauce (not gluten free)
1/2 cup lemon juice
1/4 vegetable oil or olive oil
1/2 teaspoon sesame oil
1 tablespoon grated ginger
3 green onions, thinly sliced
1 tablespoon wasabi
Whisk together all ingredients.