Grapefruit Avocado Salad with Poppy Seed Dressing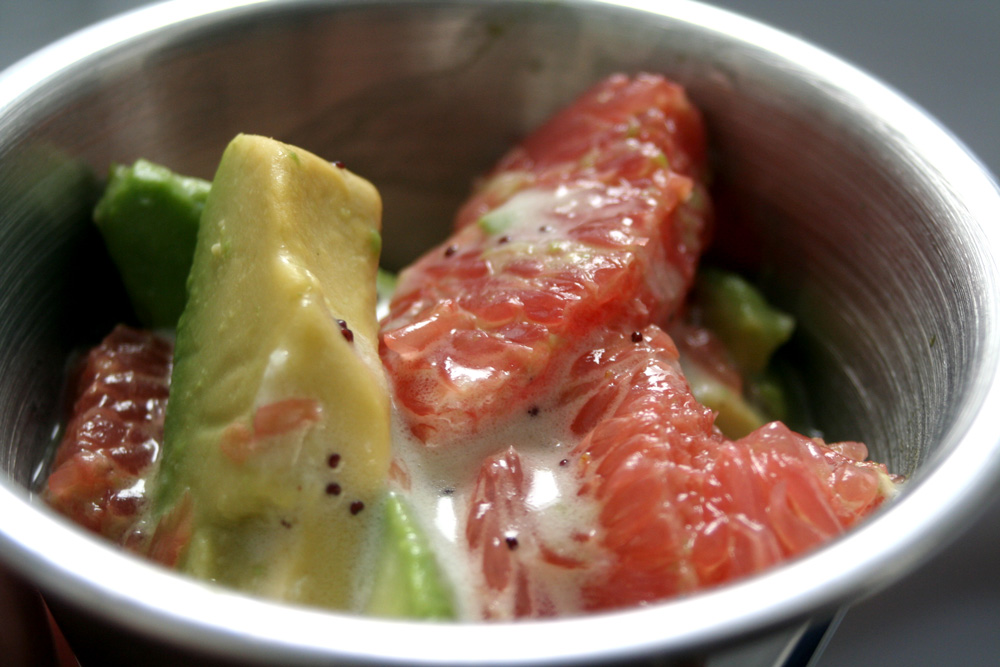 A cute old lady practically attacked me with excitement about this grapefruit in the checkout line at the grocery store the other day. Her doctor says she can't have them anymore, so she said now that's all she wants. I promised her I would eat these in honor of her.  Here's to you, little old lady!
I should should be dedicating this to my mother, though, who served me a salad years ago that stuck in my mind. Her version was grapefruit and orange sections, avocado, pecans, large toasted coconut flakes, and drizzled with honey and lime.  I was especially enchanted by the unusual but spectacular combination of grapefruit and avocado, and have served it many ways since. I shouldn't be surprised when it's a hit every time!
For Jordan's housewarming party, I went for this simple version of just the grapefruit and avocado, drizzled with my favorite poppy seed dressing.  I think this simple preparation is now my favorite version of this dish.
We served this salad in cute individual bowls for the party, but would also be gorgeous on a large platter for a brunch.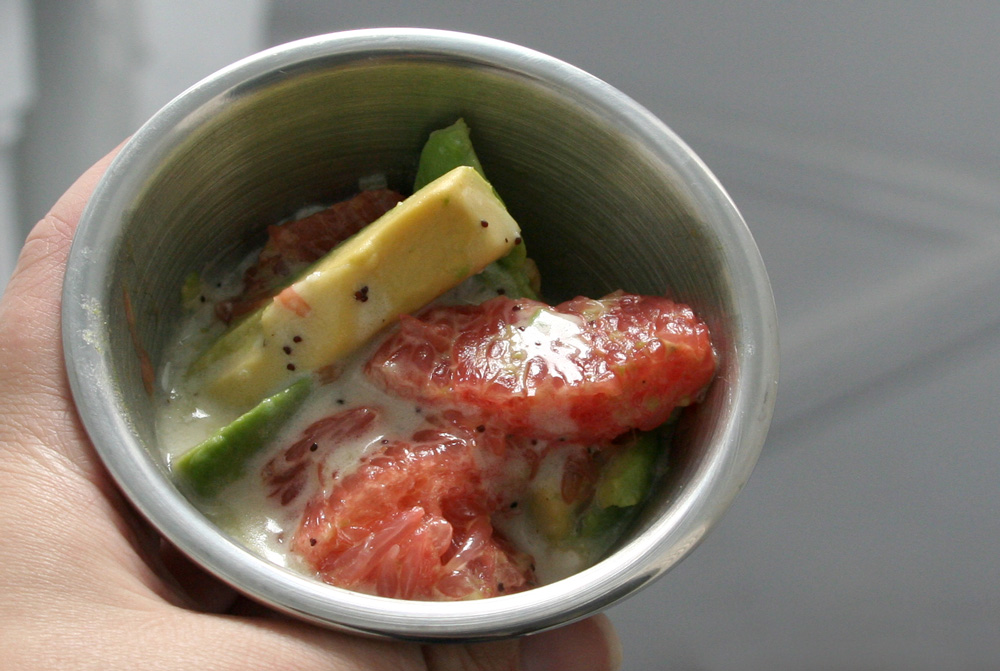 Note that I remove the membranes of my grapefruit sections to avoid bitterness and for aesthetics. This process is called supreming and if it sounds like a giant pain, then you are correct. Oranges are way harder though, you can totally handle grapefruit. Peel your grapefruit,  then with a very sharp knife cut the very outside off the entire peeled grapefruit (I usually cut of either end first, then set it down on the cutting board to go down and around the sides more easily). Then carefully pull each section from the remaining membranes.
Grapefruit Avocado Salad
4 grapefruit
2 ripe avocados
Peel and section grapefruit, ideally removing membranesto avoid bitterness. Chop avocado into large chunks, roughly the size of grapefruit sections.  Gently toss together, being careful to not damage the avocado too much. Serve with a drizzle of poppy seed dressing.
Poppy Seed Dressing
I am not kidding when I say this dressing is my favorite, I put it on everything and make it by the gallon for events. Makes more than is needed for this salad.
1 cup vegetable oil
1/3 cup white vinegar
2 teaspoons dijon mustard
1/4 of an onion, peeled
1 teaspoon salt
1/4 cup sugar
1 tablespoon poppy seeds
1/2 cup mayonnaise (or more for a thicker dressing)
Combine all ingredients in a blender until thoroughly blended and creamy.  Add more mayonnaise if necessary.  Store in refrigerator for up to 2 months.