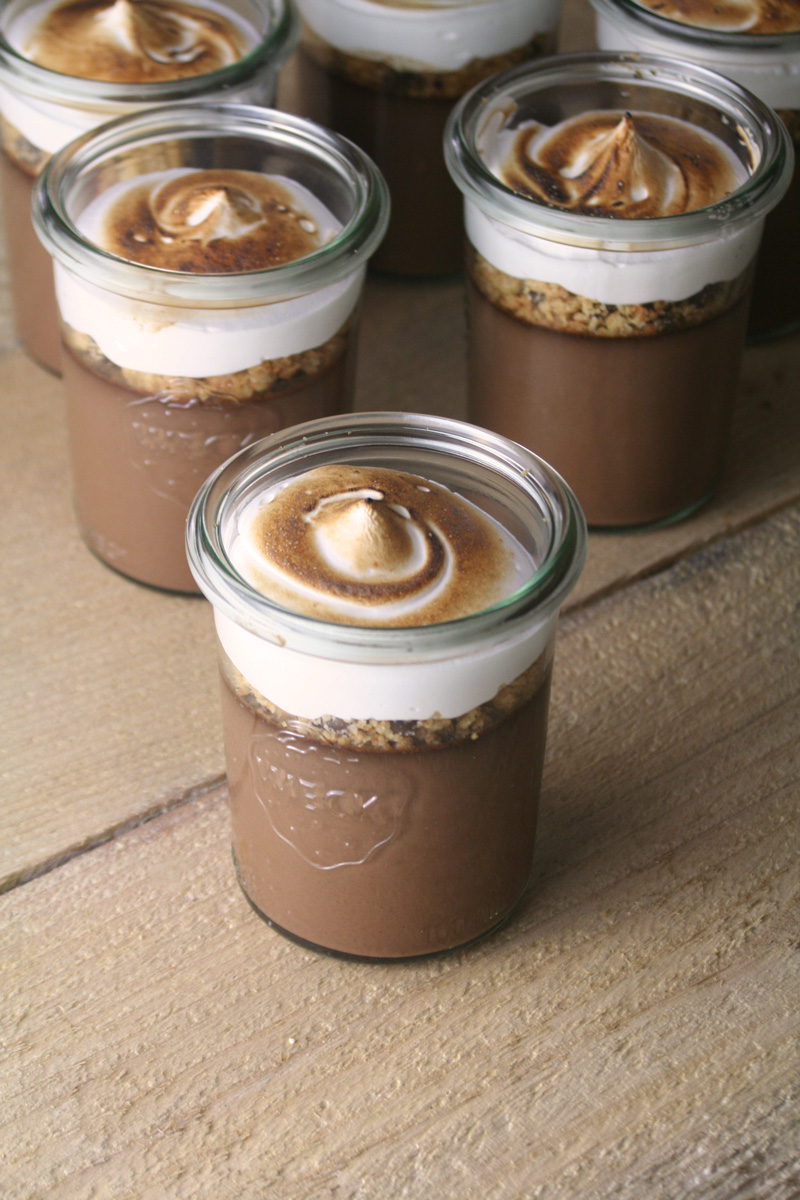 We need to talk about these. An incredibly rich, deep chocolate pot de creme, a sweet and crunchy layer of graham cracker and mini chocolate chips, topped with a big fluffy swirl of marshmallow. Toasted marshmallow. I know it's not a challenge to make these flavors work together, but just…WOW.
These came about as I needed something pretty, delicious, and portable to serve at the latest Oh Happy Day Craft Night. I caught the end of one of the classes and learned a bunch of cool stuff about arranging flowers that I completely failed to apply once I had the flowers in my hands.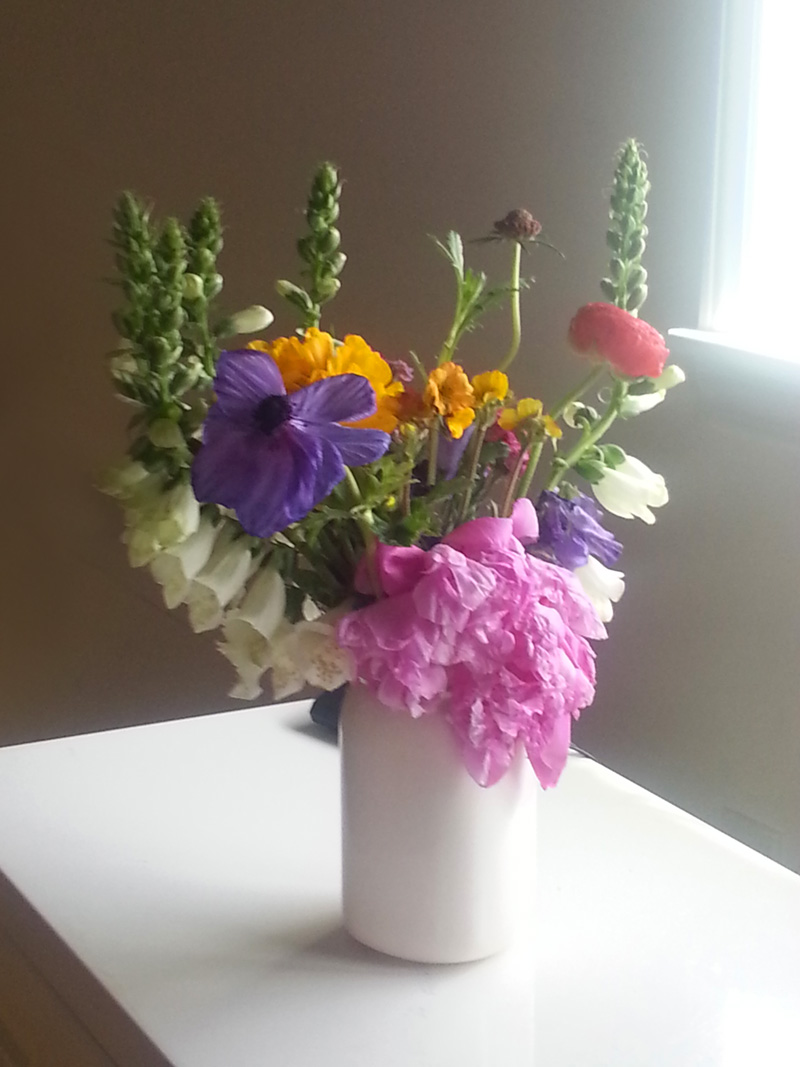 I think I made that poor peony lose it's will to live.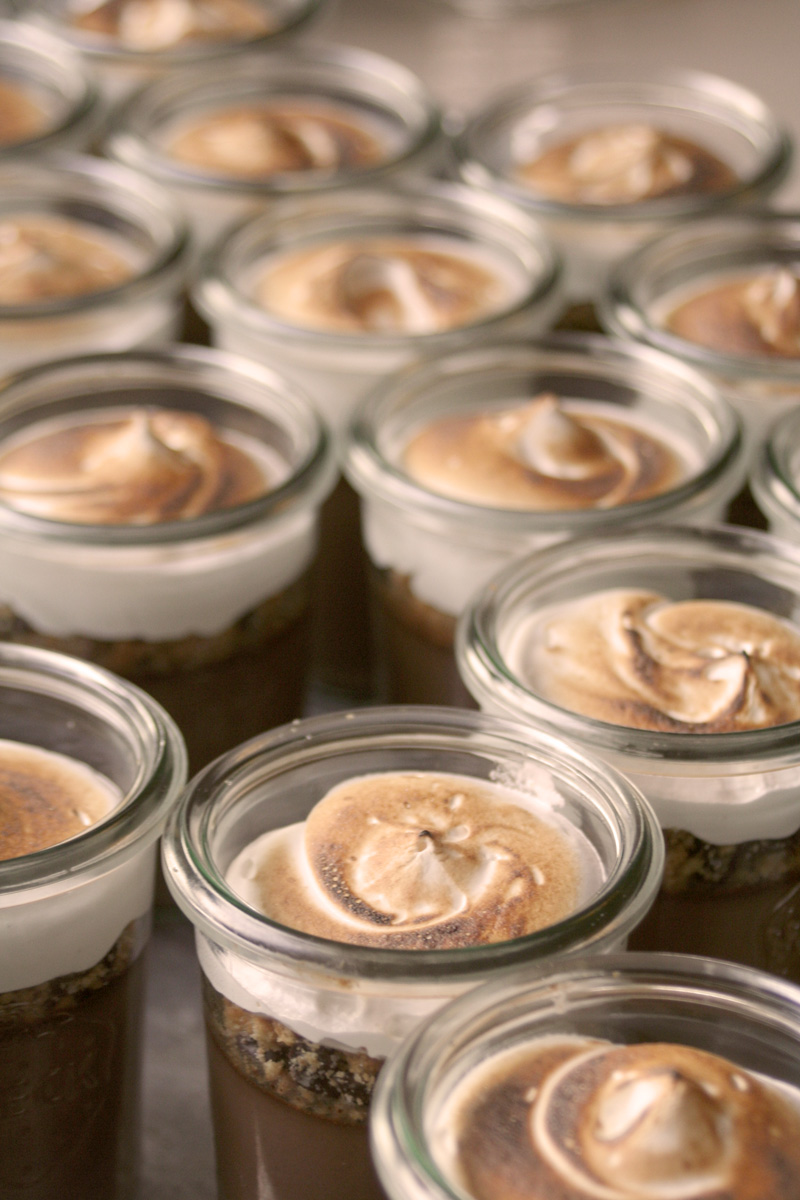 I used these unbelievably adorable tiny Weck jars, but ramekins will also do the trick. Use a 1/2 cup ramekin for a similar portion size. I may go up a size in the jars next time for a taller layer of marshmallow.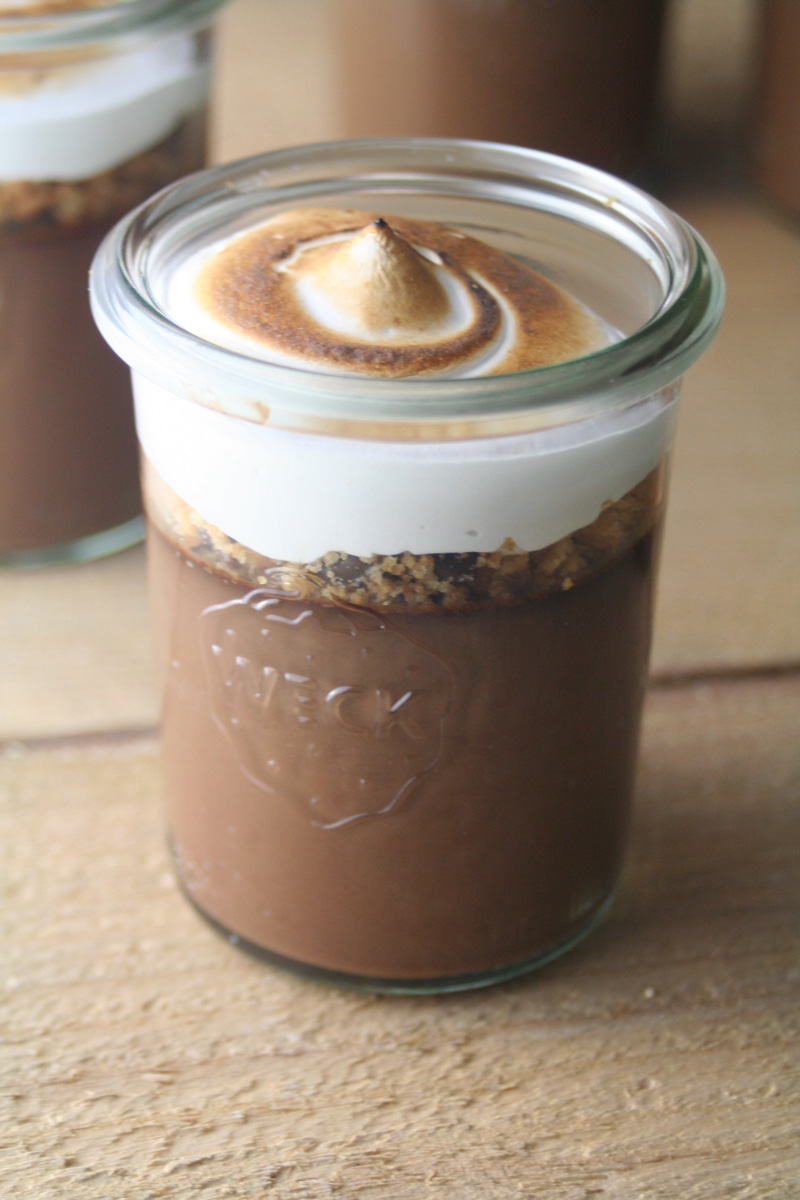 More food and recipes as seen on Oh Happy Day.
S'mores Pots De Creme
Makes about 6 made in 1/2 cup jars or ramekins.
6 oz good quality bittersweet or semisweet chocolate (not unsweetened), chopped
1 cup cream
1 cup whole milk
6 large egg yolks
2 tablespoons sugar
Heat oven to 300°F.
Place chopped chocolate in a medium bowl. Heat cream, milk, and a pinch of salt in a small saucepan, stirring occasionally, and bring just to a boil. Pour hot mixture over chopped chocolate and allow to sit and melt chocolate for several minutes. Whisk until smooth.
In a large bowl, whisk together egg yolks, sugar, and another pinch of salt. Slowly add chocolate mixture a little bit at a time while whisking, to avoid heating the egg to quickly. Strain out any curdled bits if needed. Allow to cool 15-20 minutes.
Place jars or ramekins (I used ones that hold about 1/2 cup) in a pan with sides at least 2 inches high. Pour chocolate mixture carefully into jars or ramekins and wipe up any drips down the sides.  Carefully transfer pan to oven. Fill the pan about halfway with hot water, being careful to not get any in the jars. Cover pan loosely with foil.
Bake about 20 minutes, until partly set. Carefully pull out oven rack and discard foil. Top each pot de creme with a few tablespoons of the graham cracker mixture (below) and pat down slightly. Return to oven and bake another 15 minutes.
Remove from water bath and allow to cool to room temperature. Transfer to refrigerator and chill 3 to 4 hours or overnight.
Prepare marshmallow (below). Transfer to a piping bag with a large, round tip. Pipe a large swirl on top of each pot de creme. Toast with a kitchen torch, or by putting under the broiler for a few minutes.
Crumb Layer
1 cup graham cracker crumbs
3 tablespoons sugar
1/4 cup melted butter
1/2 cup mini chocolate chips
Combine graham cracker crumbs, sugar, and melted butter in a small bowl until well combined. Stir in chocolate chips.
Marshmallowy Layer
2 egg whites
1/2 cup sugar
1/4 cup corn syrup
pinch of salt
Fill the bottom pan of a double boiler with water. If you don't have a double boiler, fit a metal bowl over a medium saucepan (use the metal bowl of a stand mixer if you have one). Bring water to a simmer.
In the bowl, whisk the egg whites, sugar, corn syrup, and salt until well combined. Place the bowl over the simmering water and continue to lightly whisk until the sugar has dissolved and the mixture is hot (about 130°F).
Pour mixture into the bowl of a stand mixer fitted with a whisk attachment. Whip on medium speed until big and fluffy and cooled, about 5 minutes. Use within 20 minutes or so, before it sets.