Chocolate Sandwich Cookies with White Chocolate Filling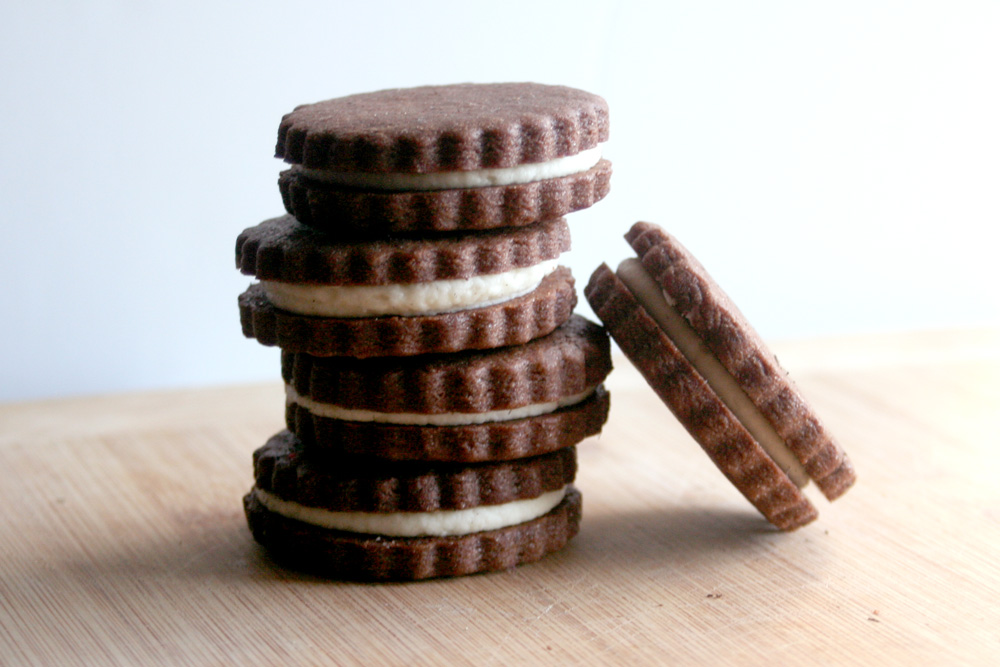 I never intended these to be like Oreos, but you really can't make a chocolate sandwich cookie with white filling without the comparison coming up. My bad! If you're expecting Oreos, the luxurious white chocolate filling on these sandwich cookies should be a nice surprise, as well as the brownie-like cookies. And a fluted cookie cutter makes them cute enough even for Oh Happy Day Craft Night!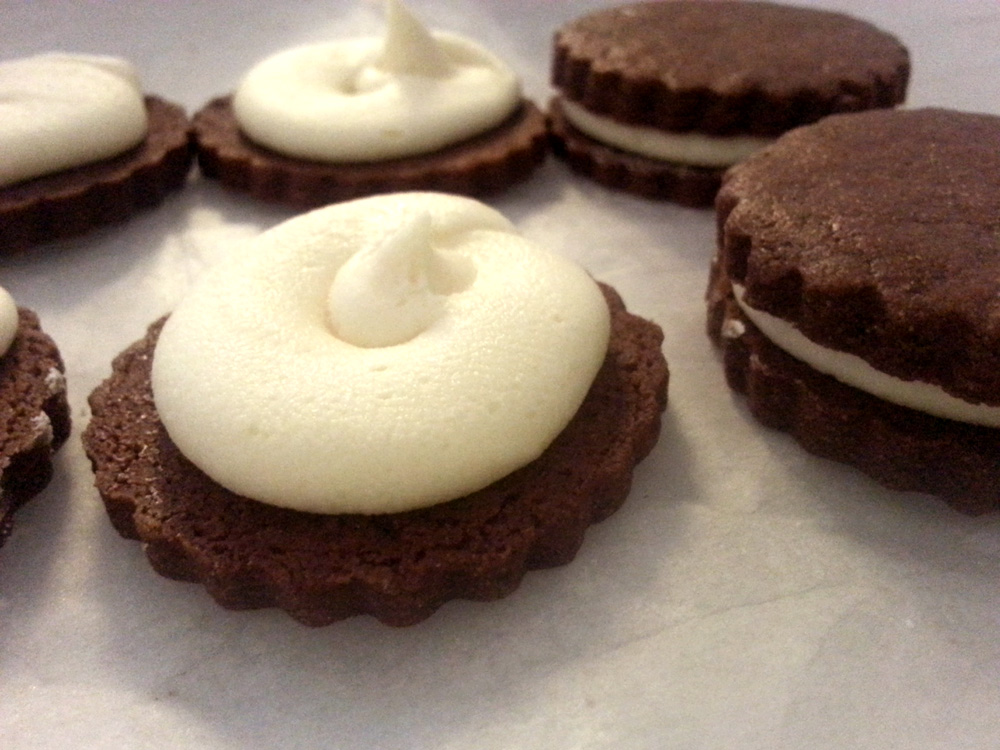 Chocolate Sandwich Cookies with White Chocolate Filling
Chocolate Cookies
My favorite, go-to chocolate cookies. They hold their shape really well so they're perfect for decoration or for, I dunno, sandwich cookies! Adapted from Smitten Kitchen.
3 cups flour
1/2 teaspoon salt
1/2 teaspoon baking powder
1 cup  butter, softened
1 1/2 cups sugar
2 eggs
1 teaspoon vanilla extract
2/3 cup unsweetened cocoa
Preheat oven to 350.
Cream together butter, sugar, eggs, vanilla, and cocoa until well combined. In a separate bowl, whisk together flour, salt, and baking powder. Add to cocoa mixture and continue beating until fully incorporated and smooth.
Cover dough and chill just long enough to make dough stiff enough for rolling out.
Roll out dough- I like to roll it out between two sheets of parchment or waxed paper, but a floured surface also works. Cut out circles and transfer to a baking sheet lined with a baking mat, parchment, or a light layer of cooking spray. Bake for about 10 minutes (will vary depending on thickness and size of your cookies), until cookies have firmed up around the edges.
White Chocolate Filling
Note that white chocolate and the "white chips" found in the baking section are not the same thing. Check for white chocolate bars in the candy section if you can't find real white chocolate chips with baking ingredients.
6 oz white chocolate
8 tablespoons butter, room temperature
2 tablespoons cream (or milk)
1 teaspoon vanilla
2 1/2 cups powdered sugar
Coarsely chop the white chocolate and melt in the microwave. Set aside to cool, 5-10 minutes. Meanwhile, beat the butter and cream until smooth. Add the vanilla and gradually beat in the powdered sugar. Beat for an additional 60 seconds, so filling is smooth.
Transfer to a pastry bag fitted with a large round tip. Pipe filling onto cookie, gently press a second cookie on top. Filling will firm up some as they sit.
More food and recipes as seen on Oh Happy Day.