Paila Marina – Gus Fring's Chilean Fish Stew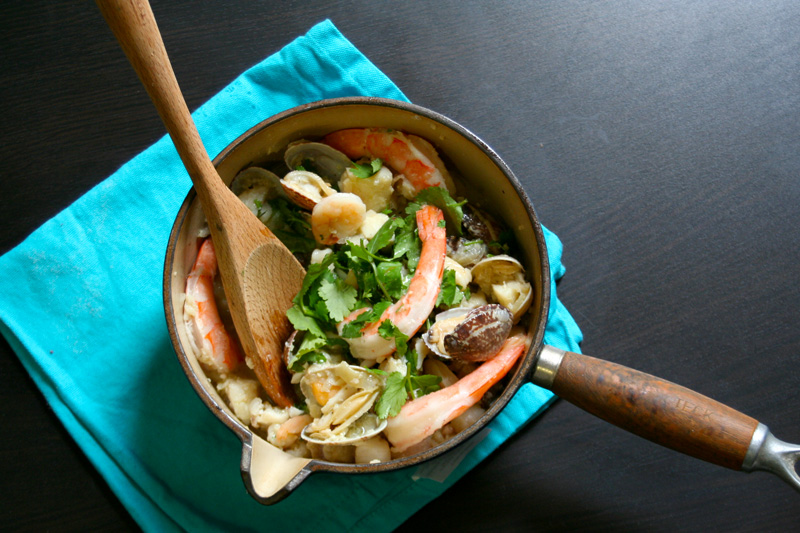 For my Breaking Bad Party menu, one of the dishes I wanted to figure out was the Chilean stew Gustavo Fring prepares for Walt in his home.
A little research showed that recipes for this dish vary widely, but I went with a simple version that has every type of fish and shellfish you can think of (cod, clams, shrimp, scallops, octopus, and crab), in a simple garlic broth with cilantro. I can't speak to it's authenticity, but I can speak to it's beautiful clean, effortless flavor.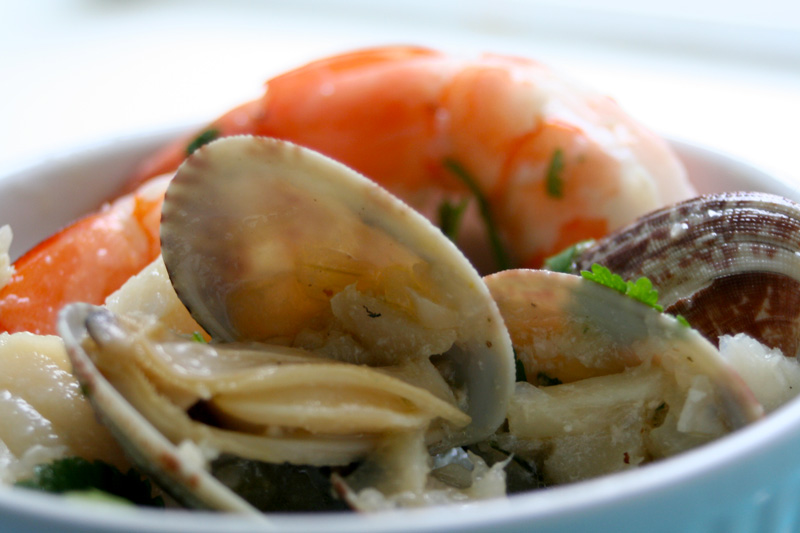 Paila Marina
Adapted slightly from Chilean Recipes. 
1/4 cup olive oil
1/2 large onion, chopped
1 tablespoon minced garlic
1 1/2 pounds cod or other firm white fish, cut into chunks
1/2 cup white wine or chicken broth
1 teaspoon salt
fresh ground pepper
1/2 pound crab meat
1 pound peeled large shrimp
1 pound clams in the shell
1/4 pound scallops
1/4 pound sliced calamari
1 cup chopped cilantro
In a large skillet, heat olive oil over medium-high heat. Add the onion and cook about 3 minutes, or until just softened. Add the garlic and continue cooking for 2 more minutes.
Reduce the heat to a simmer and add the cod and wine or broth and salt and pepper. Cover and simmer for 5 minutes. Add the crab, shrimps, clams, scallops, and calamari. Simmer until the shrimp is pink and the clams have opened (discard any that do not open). Salt and pepper to taste, add cilantro and serve.
Check out more from my Breaking Bad Party menu.