Breaking Bad Party Ideas and Menu

THIS SHOW. I'm freaking out a little bit about these last eight episodes. Who, if anyone, is going to be alive by the end? I have so many feelings I don't know what to do with.
Once again I began to deal with those feelings by rounding up some friends and throwing a ridiculous party at my own private domicile. I'm including lots of recipes and easy DIYs for your own party -this would work just as well as a premiere party, finale party, or any viewing party in between.
Blue Crystal Candy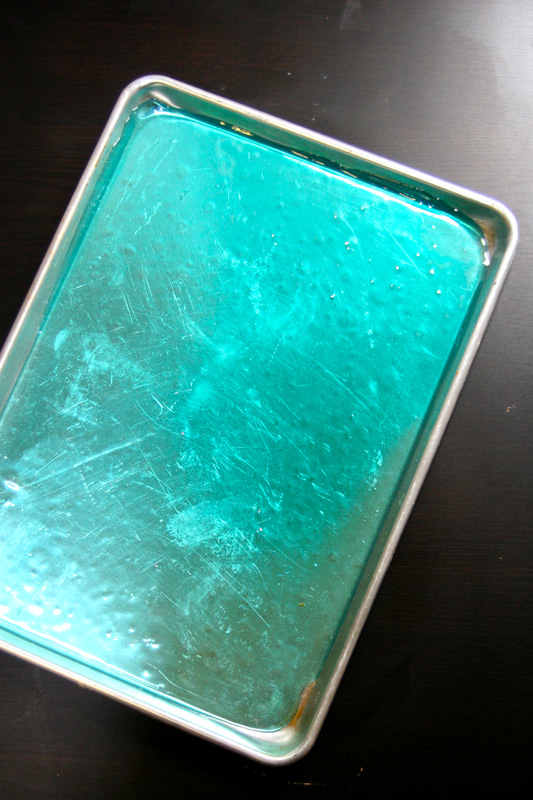 The number one question I got when planning this party was, "are you guys gonna do meth?"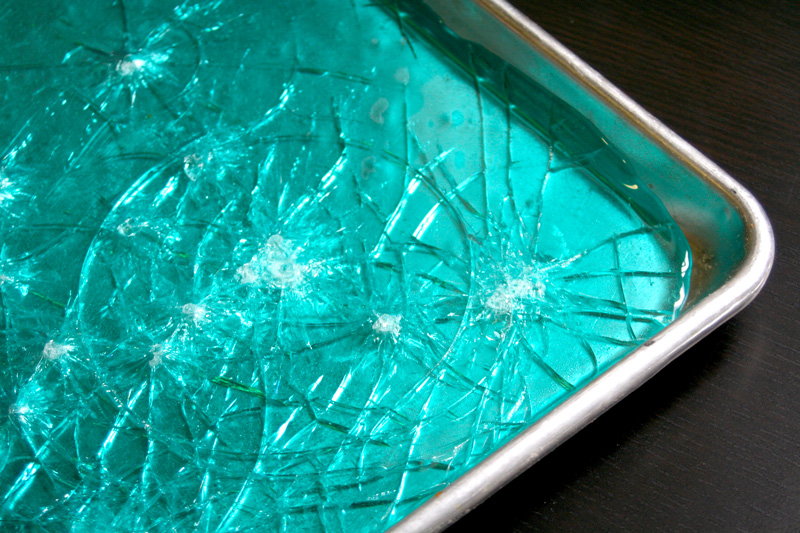 Um, no. But I did create a candy version, instead. I opted to serve it in the pan to let guests break it up themselves, but you can also package it up already crushed in tiny clear zip bags instead.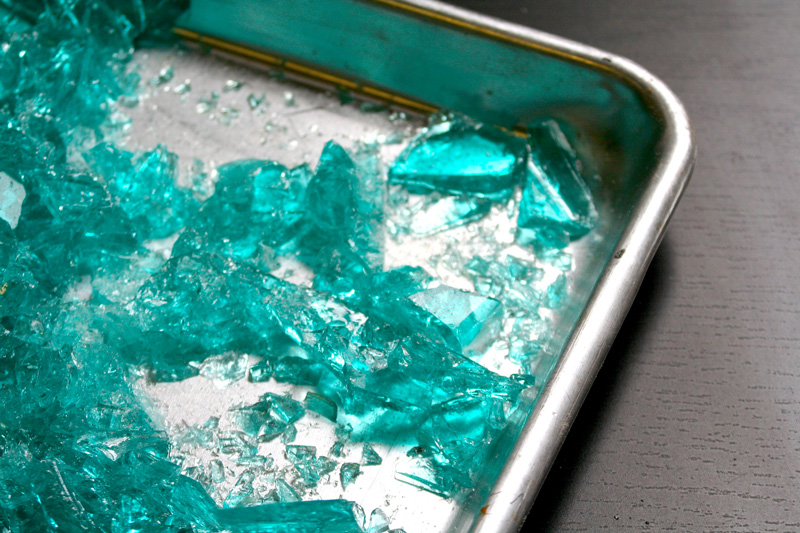 Breaking Bad Party Favors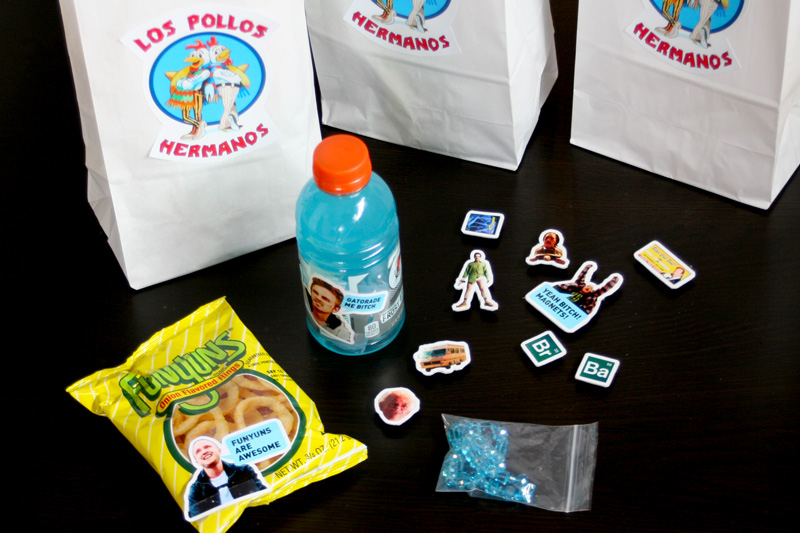 I am a big believer in party favors. This set of party favors ended up being somewhat Jesse Pinkman-themed. It's got a teenth (really blue crystal bracelets), funyuns, gatorade, and my favorite- a magnet set. All packed in a Los Pollos Hermanos bag.
Blue Crystal Bracelets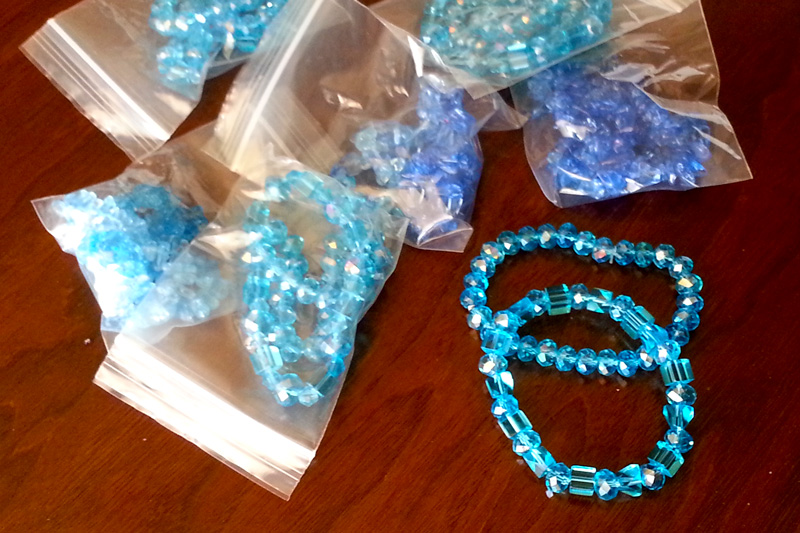 Of course the more obvious choice here is to fill bags with more blue rock candy as favors, but I thought blue crystal jewelry posing as the blue meth would be a more fun and permanent memento for my lady guests.
I went and picked out the most blue meth-like beads at the craft store, strung them up onto stretchy cord (test it out at the store to make sure it's the kind that can hold a knot), and knotted off at bracelet length. All of them are a little bit different. I put a dot of glue on the knots to secure, and clipped off the ends. And then I packaged them in tiny clear zip bags, of course.
Yeah Bitch, Magnets! Breaking Bad Magnet Set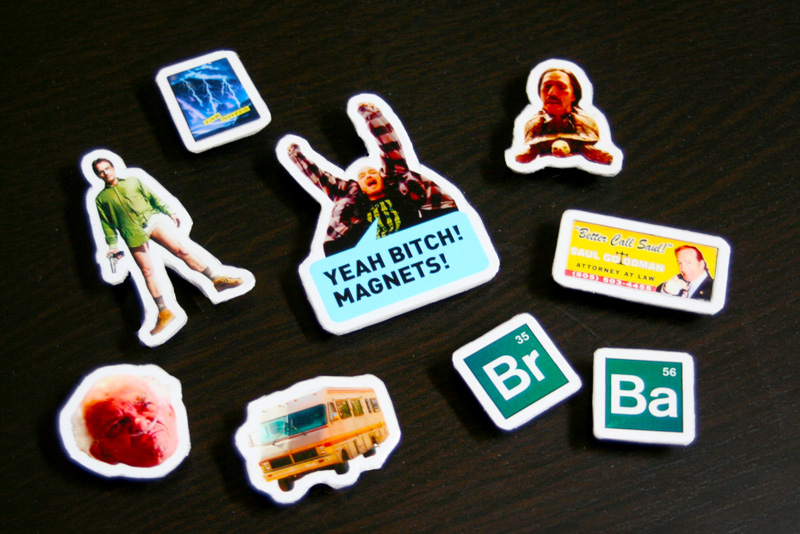 This originally started as just a Jesse Pinkman "Yeah, bitch! Magnets!" magnet, but somewhere along the lines it turned into a whole set. They are super easy and inexpensive to make.
Download Free Printable Magnet Set (3 sets per page): Breaking Bad Magnet Set (pdf)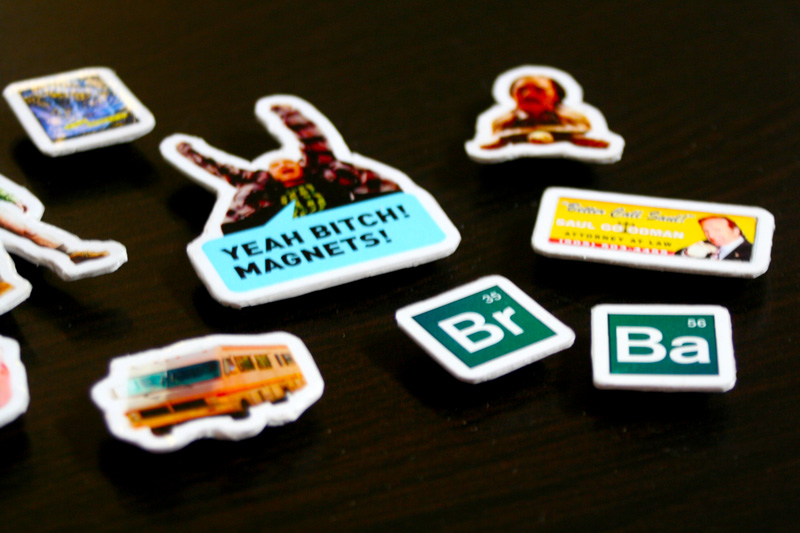 Flat, flexible magnets (easiest way): Print onto magnet printer sheets (available at Staples or online. Cut out along gray lines with an x-acto knife or very sharp scissors.
More dimensional magnets (my way): Print out template onto shiny paper. Coat the back with spray adhesive and attach to mat board. Once dry, carefully cover each image with a piece of clear packing tape (it's easier if you cut mat board into smaller pieces first. Cut out along gray lines with an x-acto knife or very sharp scissors. Glue small round magnets onto back with craft glue.
Jesse Pinkman's Favorite Snacks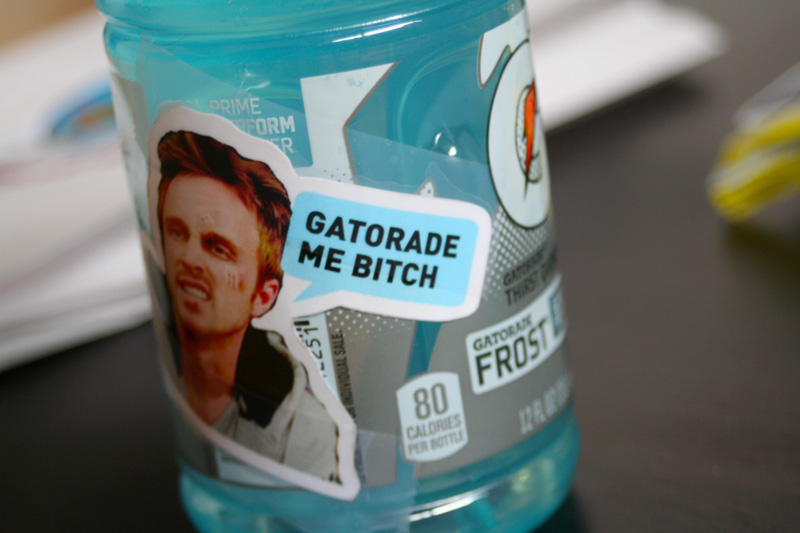 I filled out the rest of the bags with some of Jesse Pinkman's favorite snacks, which also happen to be some of his most quotable moments.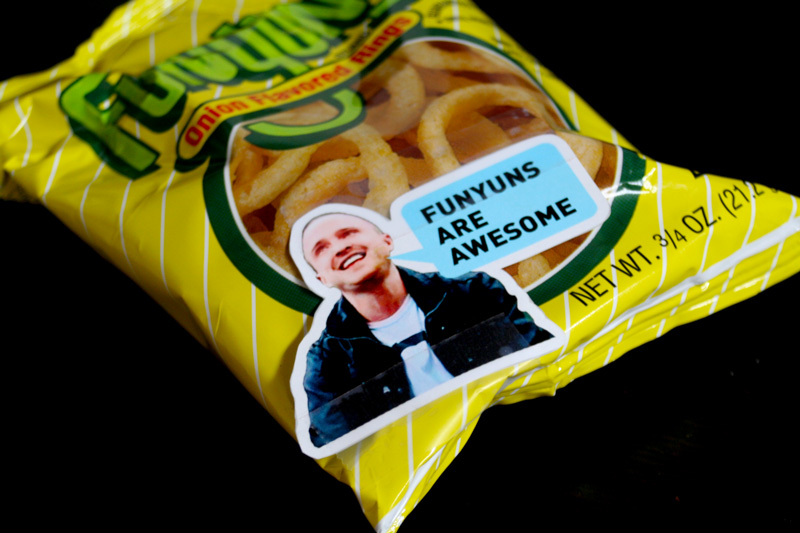 Print on shiny paper and glue or tape on individual Funyun bags and small size blue Gatorade bottles (or any color, I just liked the matching blue).
Download Free Printable Jesse Pinkman Funyun and Gatorade Labels (4 of each per page): Jesse Pinkman Funyun and Gatorade Labels
Los Pollos Hermanos Bag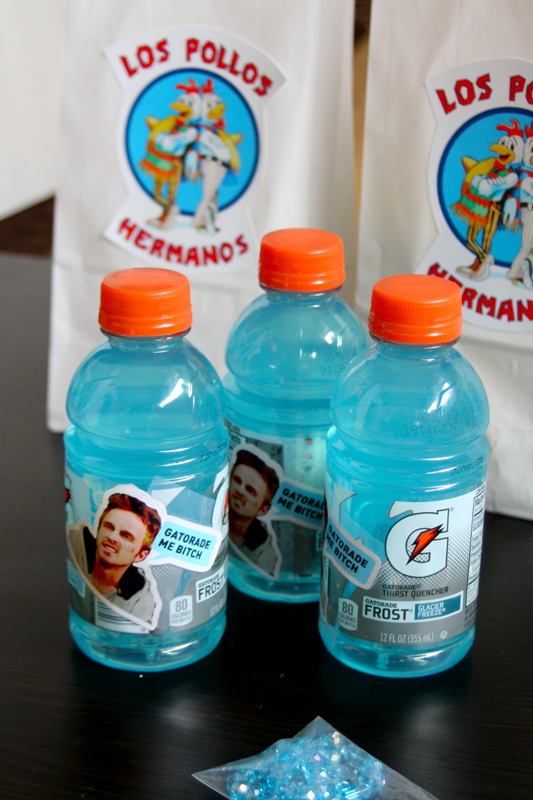 Then everything is packed into a Los Pollos Hermanos bag. I had planned on recreating the Los Pollos Hermanos logo for printing onto bags myself, but someone already beat me to it! Find the printable bag template at Dave's Geeky Ideas.
White Bags available individually at Michael's or in packs online.
Decorations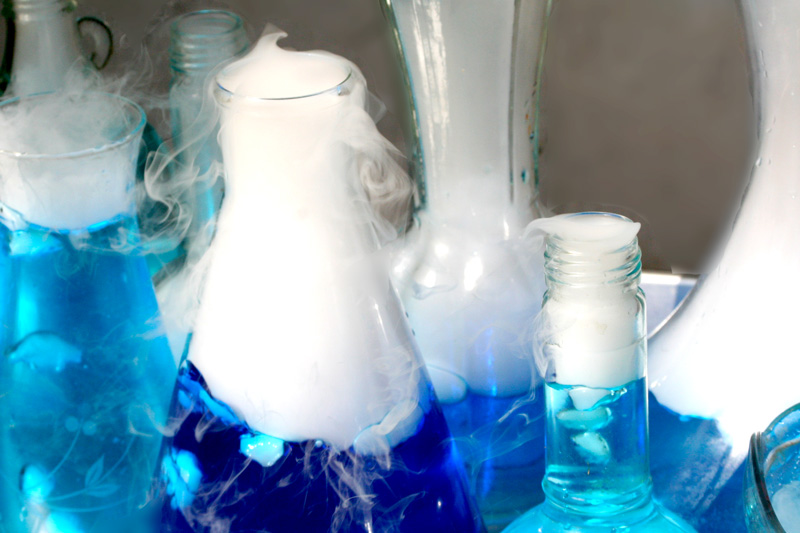 I didn't feel like this party needed a lot of decor, but I couldn't resist making a little bubbling laboratory. I took assorted beakers, flasks, and and other cool glass in the house and filled them with water and blue food coloring. To make them bubble and steam, drop in chunks of dry ice. You can't tell how active they were from the pictures, and the delightful bubbling noise they make.
You can buy dry ice in some grocery stores for a couple bucks per pound, and you'll only need about 2 pounds to keep small containers going for hours. Break it into chunks and drop into the colored liquid with tongs. Where to buy dry ice.

Breaking Bad Party Menu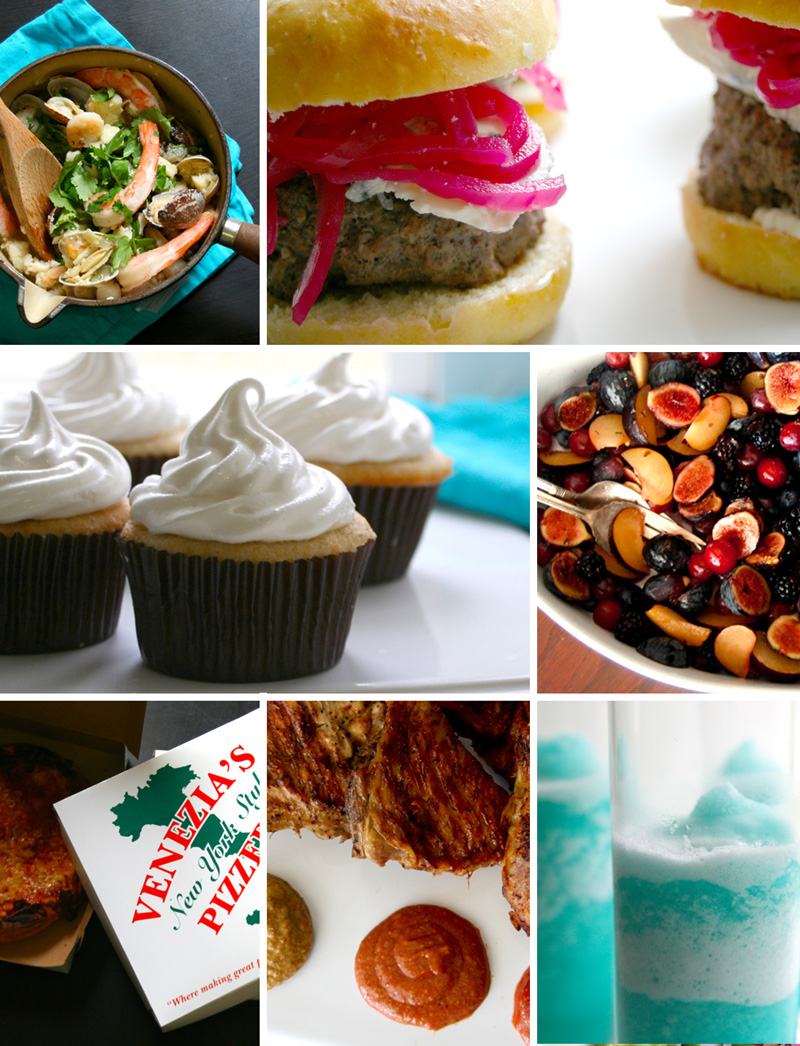 Now for the food! You can take a cue from Walt's hospitality and make your guests/hostages a PB&J with the crusts cut off, or you can take it a few steps further with this slightly classier Breaking Bad-inspired menu. Let's cook.
Heisenburger Sliders with Blue Cheese and Pickled Onions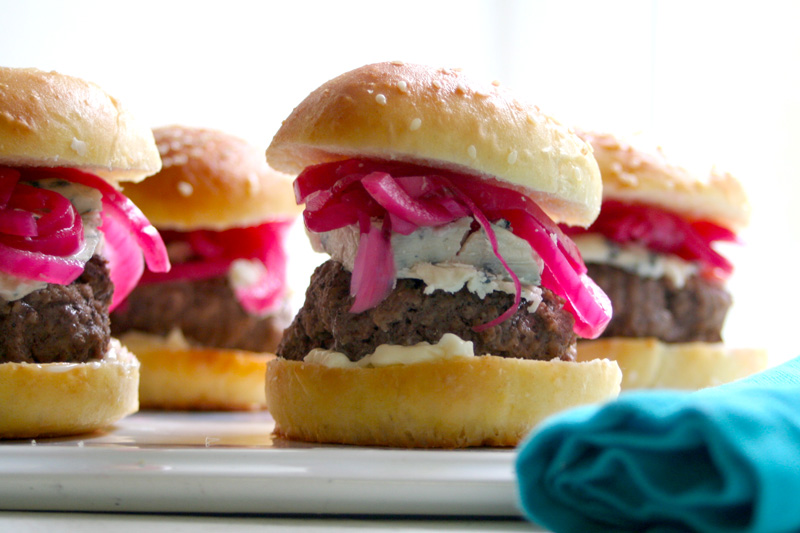 Too obvious? Too bad, I don't care. I made little Heisenberg-inspired burgers on homemade buns, topped with blue cheese and pickled onions. The blue cheese is in honor of the blue product, the pickled onions because they are delicious.
Heisenburgers: Sliders with Blue Cheese and Pickled Onions
Spicy Chipotle Los Pollos Hermanos Chicken with Madrigal Dipping Sauces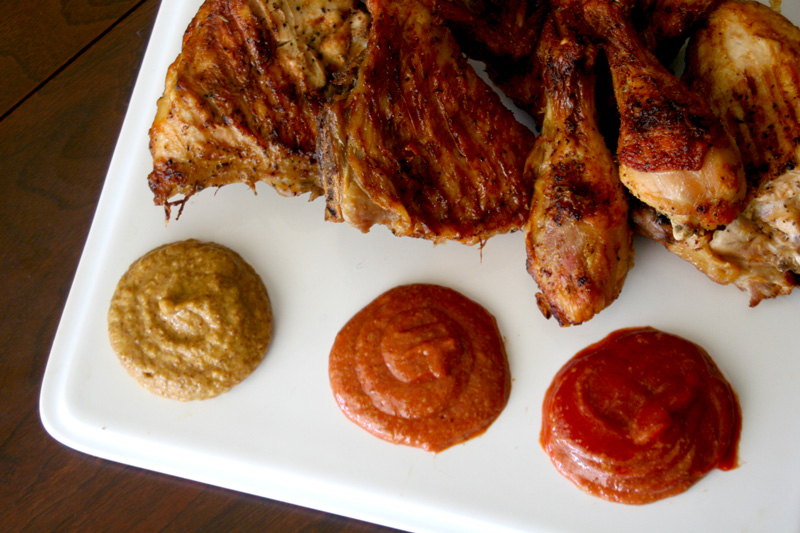 Couldn't really leave out Los Pollos Hermanos Chicken. I added some Madrigal dipping sauces, as well. I didn't follow these, exactly, but for inspiration, the official Madrigal dipping sauces are:
Honey Mustard
Franch (combination French dressing and Ranch)
Cajun Kickass
Smoky Mesquite BBQ
Ketchup
Paila Marina – Gus Fring's Chilean Fish Stew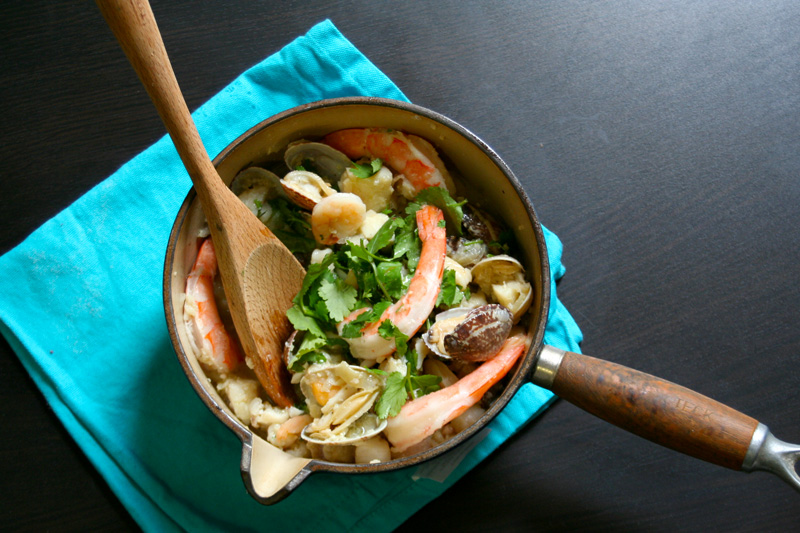 A little research showed that recipes for this dish vary widely, but I went with a simple version that has every type of fish and shellfish you can think of (cod, clams, shrimp, scallops, octopus, and crab), in a simple garlic broth with cilantro.
Gus Fring's Chilean Fish Stew Recipe
Venezia's Unsliced Pizza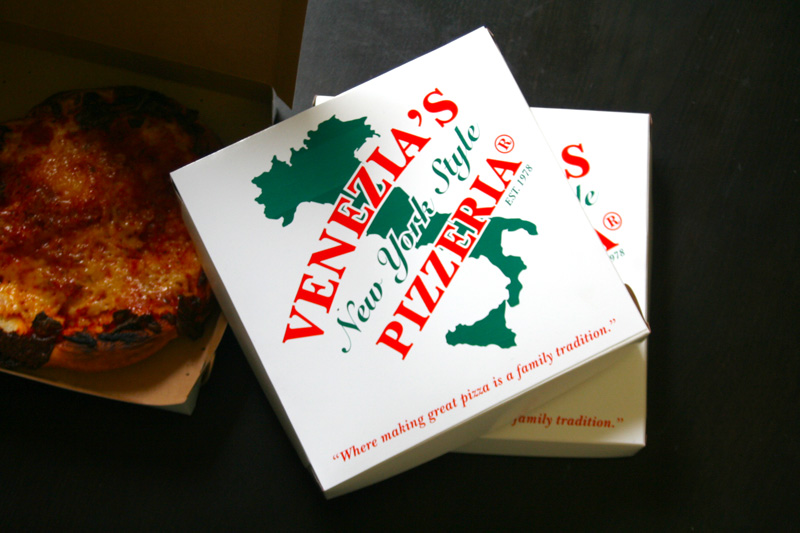 For eating or for throwing on the roof! I made individual sized pizzas but was careful to not cut them into slices, to pass the savings on to you.
I did my best to recreate the logo from a screencap. Download Free Printable Venezia's pizza box label (fits these 8-inch pizza boxes, but can be scaled to any size): Breaking Bad Venezia's Pizza Logo
Marie's All Purple Fruit Salad with Honey Lavender Syrup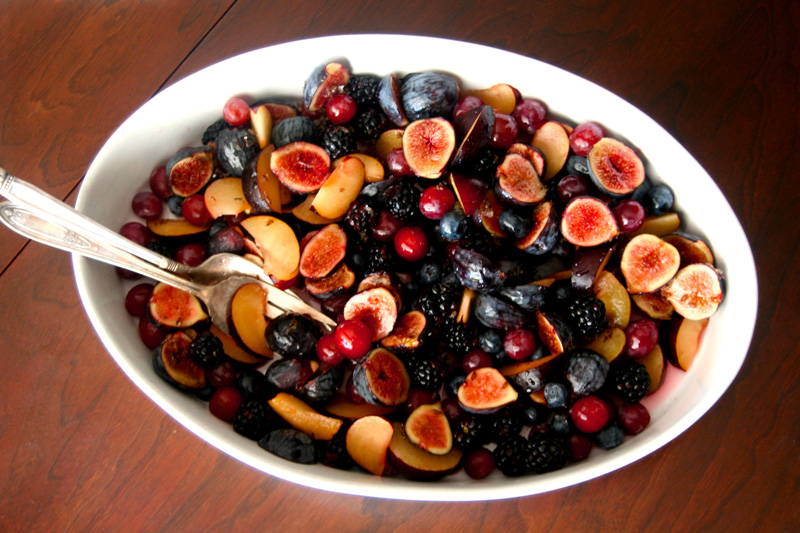 This salad.  New favorite. Inspired by Marie, forever favorite, and her love and ownership of all things purple. A friend also suggested I could make a salad out of things I stole from the grocery store. Instead, I rounded up all the purple fruit I could find, and then took it a step further by making a lavender-infused syrup to go over it. Yes, just yes.
Purple Fruit Salad with Honey Lavender Syrup Recipe
Skyler White Cupcakes with Marshmallow Frosting and Dulce de Leche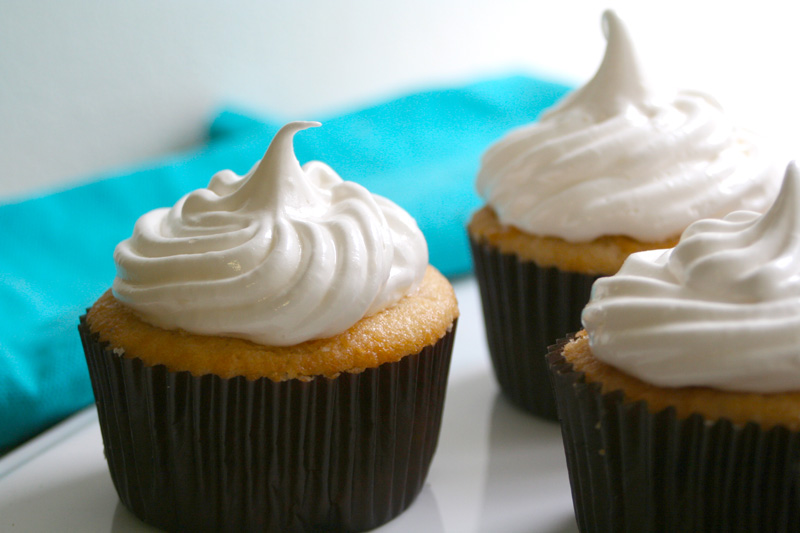 I guess these could be in honor of any of the White family, but Skyler is the best. These cupcakes are an almost-white vanilla cake, filled with dulce de leche (for a little Albuquerque flair) and topped with fluffy, white marshmallow-y frosting. They taste like a good quality Twinkie that also happens to be oozing with dulce de leche.
In Honor of Skyler: White Cupcakes with Marshmallow Frosting and Dulce de Leche Recipe
Breaking Bad Blue Raspberry Pineapple Slush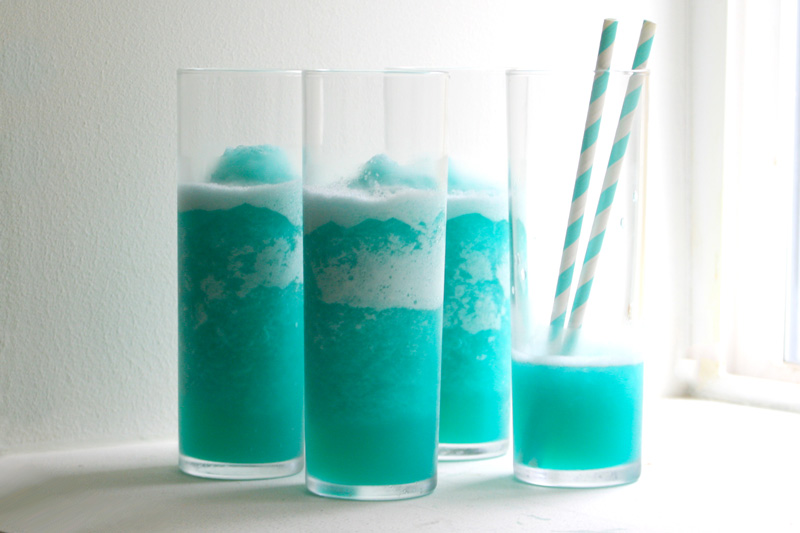 Just another item inspired by blue crystal. I gave up trying to figure out how to get a natural blue color of this shade, so I went with a pineapple slush with a big glug of "blue raspberry" syrup.
Breaking Bad Blue Raspberry Pineapple Slush Recipe
Also check out my epic Arrested Development and Parks and Recreation parties.