Parks and Recreation Party Ideas and Menu

With Breaking Bad bad coming to an end, it's good that my favorite happy show, Parks and Recreation, is coming back with it's new season premiere this week. I swear this is my last TV party for a while, but when my friend and fellow NBC Parks and Rec super fan was coming to visit, I couldn't pass up the opportunity to celebrate Pawnee-style with lots and lots of waffles, TV watching, and things wrapped in bacon.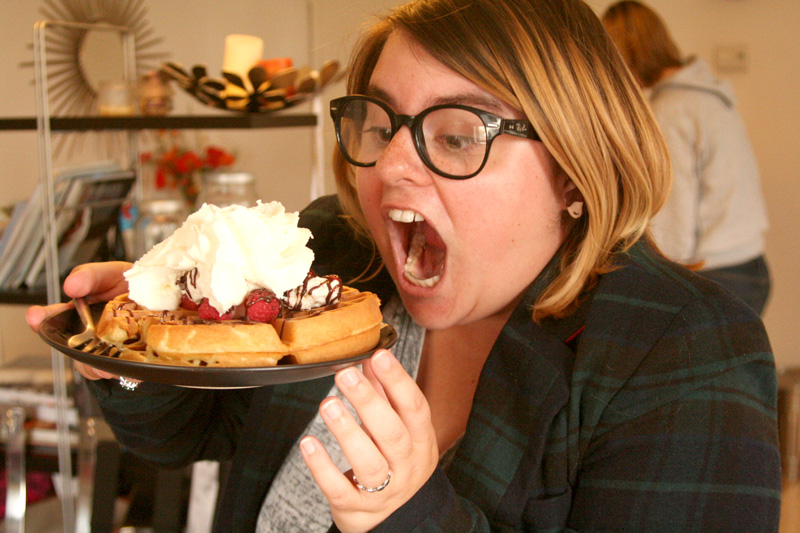 Even cornrowed, kimono-wearing Ron Swanson and Janet Snakehole were in attendance.

The Snakehole
Upon arrival, the guests were invited to spend some time in the Snakehole for socializing, drinks, and dancing.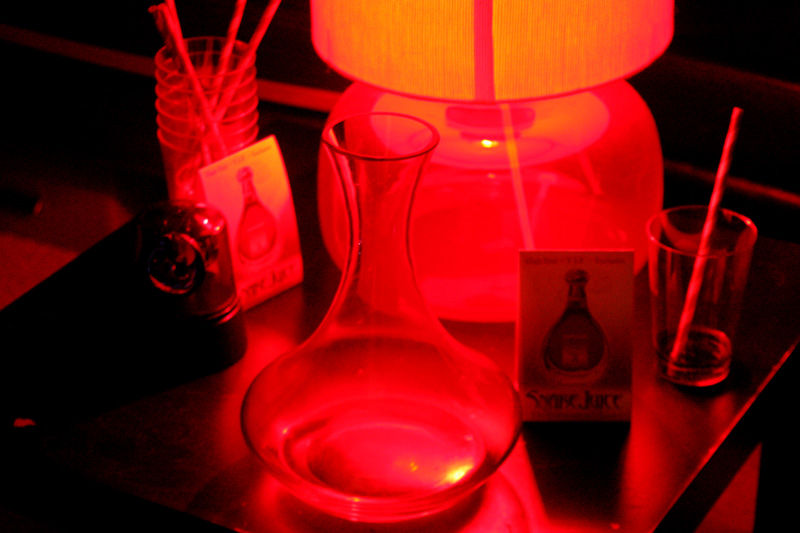 The Snakehole is just another room in my house set off from the main party area, and arranged with some small tables and upholstered benches formed into sort of booths. I decked it out with red lightbulbs in the lamps, a party light/disco ball, glow necklaces, and Snake Juice promotional materials.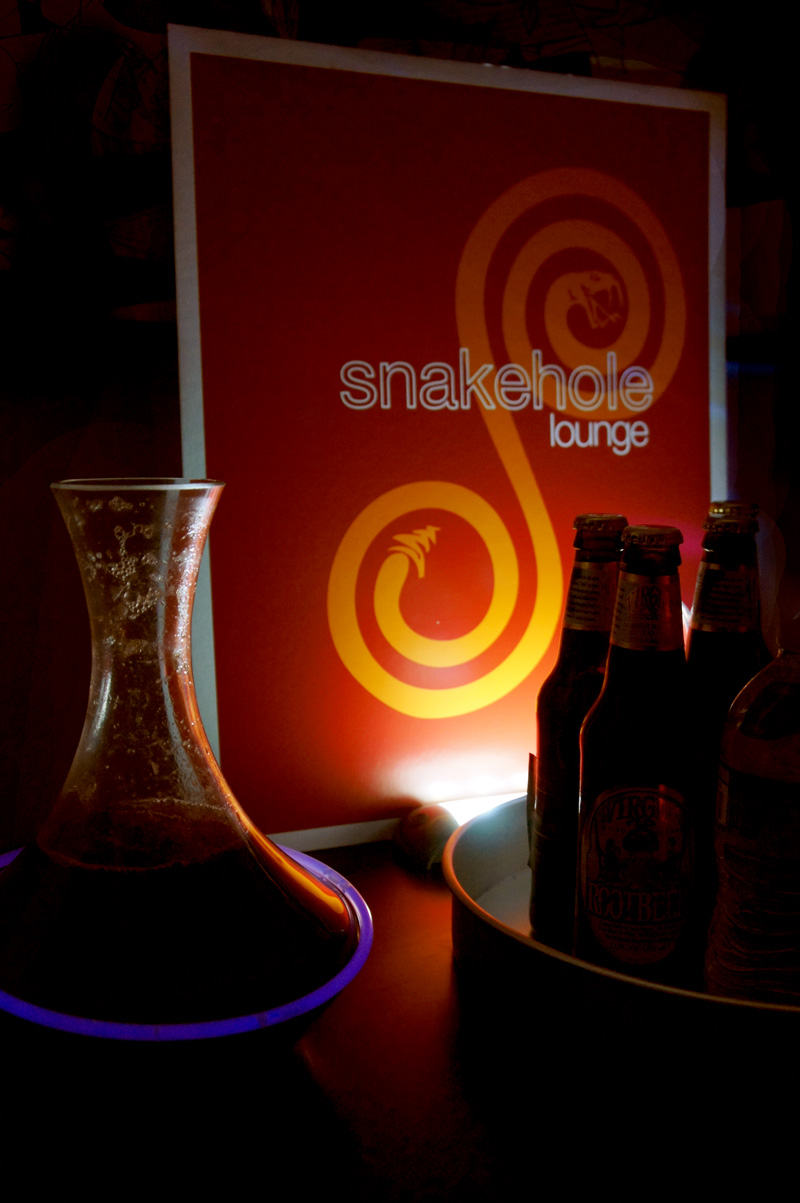 I set out an array of beverages and a big bottle of Snake Juice. The closest I could find to the Snake Juice bottle at the time was this wine decanter but in retrospect this one is far better. For music I turned on a Flo Rida-style playlist. My biggest regret is that I couldn't pull together all the resources to make my own DJ Roomba.
To make the Snakehole sign: I recreated the Snakehole logo the best I could and had it printed up on a 16×20 board at Costco, but can be sized to any size poster. Download the hi-res jpg below.
Snakehole Sign 16×20 (zipped jpg)
To make the Snake Juice table promo: I used the flier from the Snakehole site, and reformatted it slightly so it could be folded and stand on a table.  Download the pdf below and print on shiny paper. Trim along crop marks to make 2 long strips. Fold each in the middle, and then along the edge where the white flaps begin. Overlap white flaps slightly and tape together.
Leslie Knope Waffle Necklace Craft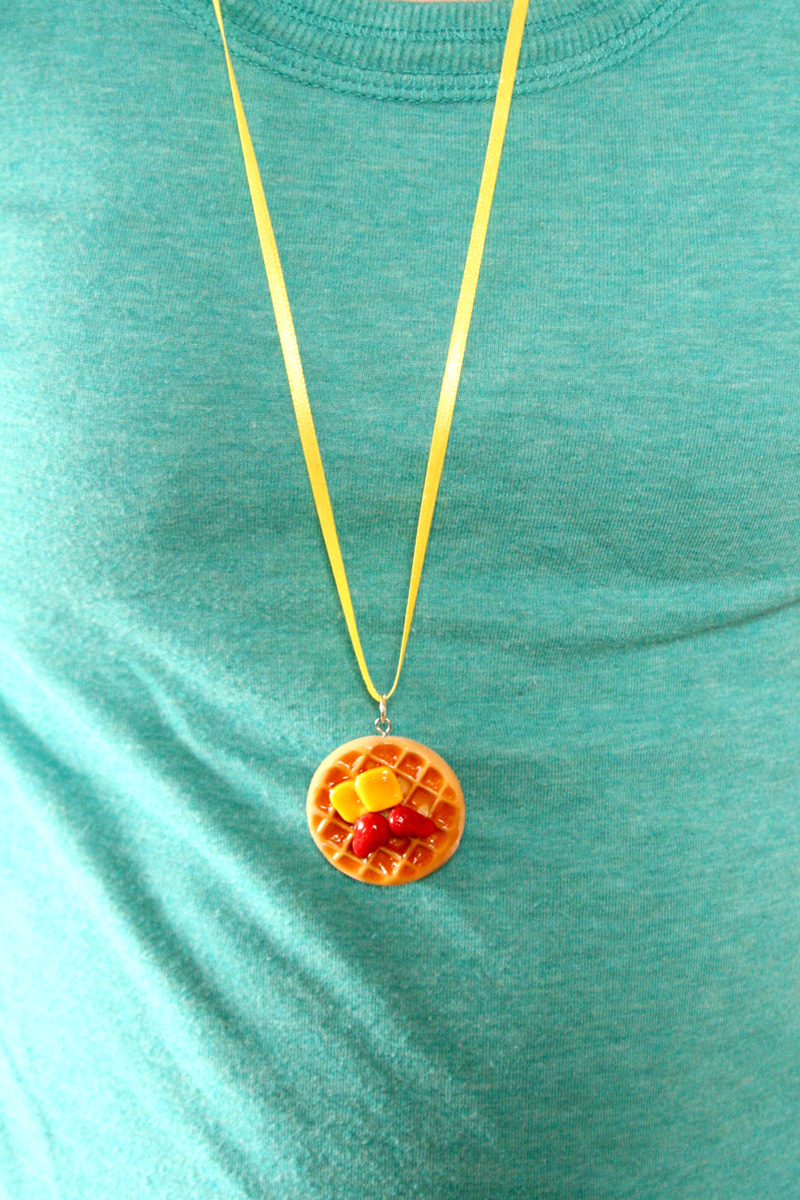 Only the most devoted fans will have noticed that Leslie has a waffle necklace, part of the Yachter Otter Valentine's Day gift from Ben. We made our own as a fun little activity and as a souvenir while we marathoned some episodes.
They are made with a little bit of polymer clay, which is baked and then drizzled with a shiny, syrupy glaze. They were really easy and we had such a great time making them.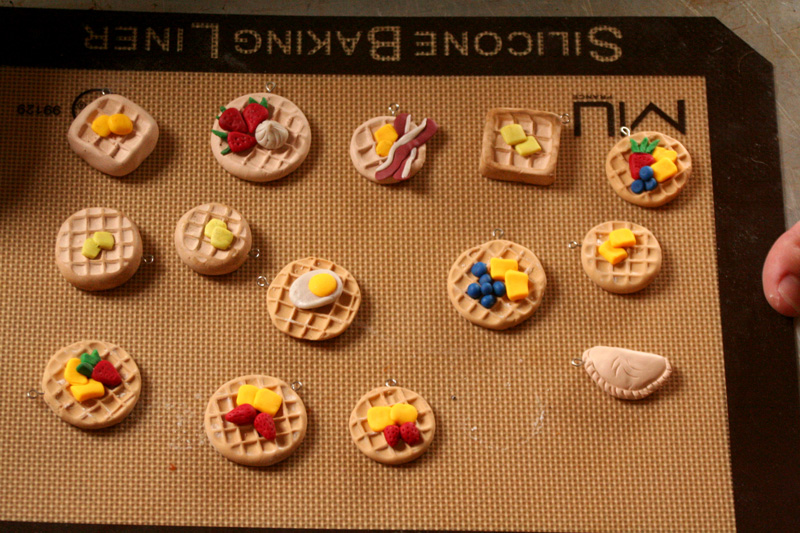 Aren't they cute? One calzone one slipped in there, too.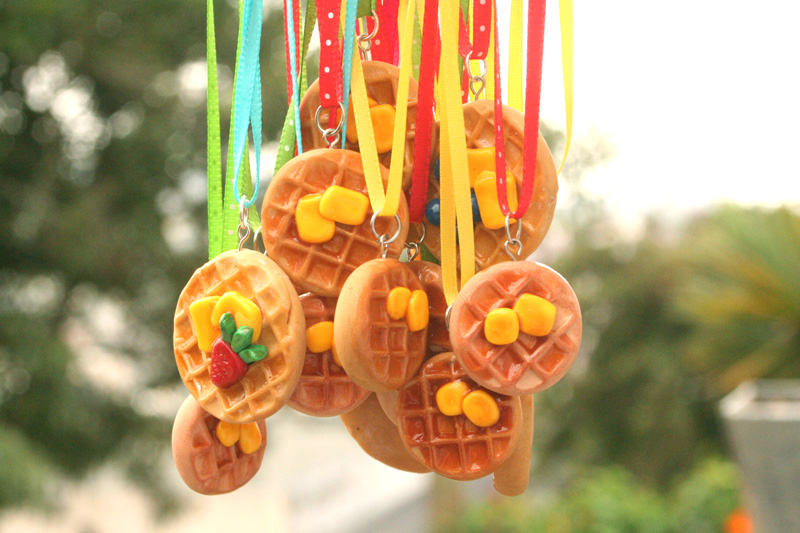 DIY Leslie Knope Waffle Necklace step-by-step instructions here
Pin the Mustache on Ron Swanson Game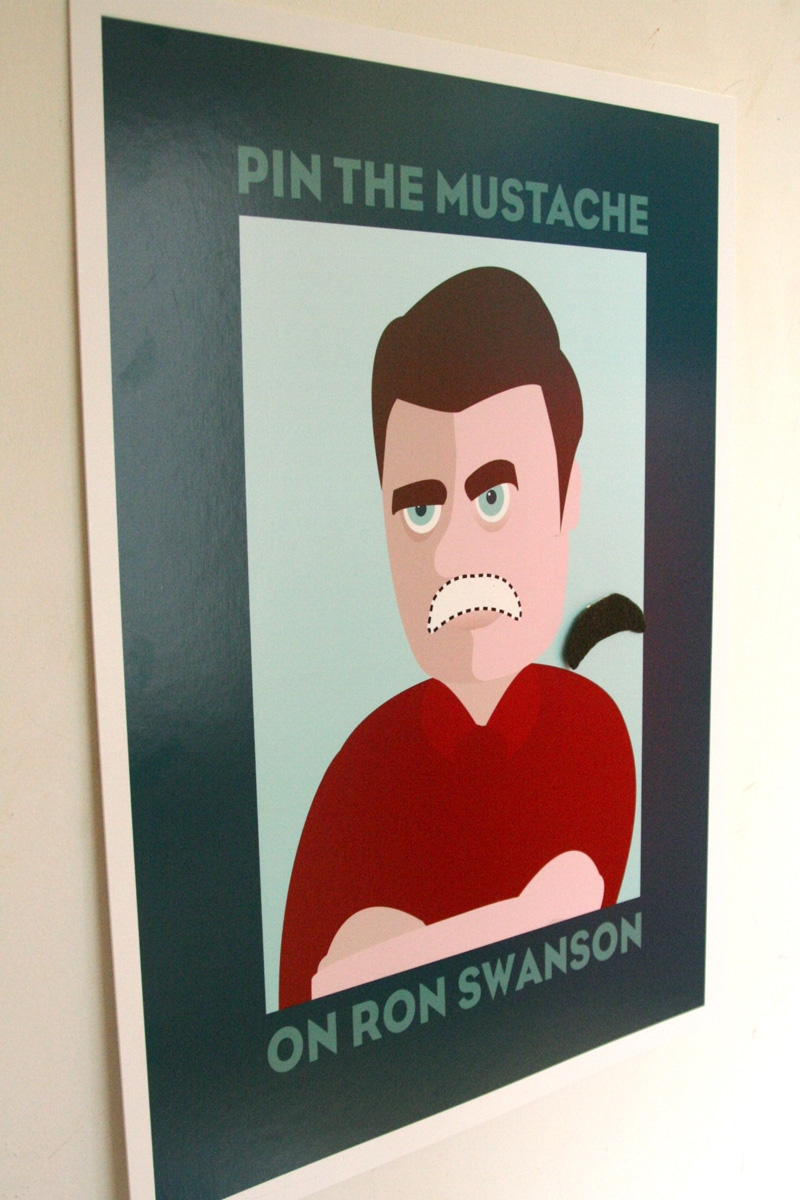 The game pretty much explains itself. Pin the Mustache on Ron Swanson. I'm pretty proud of my Ron Swanson illustration.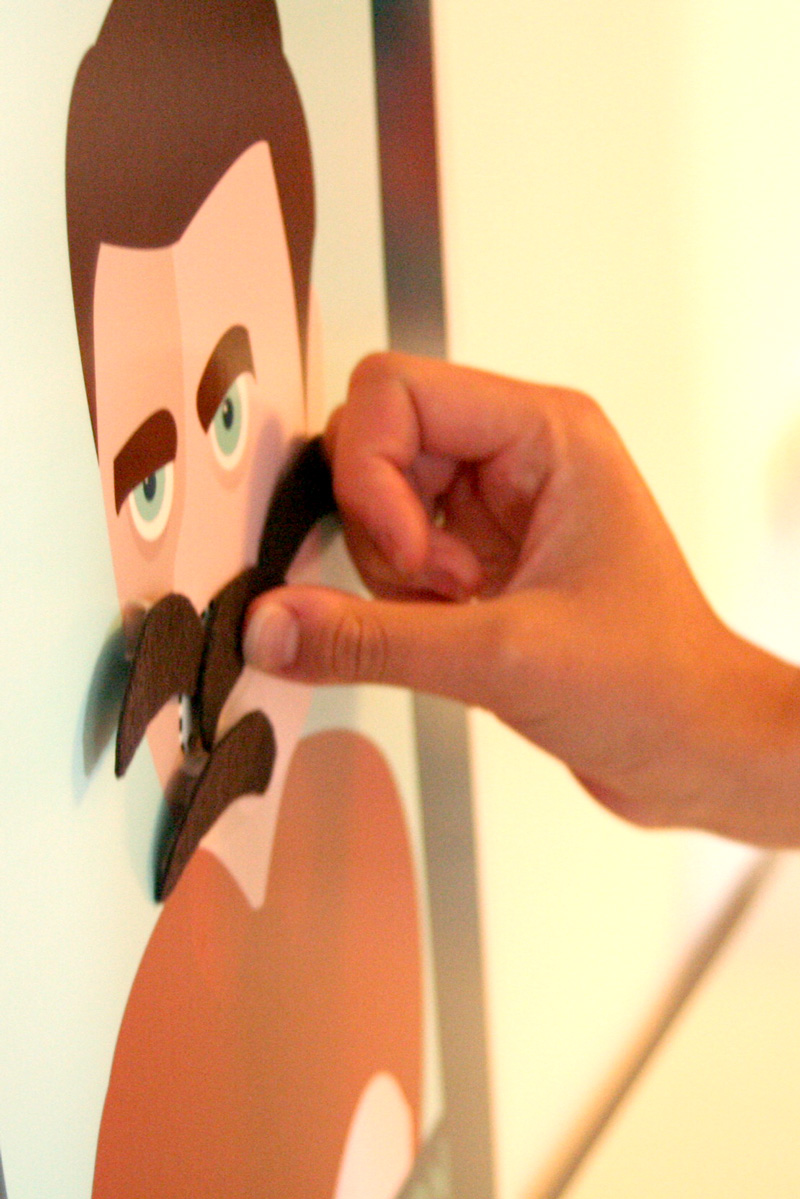 First Place Prize: T-Bone Steak!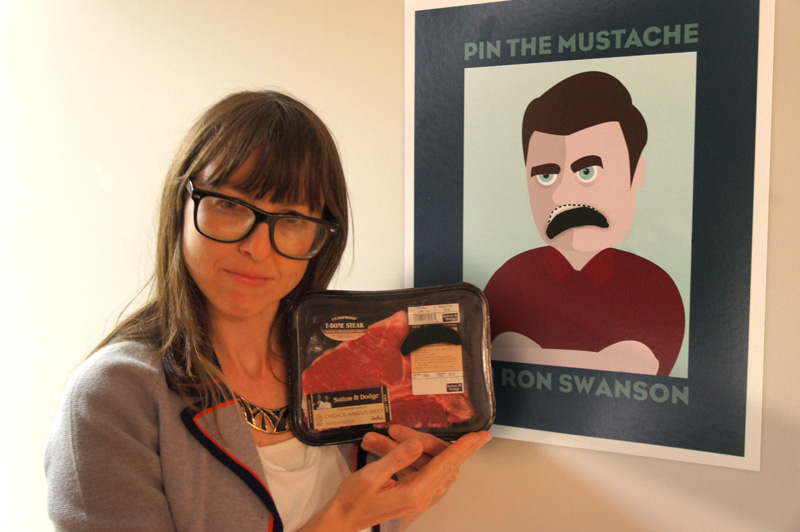 To make the Pin the Mustache on Ron Swanson Game: Download the hi-res jpg below. I printed mine as a 16×20 poster at Costco Photo Center. With a thin sheet of paper or tracing paper, trace the mustache shape from your printed poster. Cut out and use as a template to cut out brown felt or faux fur to create enough mustaches for each guest.
Pin the Mustache on Ron Swanson 16×20 (zipped jpg)
Eagleton Prison Gift Bags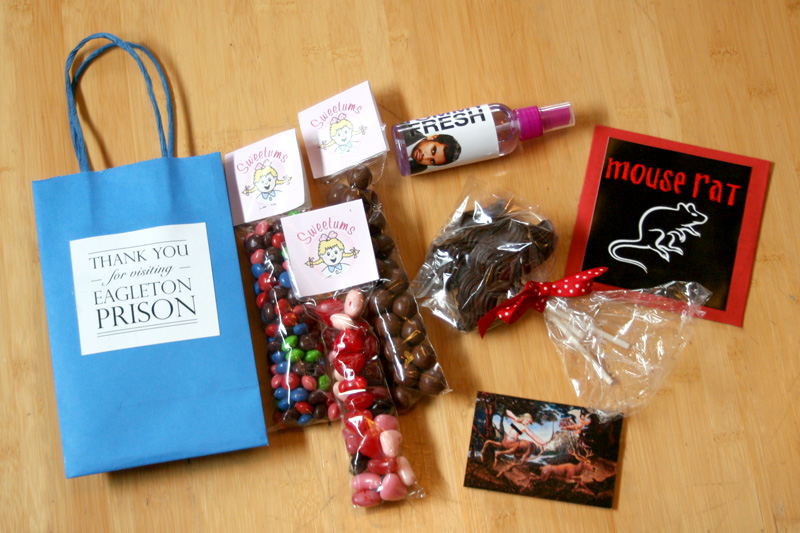 I took a cue from Eagleton's prison and town meetings and offered a classy gift bag full of party favors for each guest. Here's what was included.
Mouse Rat CD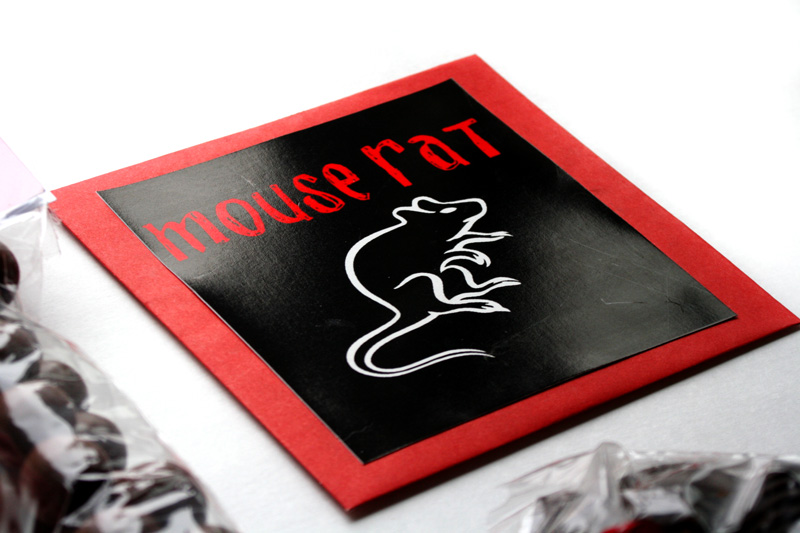 The collected works of the greatest band in Pawnee and possibly the world, Mouse Rat.  I got all the mp3s from the Mouse Rat site.
Sweetums Candy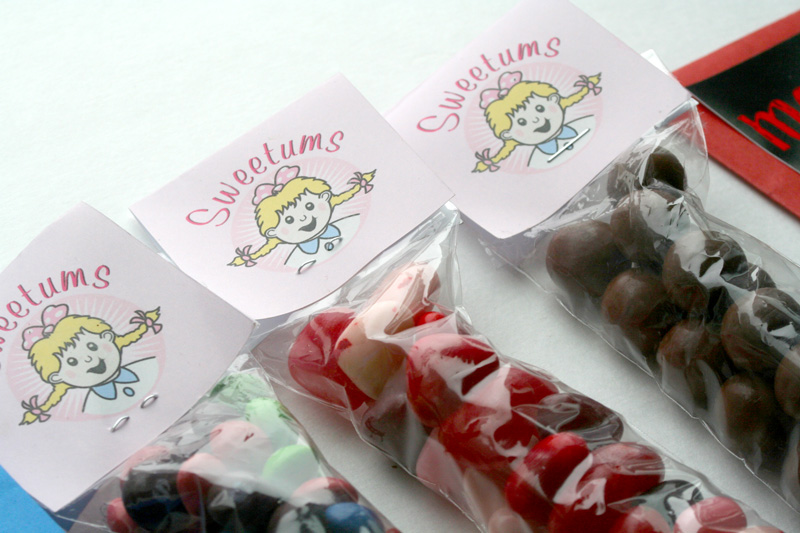 I also included a lot of local Pawnee candy from Sweetums.
To make your own Sweetums candy: I did my best to recreate the Sweetums logo, and then just stuff any unwrapped candy into clear bags (I used these pretzel treat bags) and folded over the top. Download the pdf below and print on shiny paper. Trim along the trim lines (each page makes 6 labels). Fold each label and crimp over the top of the folded over bag of candy. Staple.
Sweetums Candy Label 2.5″ (pdf)
Ron Swanson Bacon Chocolate Pops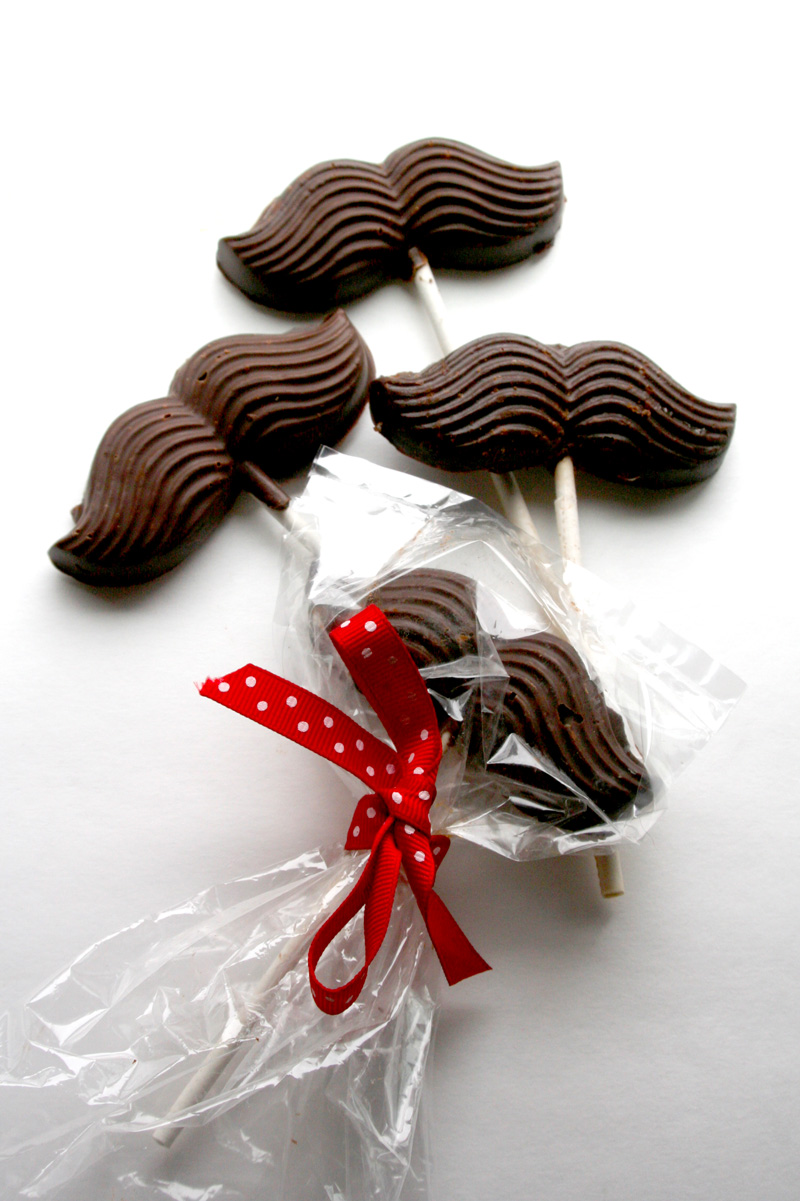 These started as an excuse to use this amazing mustache lollipop mold I found on Amazon for a few bucks, but I loved how they turned out! Chocolate and bacon is now a proven combination, but I added some crispy cereal to give them a little crunch. I might try some toffee next time, too.
To make Ron Swanson Bacon Chocolate Pops: I simply melted some dark chocolate, added a large amount of crispy, chopped cooked bacon, and a few big handfuls of Rice Krispies. Pour into the molds and add a short lollipop stick. Put in the fridge until set (and store them there because of the bacon).
Jerry's Painting Magnet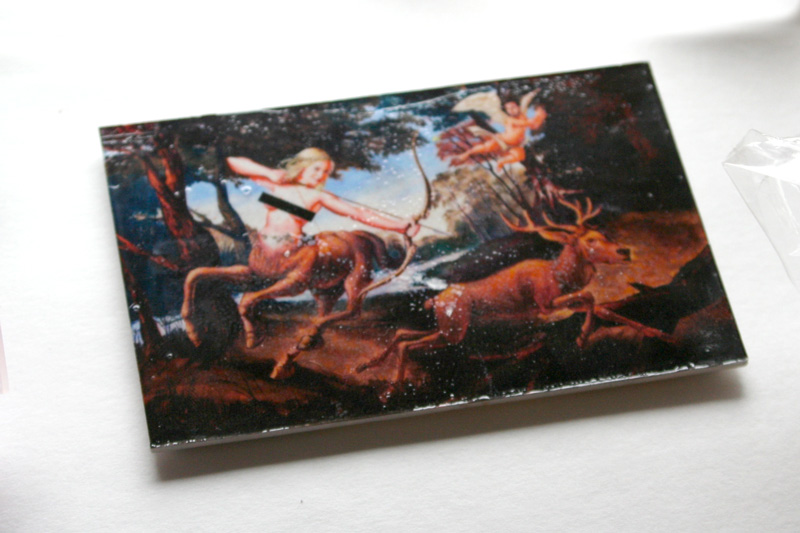 I have been needing Jerry's painting of Leslie as a Centaur and Tom as a fat brown baby in my home, and so do you. So I made simple fridge magnets to fix that.
To make magnets: Print out image on shiny paper. Mount to mat board with spray adhesive. Trim along edges of image. Optional: Coat with several layers of acrylic gloss/varnish. Apply adhesive magnets to back.
Tommy Fresh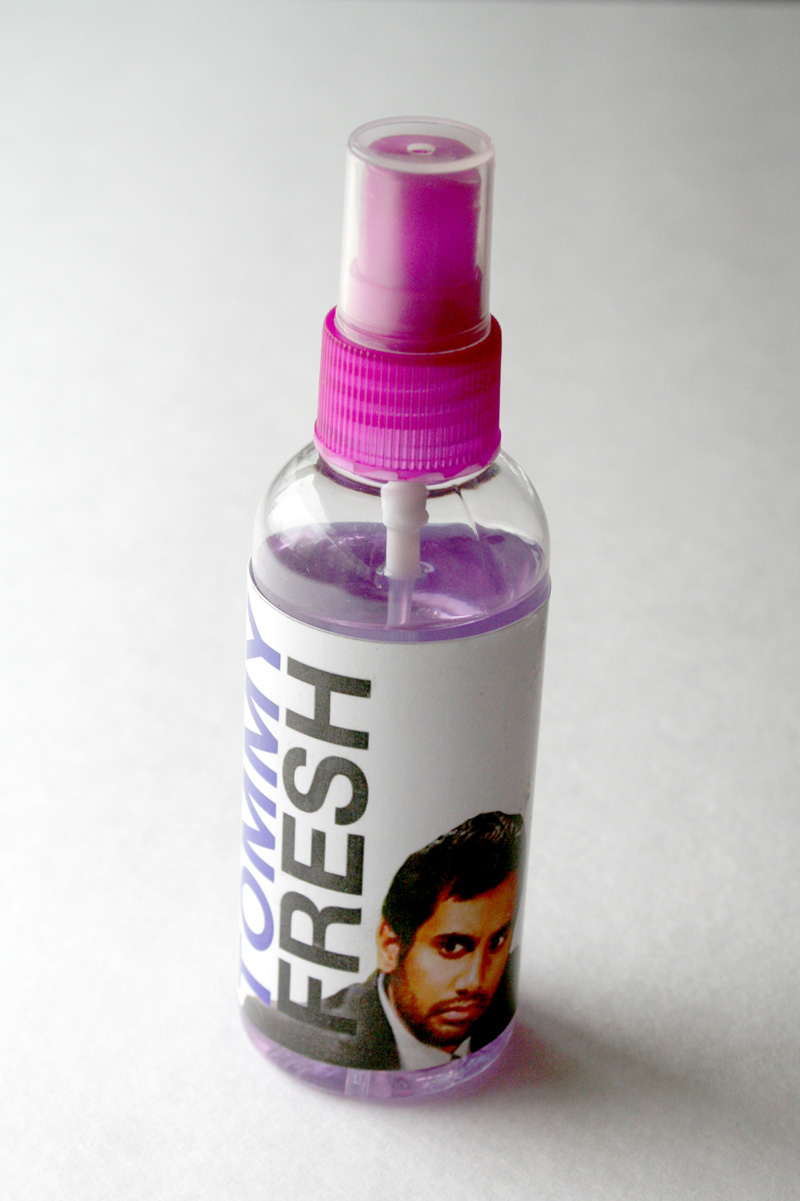 We can smell your dreams, Tom. And they smell terrible. The gift bags would not be complete without Tom Haverford's signature scent, Tommy Fresh.
Labels will fit sample size spray bottles that are often available at Target or Bath and Body Works, but I bought these empty in the travel section of Walgreen's and filled it with a terrible body spray I got as a gift years ago and have never been able to make myself use.
To make Tommy Fresh bottles: Download the pdf below and print on shiny paper. Trim along trim marks (each page makes 4 labels). Wrap around small spray bottle and tape.
Eagleton Prison Gift Bag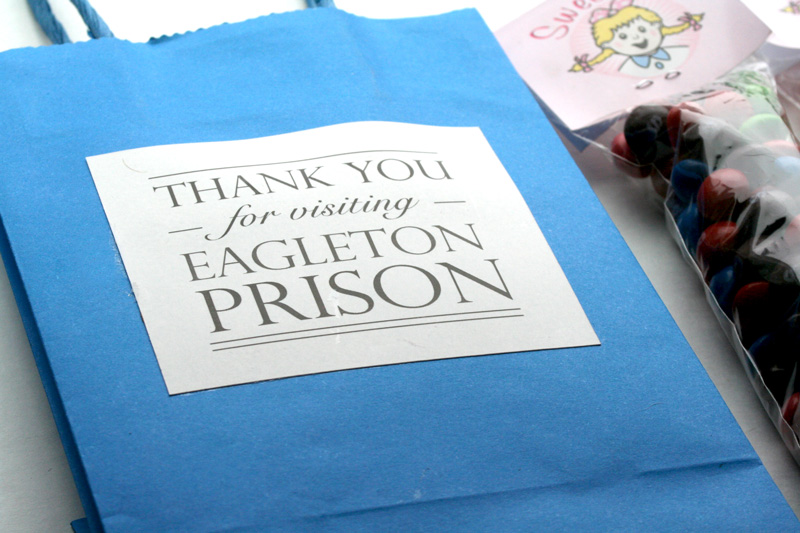 Eagleton Prison Gift Bag Labels (pdf)
Menu
There are so many ways you can take a menu for a show that is so obsessed with food. I only included the classics like bacon wrapped [chicken] legs, calzones, and of course, waffles. In the interest of creating a more balanced meal,  there were many, many things that did not make the final cut: all the bacon and eggs you have, chicky chicky parm parm, anything from Paunch Burger, meat tornadoes, Nutri-Yum bars, etc. Maybe next year.
Entertainment 720 Shrimp Wall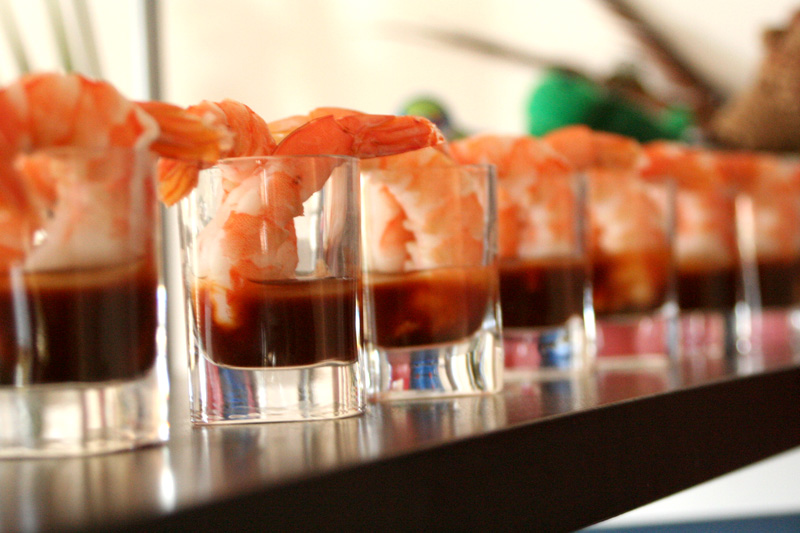 The shrimp wall is from a producer's cut episode or deleted scene, and I didn't realize it was such an obscure reference when I did it. But I started off with a simple appetizer with Entertainment 720 swagger. I didn't have any NBA players to distribute them, so I kept them in arm's reach on a bookcase instead.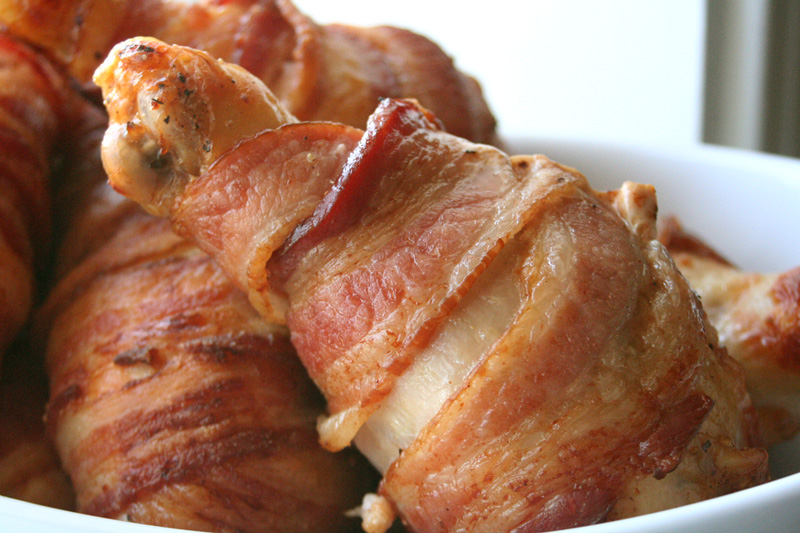 The original Swansons are made from turkey legs wrapped in bacon, but I made mini versions with chicken drumsticks. Obviously chicken wrapped in bacon is going to be amazing, but with a buttermilk soak and a little spice, these are SO MUCH BETTER than I had even dared to dream.
Mini Swansons – Buttermilk Chicken Drumsticks Wrapped in Bacon Recipe
Artichoke Spinach Ricotta Calzones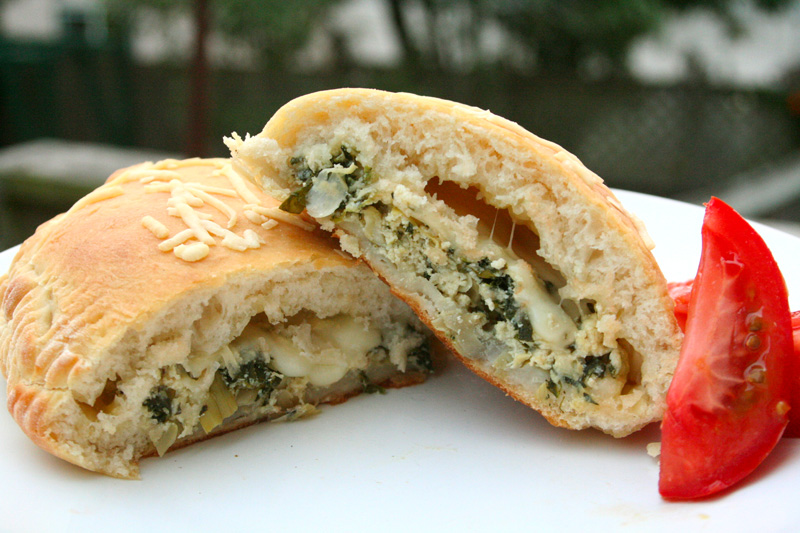 I know, I know, calzones are pointless and are just pizza that's harder to eat. But I included these calzones stuffed with ricotta, spinach, artichokes, and mozzarella for Human Disaster Ben Wyatt.
Recipe to be posted soon in a separate post
Pawnee Corn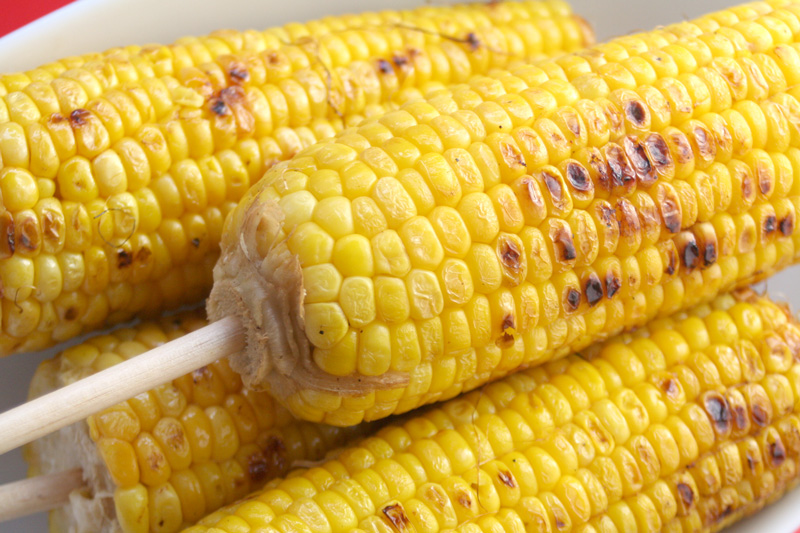 Chris's Kale Salad with Avocado, Dried Blueberries, and Pecans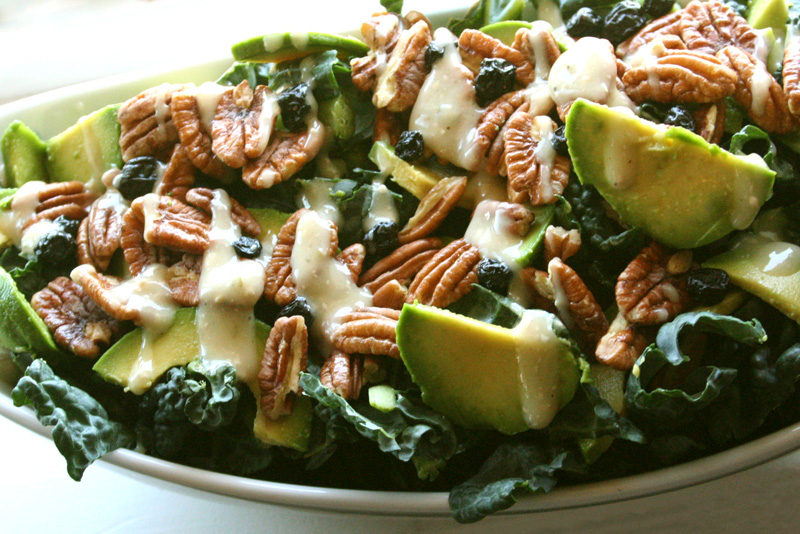 I know Leslie and Ron would be disgusted, but this salad of Tuscan kale, avocado, pecans, and dried blueberries really was lovely as far as salads go.
Sweetum's Little Swallows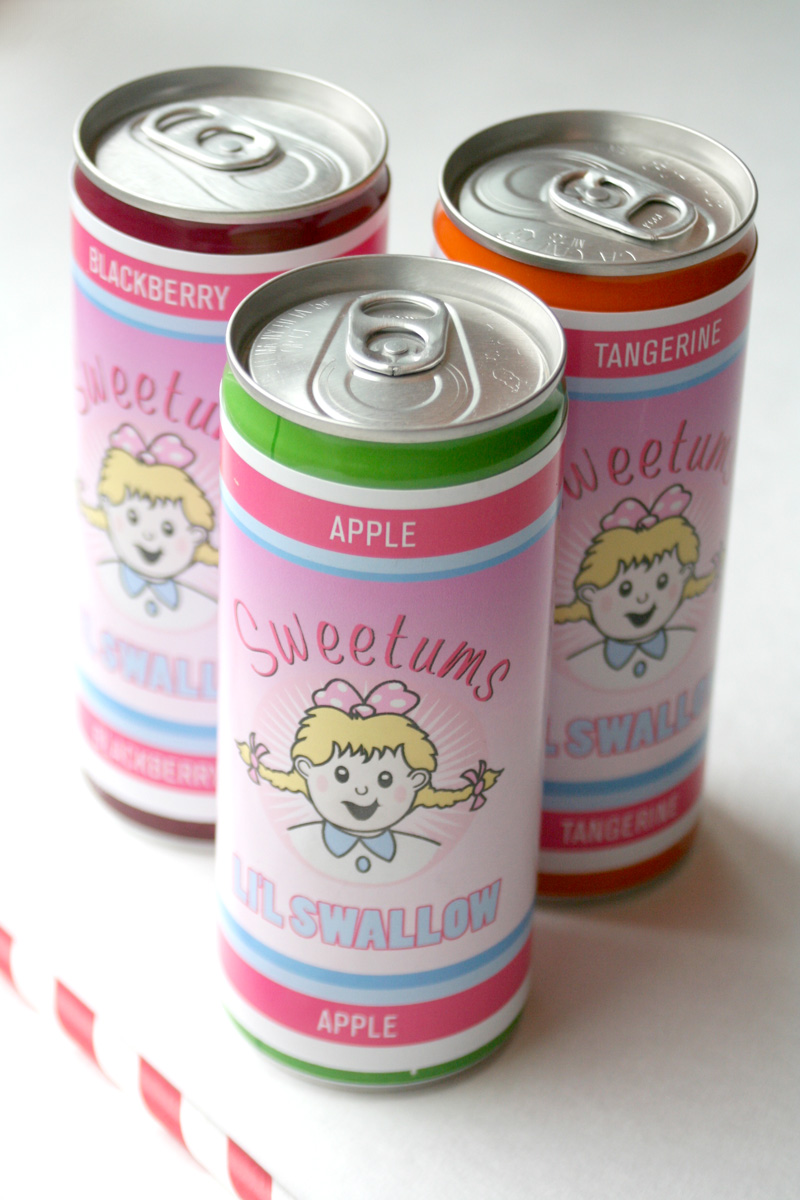 After looking around at giant cups for a long time and conteplating exactly how much soda I was going to need to buy, I realized that any reasonable amount of soda would fall under Sweetums Li'l Swallow branding.  So I made up some Sweetums Li'l Swallow labels sized to fit around those cute little Izze soda cans.
To make Li'l Swallow Cans: Download pdf below and print on shiny paper. Trim along trim marks (each page makes 2 labels). Wrap around can and tape into place.
Lil' Swallow – Blank (pdf)
Lil' Swallow – Clementine (pdf)
Lil' Swallow – Blackberry (pdf)
Lil' Swallow – Apple (pdf)
Waffle Bar with Homemade Gelato, Whipped Cream, and the Works
No Parks and Recreation Party could be complete without waffles. And lots of them.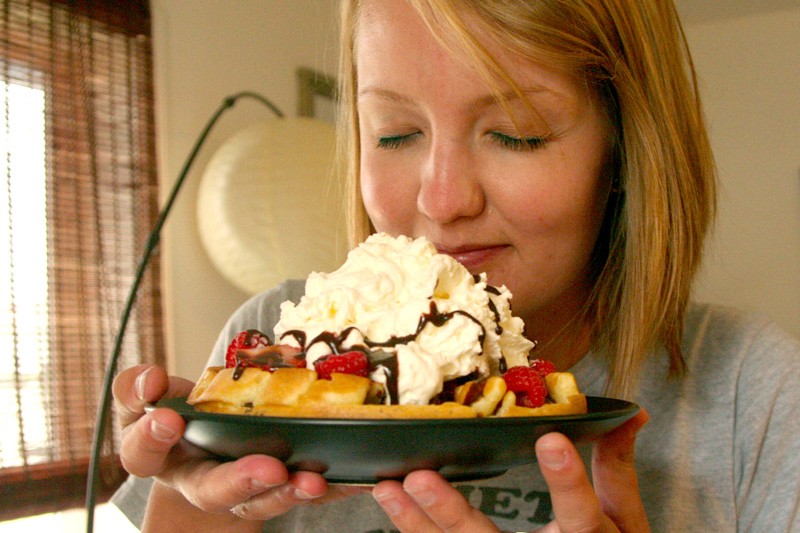 I made up a big pitcher of waffle batter and set out the waffle iron (this amazing waffle iron makes 2 giant belgian waffles at a time, perfect for parties).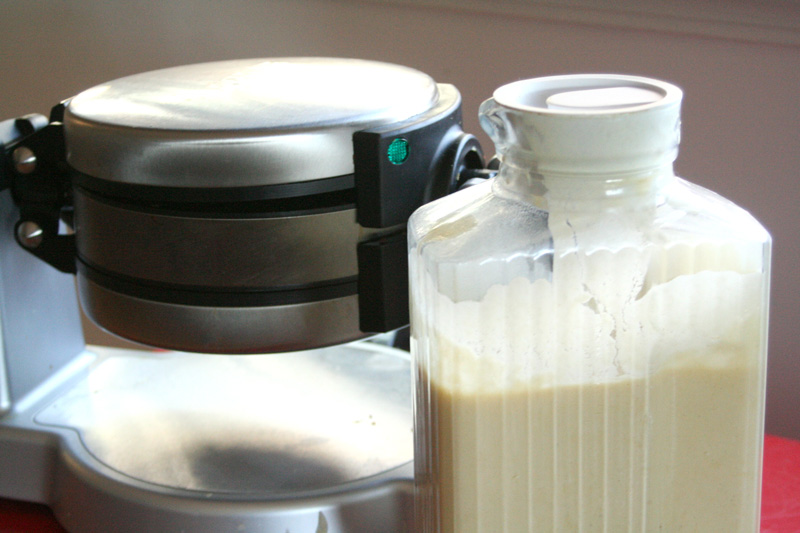 Then a bunch of sweet toppings- homemade gelato, fresh whipped cream, berries, chocolate sauce, and the classic butter and syrup for an over-the-top waffle bar.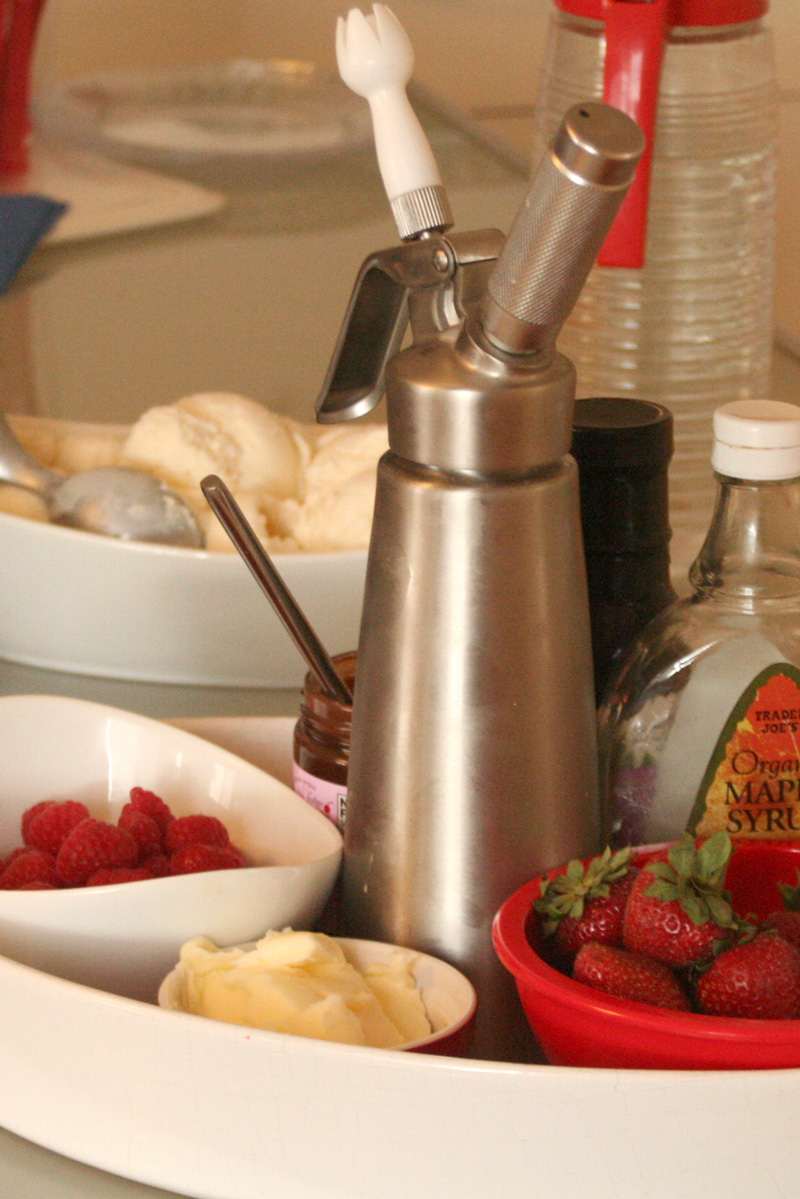 Each guest made a true masterpiece.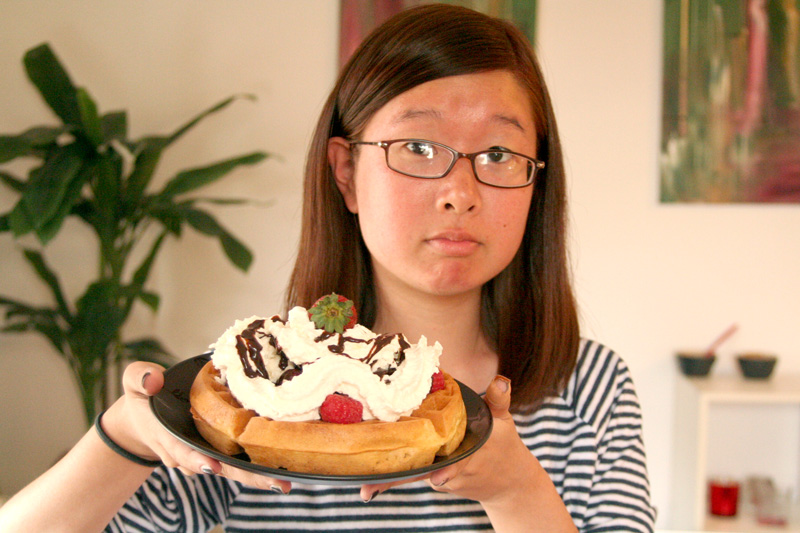 Yum.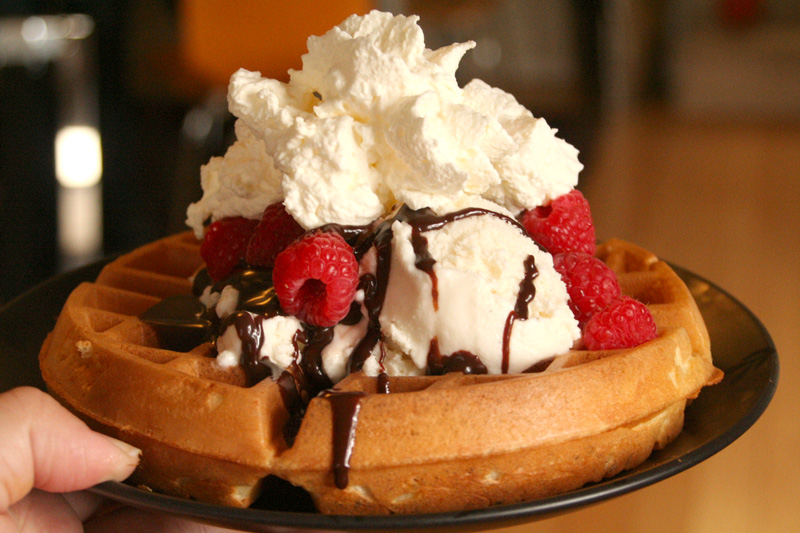 Also check out my epic Breaking Bad and Arrested Development parties.