In Honor of Skyler: White Cupcakes with Marshmallow Frosting and Dulce de Leche

For my Breaking Bad party, I really wanted something on the menu in honor of Queen of Everything: Skylar White. I came up with and almost-white vanilla cake (I'm not usually a big fan of white cake, but this is actually just a vanilla cake recipe that happens to be almost white and is so much more flavorful for it), filled with dulce de leche (for a little Albuquerque flair) and topped with fluffy, white marshmallow-y frosting. I loved how they came out so much I will be making them again and again for non- TV-related occasions, if such a thing exists. They taste like a good quality Twinkie that also happens to be oozing with dulce de leche. Yeah, okay.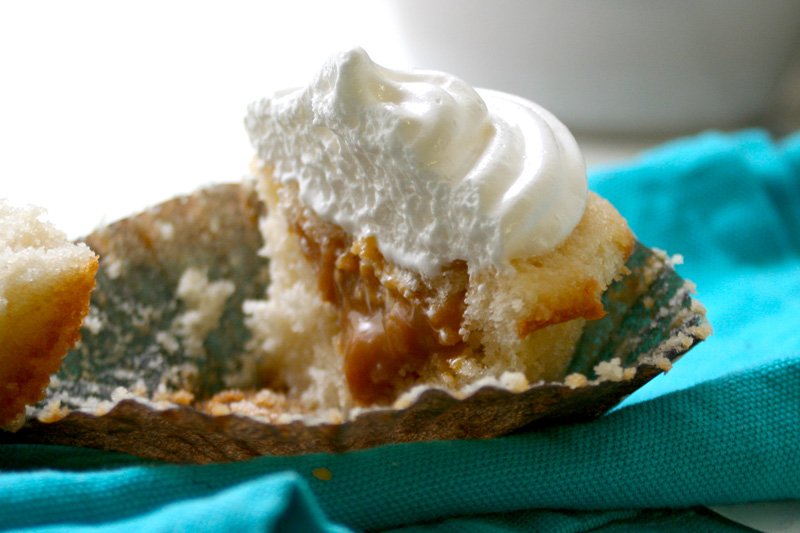 More from my Breaking Bad Party and Menu.
White Cupcakes with Marshmallow Frosting and Dulce de Leche
Dulce de Leche
1 14oz can sweetened condensed milk
large pinch of sea salt
Preheat the oven to 425.
Pour the sweetened condensed milk into a small flat pan, such as a pie plate. Sprinkle with salt and cover with foil. Place pan in a slightly larger flat pan. Place on oven rack and carefully fill larger pan with water, so it it about halfway up the sides of the small pan.
Allow to cook about 1 1/2 hours, until the milk has reached a deep caramel color.
Remove pan from water bath, remove foil and whisk until smooth (it will be thicker once cooled). Allow to cool completely.
Fluffy Vanilla Cupcakes
From Sweetapolita

5 large egg whites (room temperature)
3/4 cup whole milk (room temperature)
2 1/2 teaspoons pure vanilla extract
2 1/2 cups sifted cake flour
1 3/4 cups sugar
1 tablespoon + 1 teaspoon baking powder
3/4 teaspoon salt
12 tablespoons butter (room temperature)
Preheat oven to 350°F. Line muffin tins with papers for 24 cupcakes
In a small bowl, combine the egg whites, 1/4 cup of milk, and vanilla. Set aside.
Combine the dry ingredients in stand mixer on low speed. Add the butter and 1/2 cup of milk. Beat for 2 minutes on medium speed. Add the egg mixture a small amount at a time and continue beating for another minute.
Divide batter into tins, filled about 2/3 full. Bake for 15-20 minutes or until cake tester comes out clean. Cool in pans on racks for 10 minutes, then gently remove and complete cooling on racks.
Marshmallowy Frosting
4 egg whites
1 cup sugar
1/2 cup corn syrup
pinch of salt
Fill the bottom pan of a double boiler with water. If you don't have a double boiler, fit a metal bowl over a medium saucepan (use the metal bowl of a stand mixer if you have one). Bring water to a simmer.
In the bowl, whisk the egg whites, sugar, corn syrup, and salt until well combined. Place the bowl over the simmering water and continue to lightly whisk until the sugar has dissolved and the mixture is hot (about 130°F).
Pour mixture into the bowl of a stand mixer fitted with a whisk attachment. Whip on medium speed until big and fluffy and cooled, about 5 minutes. Use frosting within 20 minutes or so, before it sets.
For Assembly
Fill each cupcake with about 2 teaspoons of dulce de leche. My preferred method is to cut a cone shape  (about 1-1 1/2 inches around on the top) out of the center of each cooled cupcake, being sure to not cut through the bottom of the cake. Fill with dulce de leche almost to the top of the well. Optional: cut off most of the point of the cone and replace the top piece to it's original position.
Pipe with a big swirl of marshmallow frosting, completely covering the well.