Arrested Development Party Ideas and Menu – a party that WON'T make you sick and kill you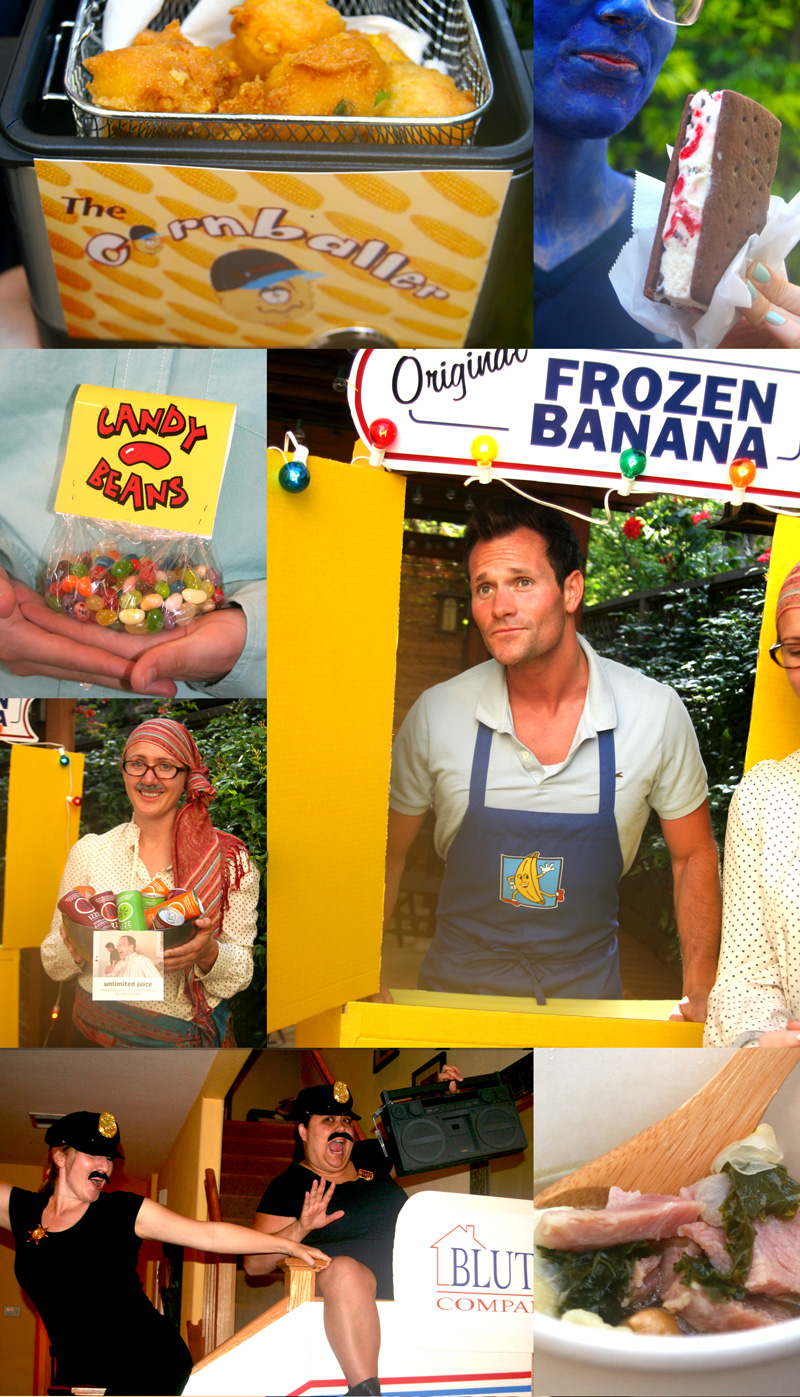 And now the story of a crazy TV theme party that had everything, and the Hot Cops that had no choice but to keep it all together… It's an Arrested Development party.
My friends and I LOVE TV theme parties, and they insisted I put one together in honor of the new season of Arrested Development.  We couldn't get the scheduling to work to have the party when the new episodes are released, so we decided to do a marathon of old episodes to get warmed up instead. New season is released on Netflix May 26th!
Banana Stand Photo Booth
There's always money in the banana stand. And fun to be had, as well! I found tri-fold cardboard (the kind for science fair projects) that was already yellow and about the right size, which made the whole process quick and easy to assemble with no construction skills required!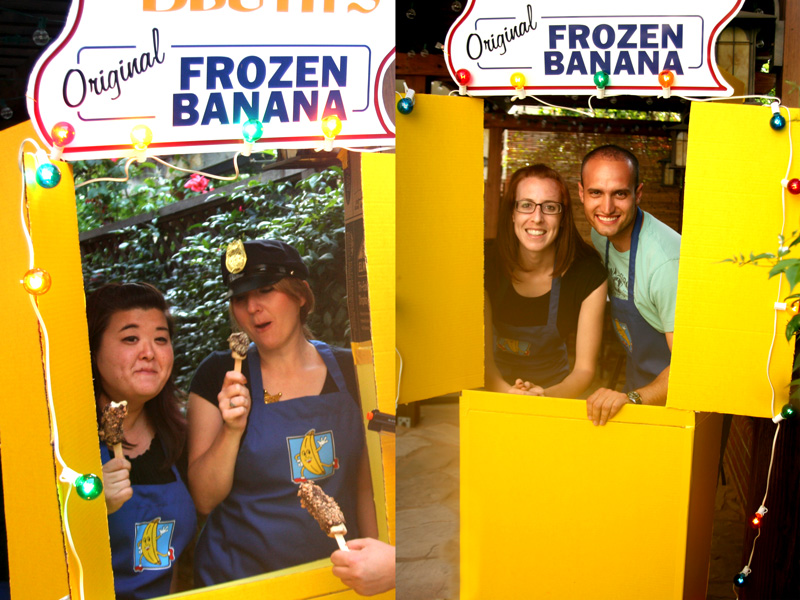 Find the instructions in a separate post here!
Costumes and Hot Cops, Games and Prizes
My friends show up in costumes whether or not they have been instructed to do so. We had several amazing Tobiases, a Lindsay, a Rita, and more. Here's my simple stealth Kitty costume.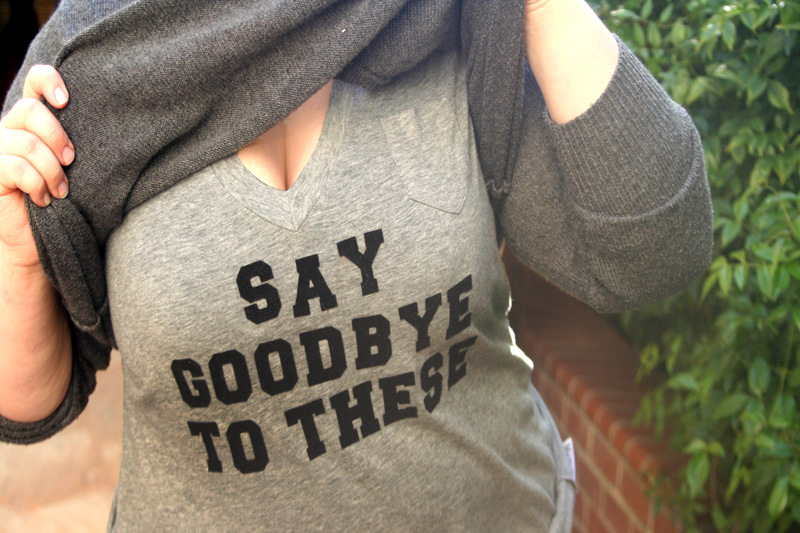 And then another of my favorite ideas from the entire party- I recruited a few less-inhibited friends to come break up the party as Hot Cops. They put on quite a show!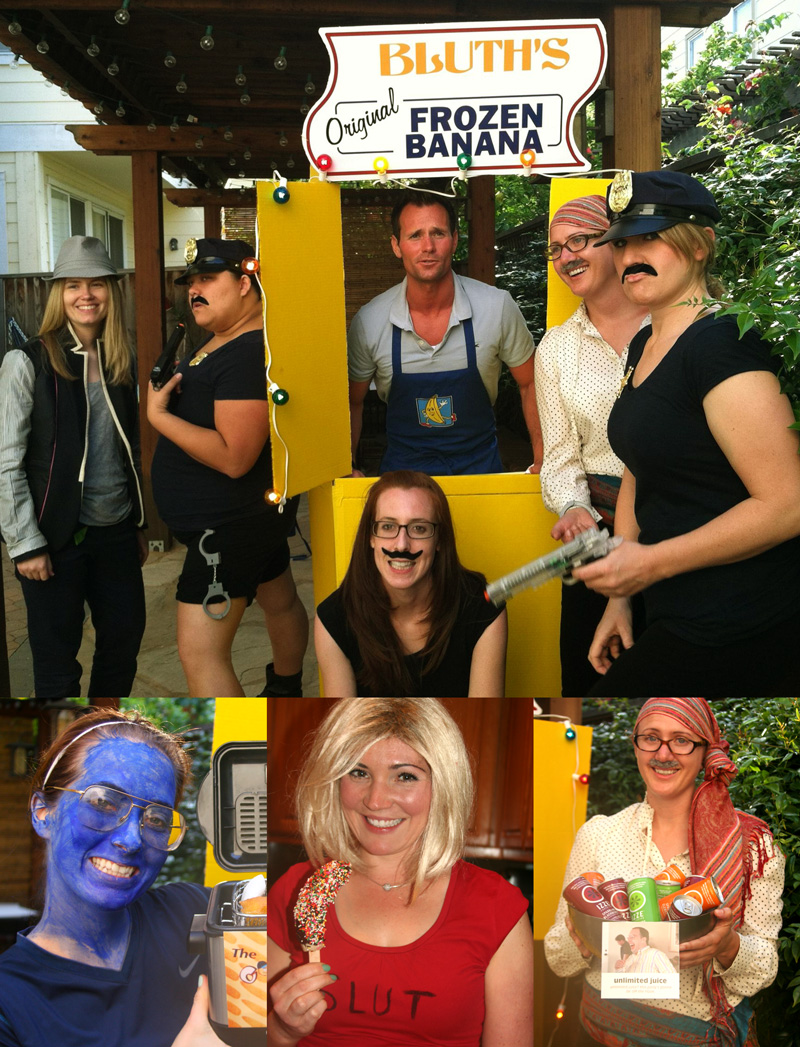 I had an Envelope Throwing Contest all ready to go, but totally forgot once the party got going. Prep and execution is simple- everyone gets three tries throwing the envelope from a starting line marked on the floor with tape. Mark the farthest distance by each thrower with another piece of tape with their name. No one's envelope will get very far, but the intended prized for the winner was a basket of muffins from the Muffin Man, a Burger King gift card, or a Netflix gift card to watch the new season. Prize also goes to best costume!
Bluth Banana Stand Aprons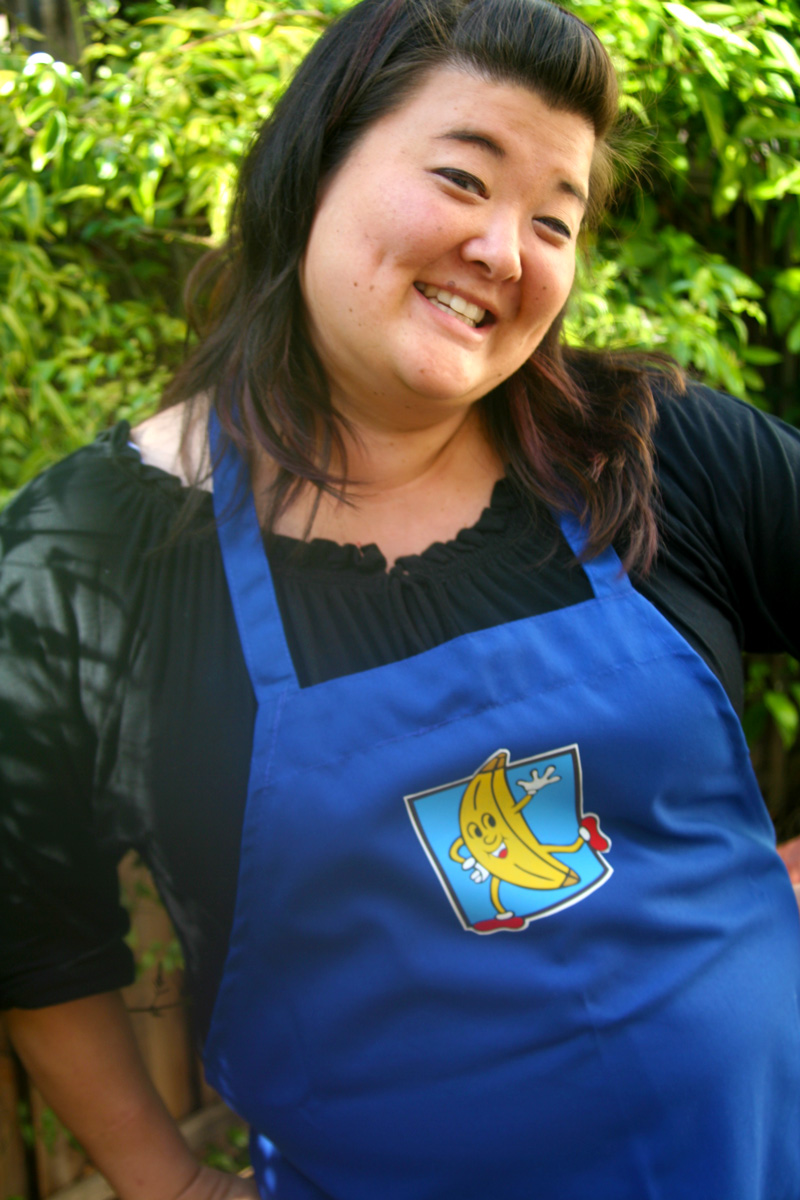 These aprons were a highlight of the evening. I did my best to recreate the banana logo, printed it out on iron-on transfer paper (make sure you get the kind for use on dark fabrics- it has a white layer underneath), trimmed carefully for about a 1/8″ margin around the design, and ironed on to some blue canvas aprons.
I made a bunch of them for posing in, but they were a huge hit and people wore them around the party all night long.
Free printable logo PDF for download (2 per page): Bluth Banana Stand Apron
Iron-On Transfer Paper (for dark fabrics)
Stair Car
If you have stairs with a railing, you are obligated to create a stair car. There will be hop-ons! We simply cut some foamcore board to fit, and painted with red and blue stripes (angled the wrong way, oops). Narrow painter's tape makes this quick and easy as long as you can get your tape straight and evenly spaced. I recreated the Bluth logo the best I could, then had it printed as a 16×20 poster at Costco Photo Center and mounted it on foam core with spray adhesive (you can order it from Costco already mounted for a little extra).
I failed to get any good pictures of the stair car, I was too distracted by the Hot Cops: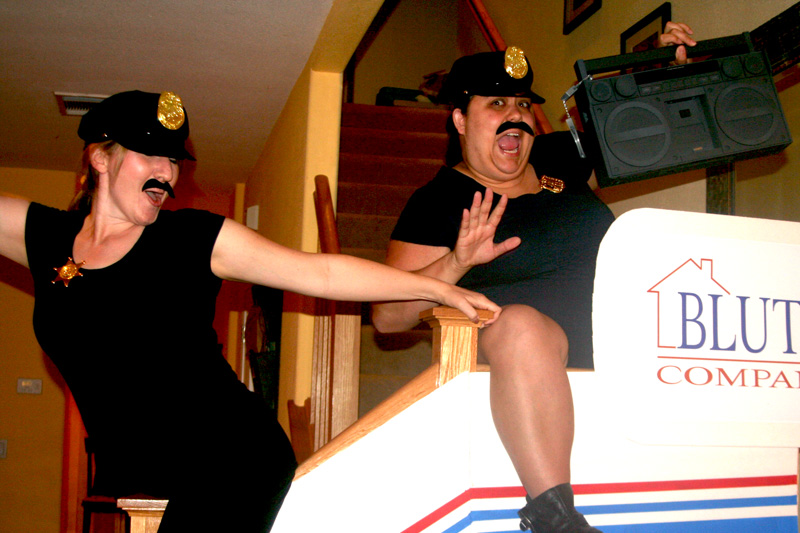 Free printable logo for download (click for hi-res version):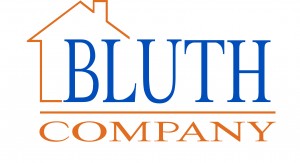 Cornballs
Maybe one of my favorite things of the night, both to eat and to amuse myself. I made a simple Cornballer label to attach to my little fryer for serving the cornballs (I ended up cooking them in a larger fryer and transferring them for serving).  You still have to watch for burns!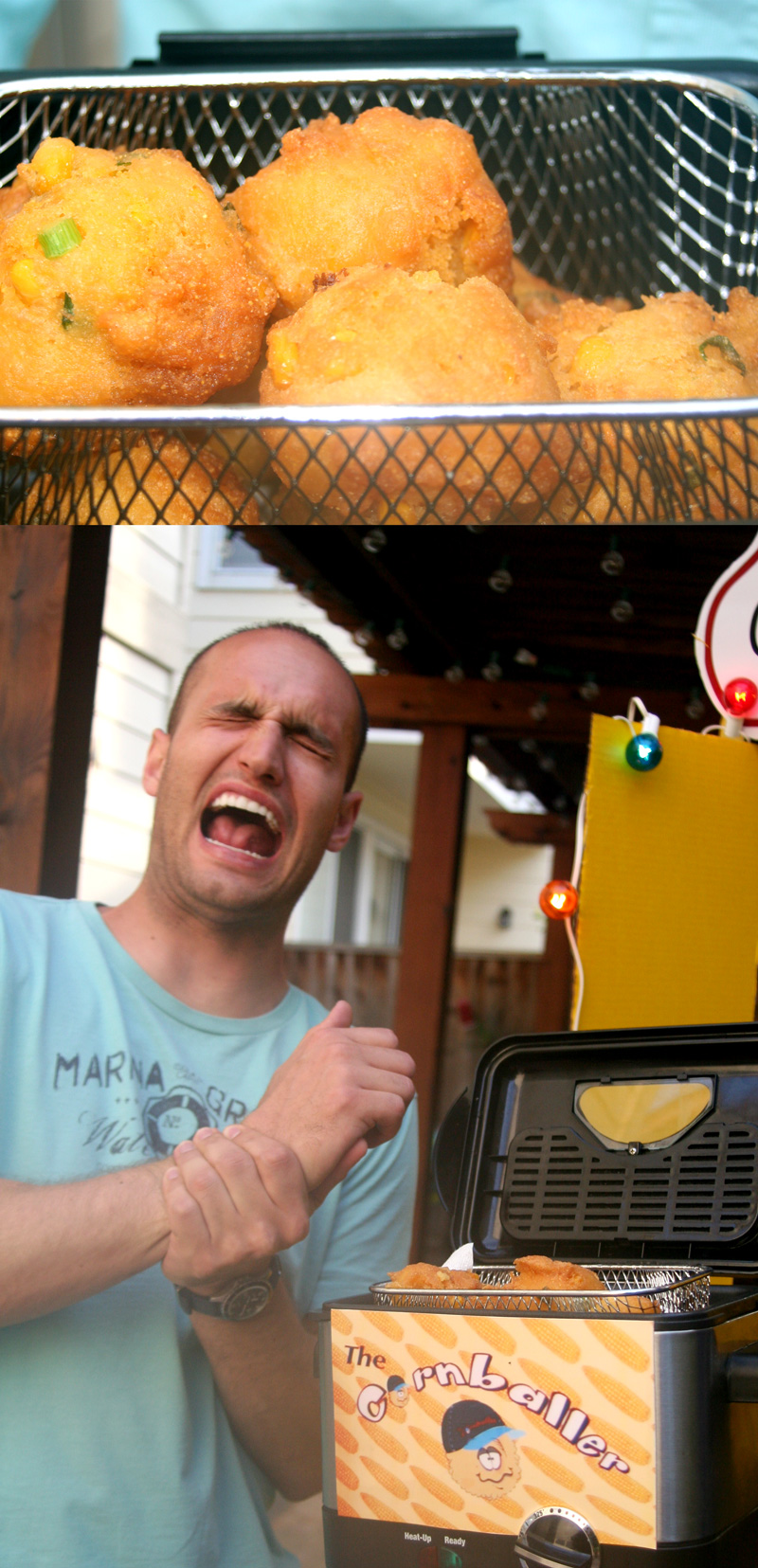 But these cornballs were off-the-charts good. It turns out soy loco por los cornballs.
Free printable Cornballer label (click for larger image):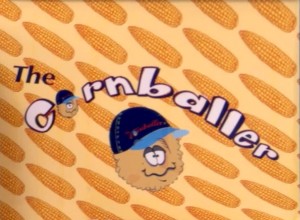 Party Favors
I can never figure out how to squeeze in enough ridiculousness to any party so a goodie bag is a good way to go. The bag itself is of course a simple "Dead Dove- do not eat" scribbled onto a paper bag.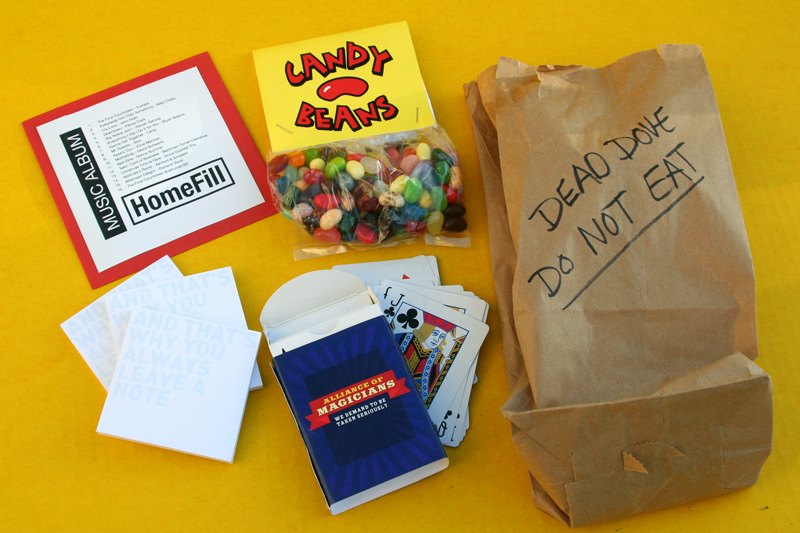 Alliance of Magicians Illusion Deck
I originally planned to order playing cards with custom backs, but missed the cutoff to get them printed in time. So I settled for creating a sleeve to go around a regular deck of  playing cards.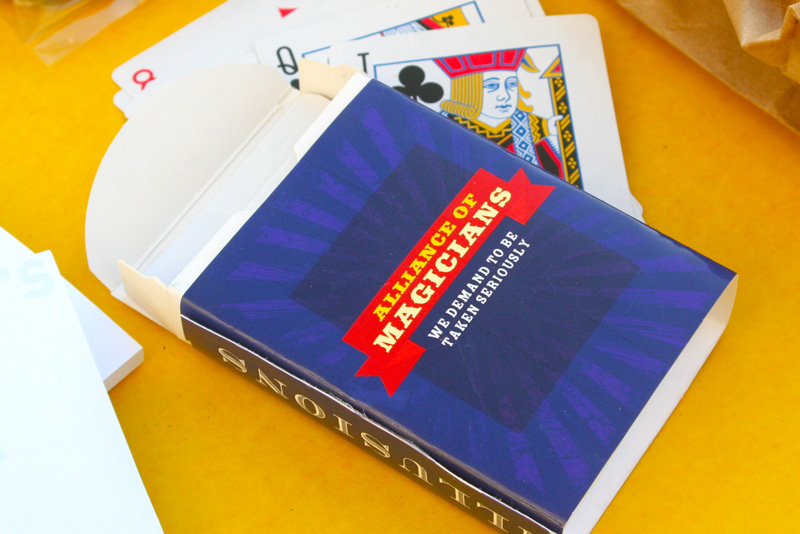 Free printable Alliance of Magicians Sleeve for Playing Cards PDF (2 per page): Alliance of Magicians Playing Card Sleeve
Print on heavy duty photo paper. Fold carefully along fold lines, making a sharp fold. Trim along trim marks using an x-acto knife and straight edge (the trick to trim marks is to not cut all the way through the edge of the paper so you don't cut off the trim marks until all the pieces have been cut out. Don't cut along the edge of the printing as it will not be the correct size). Wrap around the box of cards. Place a piece of double stick tape on the solid purple flap, and press the opposite flap firmly against it to seal.
Sized to fit around these 3.5″ x 2.5″ playing cards in their original box
Candy Beans
Of course you can just have bowls of Michael's favorite snack around at your party, but I included them in the goodie bag. The logo is based off a freeze frame of the $15 jar of candy beans he eats in the hotel.
Download free printable Candy Beans label PDF (2 per page- when folded in half the design is on each side): Candy Beans Label
Print labels on heavy cardstock or photo paper. Trim labels according to crop marks (the trick to trim marks is to not cut all the way through the edge of the paper so you don't cut off the trim marks until all the pieces have been cut out. Don't cut along the edge of the printing as it will not be the correct size) and fold in half. Fill a bag (labels are sized to fit these 4in wide clear bags) with at least a cup of good jelly beans. Fold down top of bag several times, and tuck inside folded label. Staple to secure.
"And that's why you always leave a note" sticky notes
I'm so proud of these. I custom ordered these through a printing place. Due to last minute ordering I only had the option of printing on white, but if you plan ahead better than I did you'll have more color options at other printers. The printing is intentionally faint so you can write directly over it.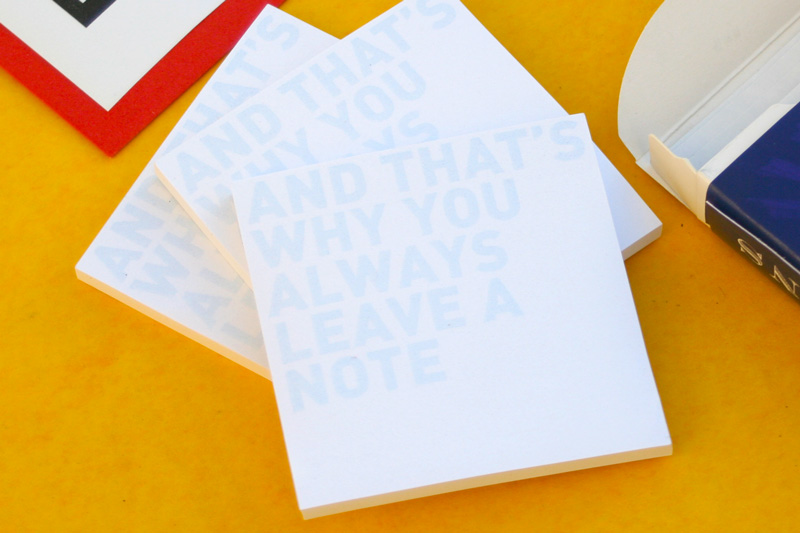 Free printable design for 3″ sticky notes PDF: "And that's why you always leave a note" Sticky Notes
HomeFill Brand Soundtrack
Arrested Development has some great music choices, so for one of the party favor items I created a soundtrack to burn to CDs. Of course you can customize the soundtrack to include your favorite songs from the show. I made a HomeFill brand label for it just because I wanted something HomeFill somewhere. Hee.
My chosen soundtrack:
The Final Countdown – Europe
Everybody Got Their Something – Nikki Costa
Cry Love – John Hiatt
Downtown – Petula Clark
Big Yellow Joint – Steven Sprung
(Everything I Do) I Do It for You – Bryan Adams
Gonna Get Together – Leroy
Mr. Roboto – Styx
Rose's Turn – Ethel Merman
Motherboy – David Schwartz
Bad Girls – Donna Summer
Takin' Care of Business – Bachman-Turner Overdrive
Christmas Time Is Here – Vince Guaraldi Trio
Solid (as a Rock) – Ashford & Simpson
Afternoon Delight – Starland Vocal
The Final Countdown (Instrumental)
Free printable HomeFill Soundtrack label PDF (4 per page): HomeFill Soundtrack Label
Menu
The big problems with planning a theme menu for any TV show are making a balanced, cohesive menu of things that will be good together, and then items that are actually GOOD to eat (thanks for nothing, Michael Scott and your bologna and ketchup sandwiches). You don't keep your friends by serving them actual Hot Ham Water, no matter if there's a smack of ham to it.
When I do a TV party menu, I also like to print up some labels with the name of the dish, but also a quote or screencap of the reference. To create your own, the font used here (which I believe is the official Arrested Development font) is Antique Olive.
Arrested Development Party Menu Food Labels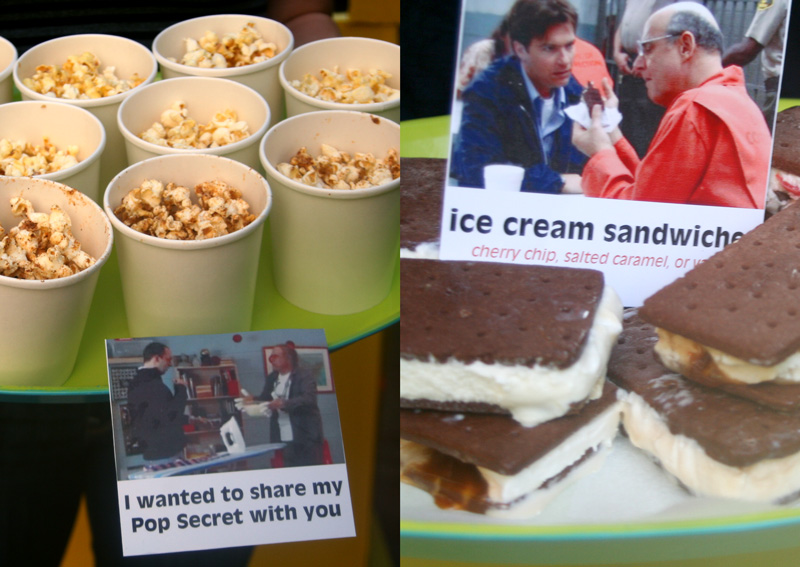 To start, I set out tubs of freshly popped Pop Pop popcorn for snacking (some with melted butter and sea salt, and some with melted butter, parmesan cheese, and chili powder in honor of Gene Parmesan), and unlimited juice.
Later, I fired up the Cornballer and served fresh cornballs (SO GOOD) with a dressed up Hot Ham Water and Carl Weathers' stew (which was a favorite), and a blue salad in honor of Tobias served with Sudden Valley dressing (just my favorite poppy seed dressing).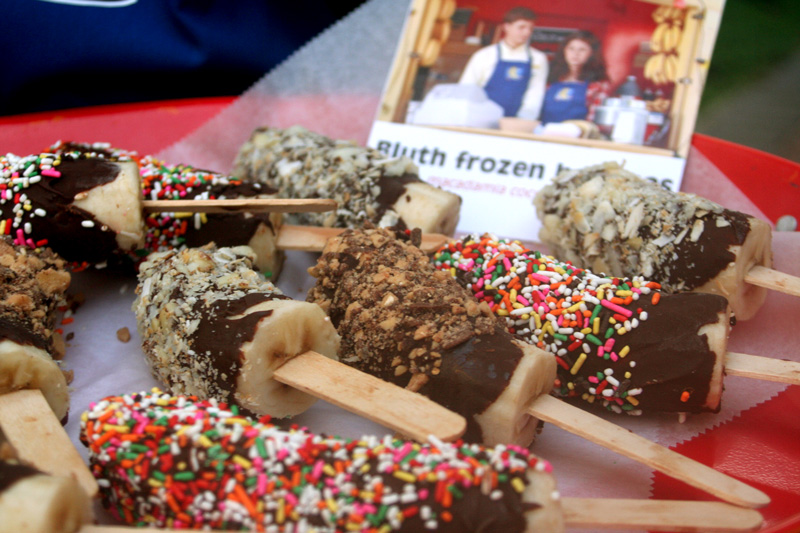 Later, I brought out trays of the signature Bluth frozen bananas (the ones rolled in toffee were the runaway favorite), and homemade ice cream sandwiches made from fresh made chocolate cookies and fresh churned gelato with various mix-ins.
My only regret is that I ran out of time for a platter of items to serve with club sauce.
As a bonus, the menu is all easy-to-make items that can all be easily made ahead, with the exception of the cornballs which should be eaten soon after they are fried. But the making cornballs is a great bonding activity for your party, and the rest of the prep is very low maintenance – heat up the soup and stew, keep the frozen bananas and ice cream sandwiches in the freezer until ready to serve.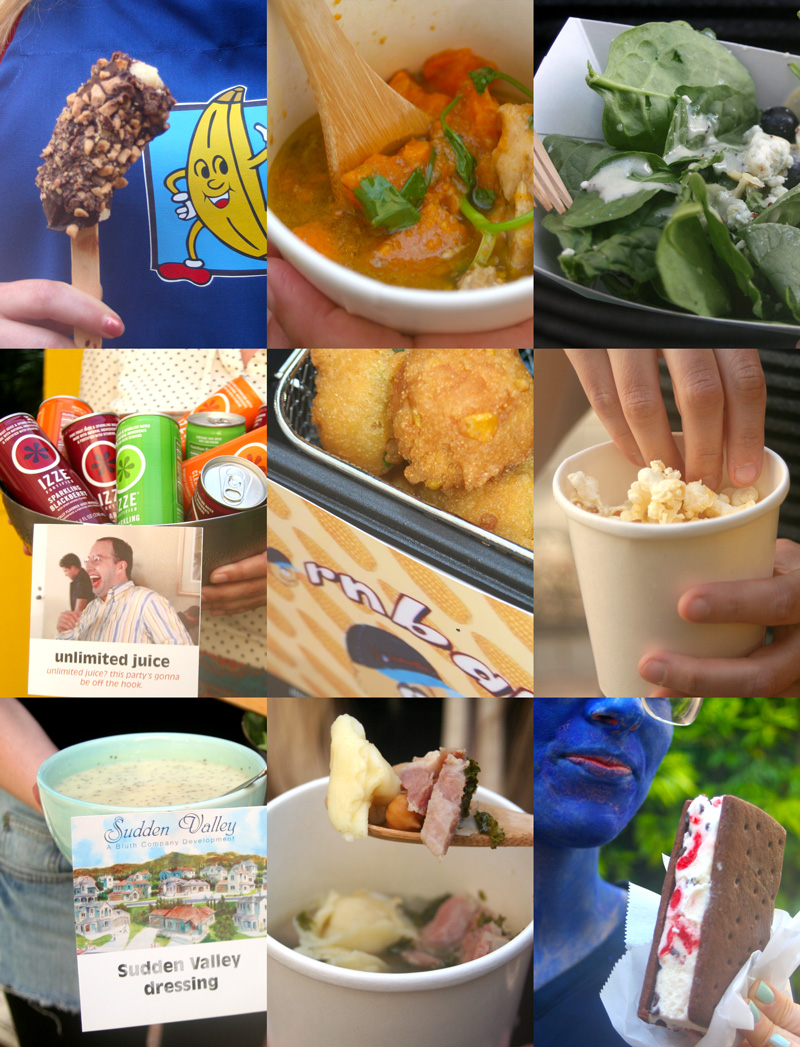 Arrested Development Party Menu
Hot Ham Water with tortellini, chickpeas, and kale
Carl Weathers' Stew with chicken, sweet potatoes, coconut milk, and curry
Bluth Cornballs made with buttermilk and fresh corn
I Just Blue Myself Salad with blueberries, blue cheese, and almonds
Frozen Bananas with toffee, toasted coconut and macadamia nuts, or sprinkles
Ice Cream Sandwiches with homemade chocolate cookies and gelato – vanilla, salted caramel, or cherry chip
Unlimited Juice
Pop Pop – Buttered or Gene Parmesan