Macadamia Cake with Lemon Cream Filling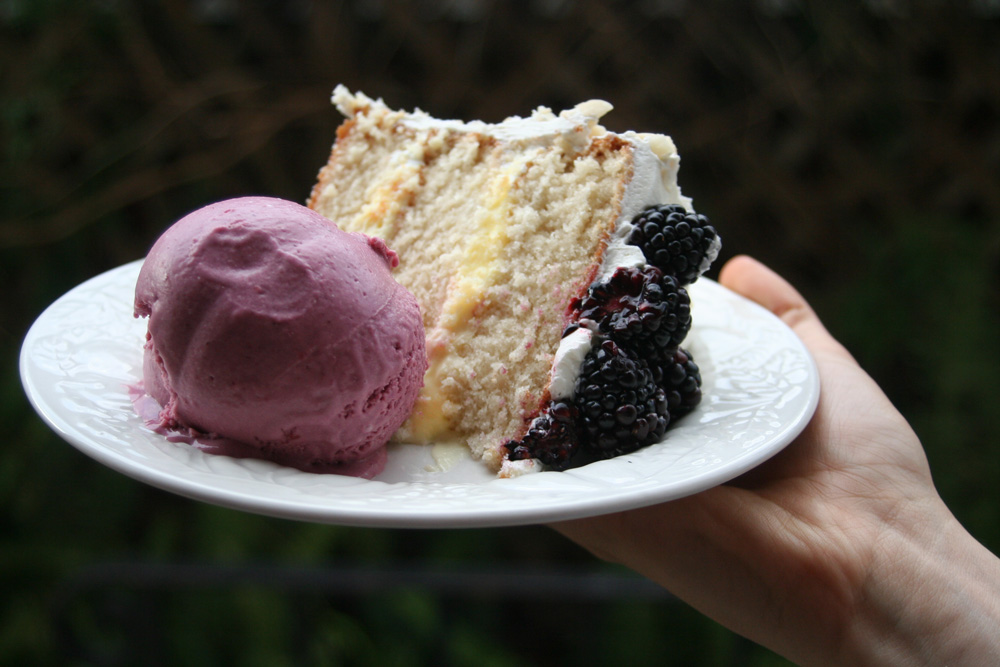 I live my life like an episode of Chopped. Except instead of a basket of ingredients I have to use to make my dish, it's that I'm too lazy to go to the store. This weekend I needed a cake that could do triple duty for a dinner celebrating two birthdays and Easter. I had a bunch of beautiful lemons, macadamia nuts, and blackberries. So this beautiful Macadamia Cake with Lemon Cream Filling and Blackberry Ice Cream came into existence! I totally would have won this episode, because it was spectacular.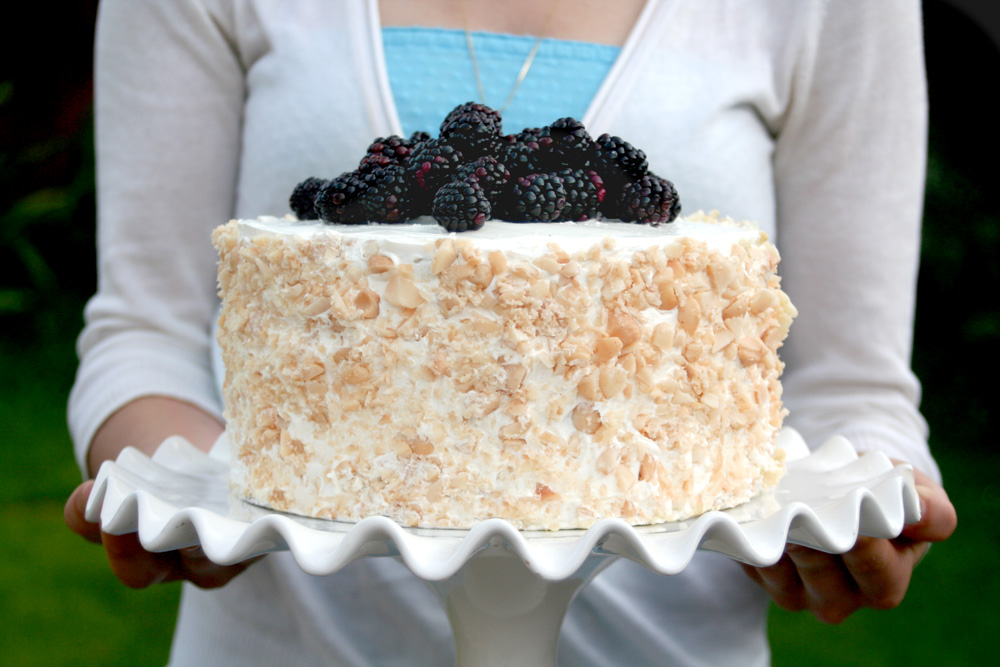 I don't regret a second I spent making this, but I have to warn you that it is a bit of a project. The three components (four including the blackberry ice cream) take a bit of time and planning. But the frosting and lemon cream can be made well in advance. For additional time savings, I might try frosting with whipped cream instead of the more time-consuming swiss meringue buttercream. Just sweeten with powdered sugar and add a little almond extract for flavor.
Don't you dare try to substitute out the lemon cream, though. This is the best part out of  several exceptionally good parts. It's similar to lemon curd, and has all the same ingredients, just put together in a different way that makes for a more luscious, creamy texture. I love it as a cake filling but I made a double batch so that I'd have leftovers to make into a pie or tart for guests that are visiting this weekend.
The cake itself is just my favorite vanilla cake recipe, dressed up with some ground macadamia nuts and almond extract. The cake is super fluffy and tender and everything a vanilla cake should be, but the macadamia nuts take it up to something special. I meant to also throw in a handful of sprinkles into the batter for a confetti look, but I didn't remember until I took the cake layers out of the oven.
Serve with fresh blackberry ice cream.
Macadamia Cake with Lemon Cream Filling
serves 12-14
Macadamia Cake
Makes a larger-than-usual 3-layer cake. Scale recipe down by 1/3 for 2 layer cake. Adapted from Sweetapolita's Fluffy Vanilla Cake.
6 large egg whites (room temperature)
1 cup + 2 tablespoons whole milk (room temperature)
2 teaspoons pure vanilla extract
1 1/2 teaspoons almond extract
3 3/4 cups sifted cake flour
2 1/3 cups sugar
2 tablespoons baking powder
1 teaspoon salt
1/3 cup finely ground macadamia nuts
18 tablespoons butter (room temperature)
Preheat oven to 350°F. Prepare three round 8-inch by greasing, lining with parchment paper, and flouring. (If you don't have 3 pans, don't worry, either do I. Divide batter into equal thirds, using a scale if you have one, and bake in shifts).
In a small bowl, combine the egg whites, 1/4 cup + 2 tablespoons of milk, vanilla, and almond extract. Set aside.
Combine the dry ingredients in stand mixer on low speed. Add the ground macadamia nuts, butter and 3/4 cup of milk. Beat for 2 minutes on medium speed. Add the egg mixture a small amount at a time and continue beating for another minute.
Divide batter into pans. Bake for 25-30 minutes or until cake tester comes out clean. Cool in pans on racks for 10 minutes, then gently remove and complete cooling on racks.
Lemon Cream
From the always perfect Baking: From My Home to Yours by Dorie Greenspan. Makes a little more than needed for the cake but I refuse to scale down this recipe as you should make and eat it all.
1 cup sugar
zest of 3 lemons
4 large eggs
3/4 cup freshly squeezed lemon juice (from 4 to 5 lemons)
21 tablespoons butter (room temperature)
Before you begin, have a thermometer, a strainer and a blender at the ready.
In a double boiler (or saucepan and metal bowl that can fit partway in), bring a few inches of water to a simmer. Add sugar and zest to top of double boiler (or bowl) and stir until zest is even incorporated. Whisk in the eggs, and then the lemon juice. Whisk constantlyuntil mixture thickens and bubbles, cooking until it reaches 180°F.
Strain cream to remove zest and thickened bits, and transfer to a blender. Let the cream cool for about 10 minutes.
Start blender, and with blender running, add butter a little bit at a time until all butter is incorporated. Continue to run on high for another 3 or 4 minutes.
Transfer to a container and cover tightly. Chill the cream for at least 4 hours. Stir before using.
Swiss Meringue Buttercream
My go-to frosting for wedding cakes and everything else. From King Arthur Flour.
1/2 cup + 2  tablespoons sugar
1/4 cup water
1/4 cup good quality meringue powder* OR 4 egg whites (room temperature) + 1/2 teaspoon cream of tarter
1/2 cup water
dash of salt
3 tablespoons sugar
1 1/2 cups (3 sticks)  butter
1 1/2 teaspoon almond extract
Combine 1/2 + 2 tablespoons sugar and water in a small saucepan. Bring to a boil, stirring occasionally to encourage sugar to dissolve. Continue to boil, without stirring, until syrup reaches 240°F.
Meanwhile, in the bowl of a stand mixer fitted with a whisk attachment, combine meringue powder or egg whites, 1/2 cup water, and dash of salt.  Beat on high until thick and opaque white, and tracks start to form. With mixer still running, gradually add sugar. Continue beating on high until stiff.
Reduce mixer speed to low to carefully add boiling hot syrup. Pour syrup down the side of the bowl, avoiding beaters, so that syrup is incorporated without splattering. Keep beating until mixture cools, to almost room temperature.
Increase speed to medium and add softened butter in small pieces. Don't panic as the texture changes, keep adding beating and adding butter. Continue beating until mixture fluffs back up and turns smooth. Add almond extract.
Frosting keeps for a week or two in the fridge, or for months in the freezer.
*You will find far superior meringue powder at cake supply stores or, of course, you can order it. Craft store brands are often sub-par with a poor aftertaste. 
For Assembly
6 oz macadamia nuts for garnish, coarsely chopped
Level cake layers with a sharp knife. Pipe a thick border of frosting around the top of the first layer to act as a dam to hold in filling. Generously fill in with lemon cream. Stack next layer on top and repeat process of creating a dam and filling with lemon cream. Top with third layer. Place in fridge for an hour or so to allow layers and filling to firm up. Create a crumb coat if desired, or just frost entire cake in one thick layer. Gently press chopped macadamia nuts up the sides. Return to fridge to firm up.