Nectarine Mascarpone Bruschetta with Balsamic Vinegar and Hazelnuts on Rosemary Toast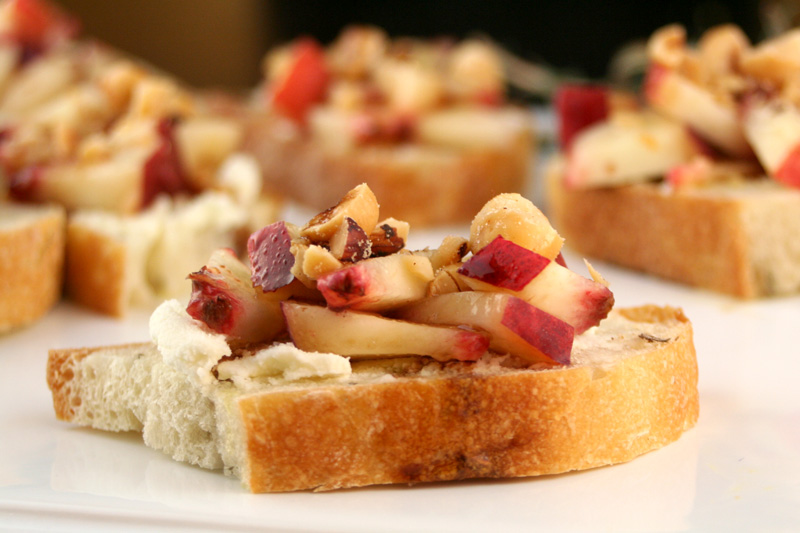 You're going to need to hurry to make these before nectarine season is over. Really. My dear friend Rebecca mentioned that she loves nectarines, so when I was planning her baby shower menu I ran with it and ended up with this slightly sweeter play on bruschetta. That maybe went a little overboard. Hoo boy. Life changing.
For Rebecca's shower, I served these deconstructed in little bowls since I didn't know how long they would be sitting out and didn't want them to get soggy.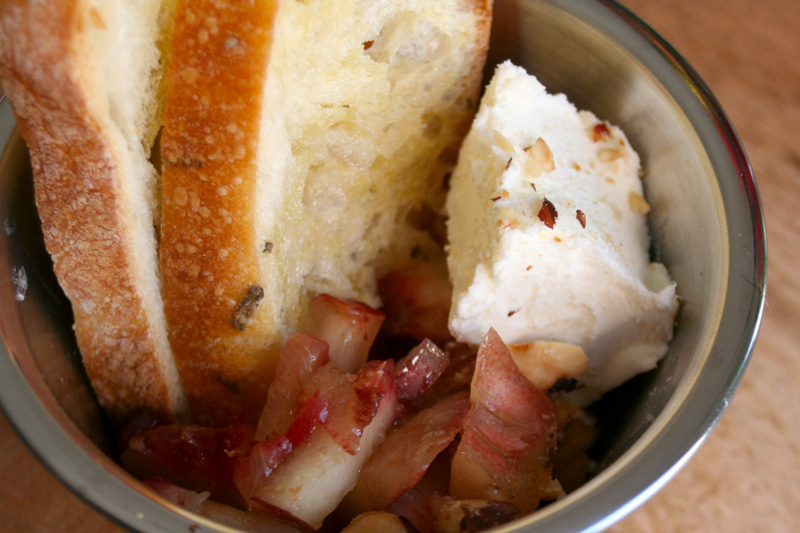 I think I may have forgotten the salt, though. Because eating the leftovers at home later with a sprinkling of sea salt was a revelation.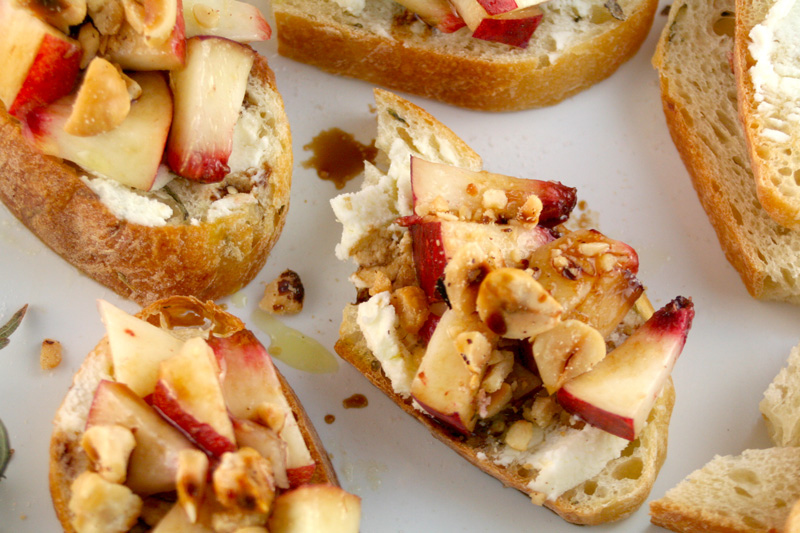 HURRY. Before nectarine season is over!
More from the Baby Shower Menu for Rebecca
Nectarine Mascarpone Bruschetta with Balsamic Vinegar and Hazelnuts on Rosemary Toast
I'm putting amounts here for shopping list purposes, but this is really a loose, play-by-ear situation. Serves 12.
1/2 lb. rosemary bread (I used the Acme Herb Slab) or any crusty bread or baguette
4-5 ripe nectarines
6 oz mascarpone
1/2 cup hazelnuts
balsamic vinegar
olive oil
sea salt
To toast hazelnuts: Spread hazelnuts in a baking sheet. Toast in a 350 degree oven for 12-15 minutes or until slightly browned and fragrant. Remove from oven and cool. Once cool, rub hazelnuts with your fingers or a towel to remove as much of the skins as possible. Some skins will still remain. Chop coarsely.
For bread: Slice bread or baguette into small slices no thicker than 1/2″. Arrange in a baking sheet and brush each slice with olive oil. Toast in a 450 degree oven for 5 or 6 minutes or until just turning golden. Remove from oven and cool.
Chop nectarines to a small dice. Spread each toast with a thick layer of mascarpone and top with diced nectarines. Drizzle liberally with olive oil and balsamic vinegar. Sprinkle with a pinch of sea salt and top with toasted hazelnuts. Serve immediately.