Layered Mango Pineapple Salsa Salad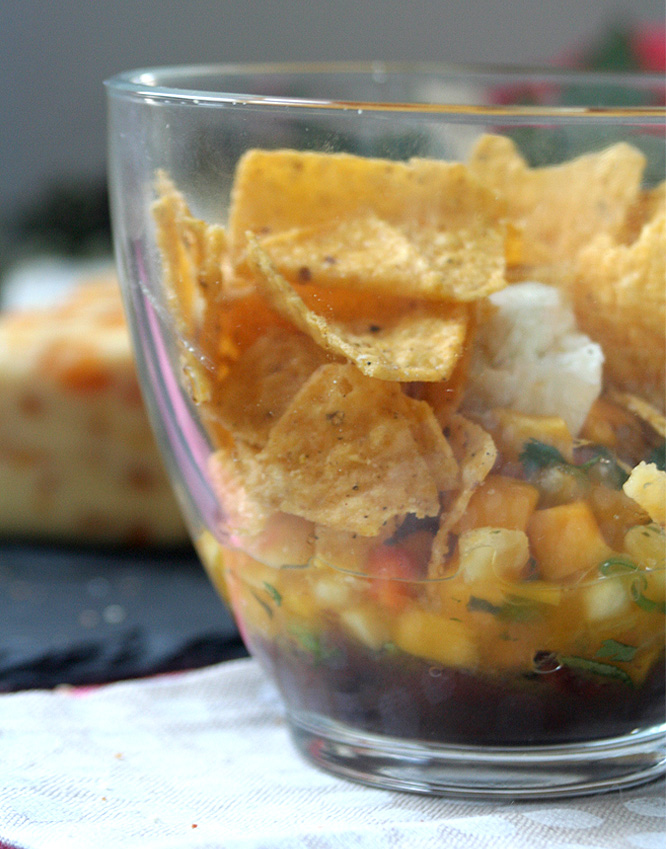 This idea did double duty this week. Layers of mango pineapple salsa, black beans, avocado and queso fresco, in individual servings and topped with a big handful of tortilla chips. The chips on top don't get soggy, and you can double-dip as much as you want! We served it in pretty glass bowls at Jordan's Housewarming Party on Sunday, then in take-home containers for Oh Happy Day Craft Night on Thursday.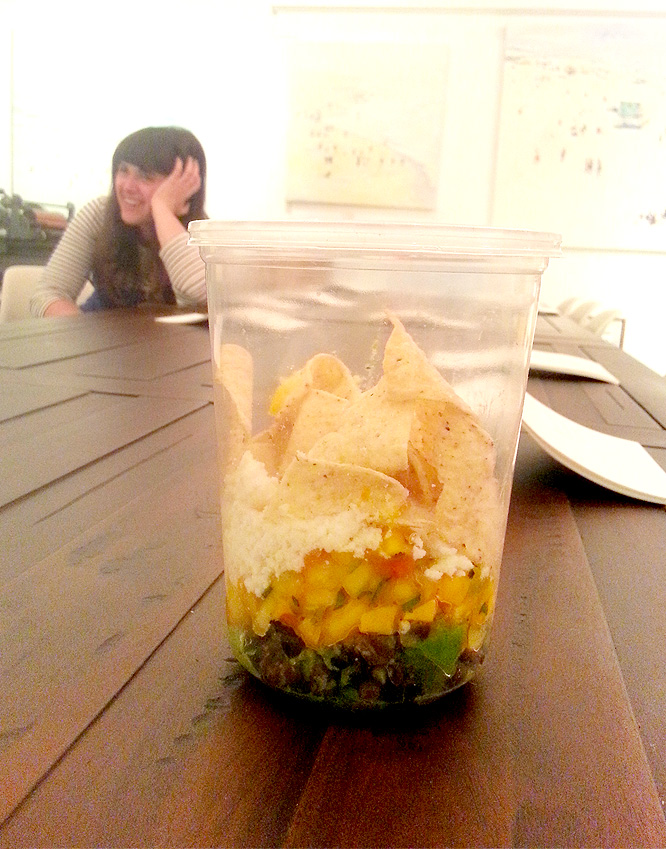 I found these quart-sized deli containers at a restaurant supply (try Smart & Final or Cash & Carry), or of course they are available online.
Serve with a fork for easier eating!
Mango Pineapple Salsa
This recipe is very flexible- feel free to mix up the types of fruit, increase or decrease the amount of jalapeño, etc.
2 mangoes, peeled, cored, and diced into very small dice (about 1/2-1/4 inch)
1 pineapple, peeled, cored, and diced into very small dice (about 1/2-1/4 inch)
1 jalapeño, very finely diced (leave out core and seeds to reduce heat)
1/2 cup chopped green onion
1/2 cup chopped cilantro
juice of 2 limes
salt to taste
Toss together and season to taste.
For Assembly
shredded lettuce or greens
black beans, drained and rinsed
avocados, cut into large chunks, tossed with lime juice and salt
queso fresco or goat cheese, crumbled
tortilla chips (I liked the look of white corn chips the best with the yellow of the salsa)
Start with a handful of lettuce at the bottom. Layer black beans, avocado, mango pineapple salsa, and queso fresco. Can be assembled and refrigerated in advance up to this point. Before serving, top with large handful of tortilla chips.