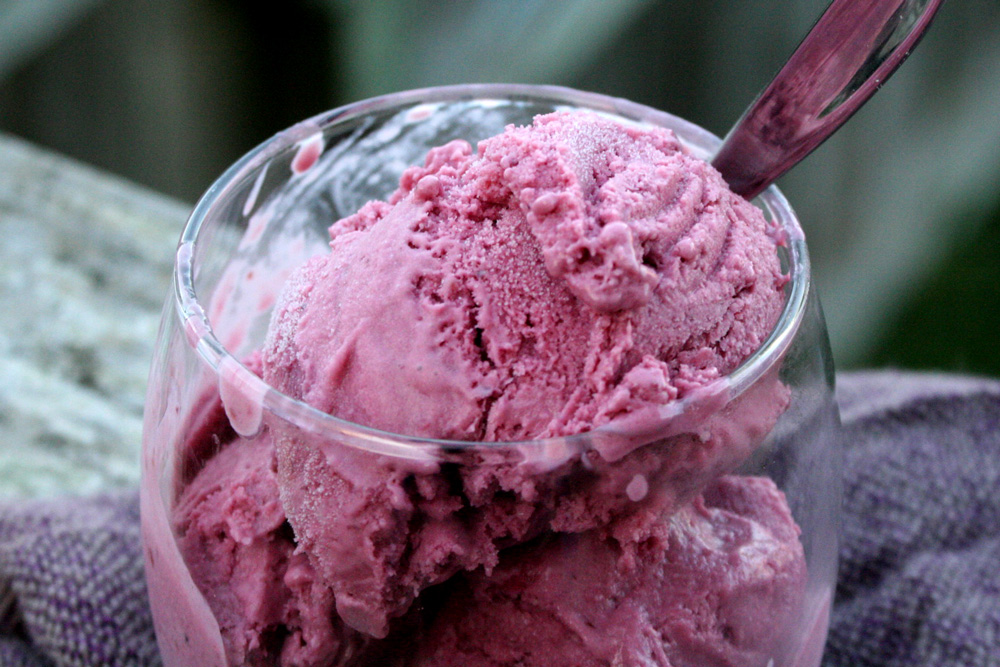 Last year I was talking to a friend and she mentioned in passing how OF COURSE she likes cake more than ice cream. It was a shocking moment to me because this never even existed in my mind as a possibility. Ice cream always wins in my mind. ALWAYS.  Thankfully we don't always have to pick. This luxurious, fresh-tasting blackberry ice cream pairs perfectly with this Macadamia Cake with Lemon Cream Filling.
Isn't that color amazing? I didn't have quite enough fresh blackberries, so I supplemented with a few frozen blackberries and raspberries from the freezer. I needed about a pound and a half to get the right amount once pureed and strained to remove the seeds.
Blackberry Ice Cream
Adapted from The Perfect Scoop: Ice Creams, Sorbets, Granitas, and Sweet Accompaniments
 by David Lebovitz. Makes about 1 quart.
4 egg yolks
1 1/2 cups whole milk or half-and-half
1 cup sugar
1 1/2 cups cream
1 1/2 cups strained blackberry puree
2 tablespoons fresh lemon juice
Whisk yolks together in a medium bowl and set aside. Meanwhile, in a medium saucepan, warm the milk and sugar. Whisk the warm milk into the egg yolks, stirring constantly. Return the mixture to the saucepan.
Heat slowly over medium heat, whisking constantly until mixture thickens and coats a spoon. Strain into a large bowl, removing any lumps. Whisk in cream, blackberry puree, and lemon juice. Allow to cool to room temperature.
Chill thoroughly in refrigerator, then freeze in ice cream maker.