Goat Cheese Mousse with Beets and Oranges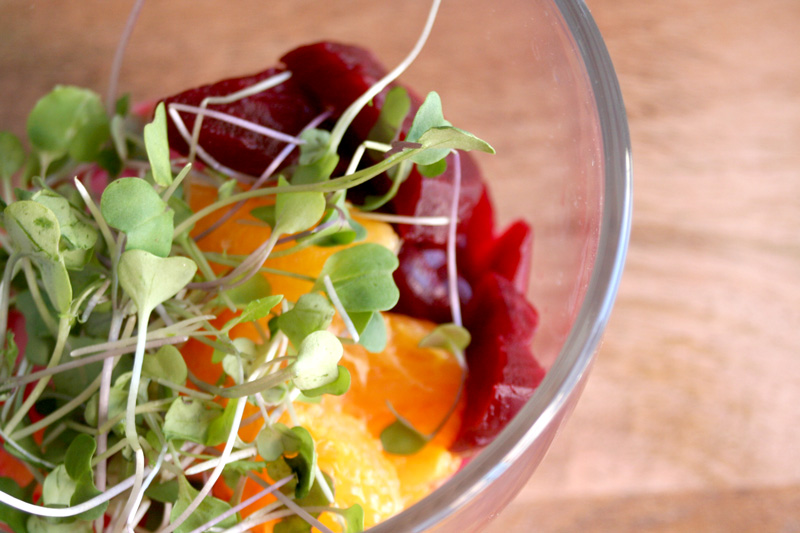 It's not a party without beets. Right? Well, I served them with goat cheese mousse for Rebecca's baby shower and the bowls were scraped clean so I'm going to run with it. The goat cheese mousse really is special. It's light and airy, and comes together in minutes. It's flavorful enough that all it needs is a simple salad of beets and oranges to balance out the richness to take it to spectacular.
The beets and oranges are unexpected but lovely flavor combination. I've used them together with greens for a salad previously, and loved it so much that I kept it filed away in my mind for an occasion such as this. And you can't beat that vivid color palette.
The whole dish is ridiculously quick if you can find already cooked beets. I got these at Costco (San Francisco's Costco is pretty pretentious), or I've seen them at Trader Joe's.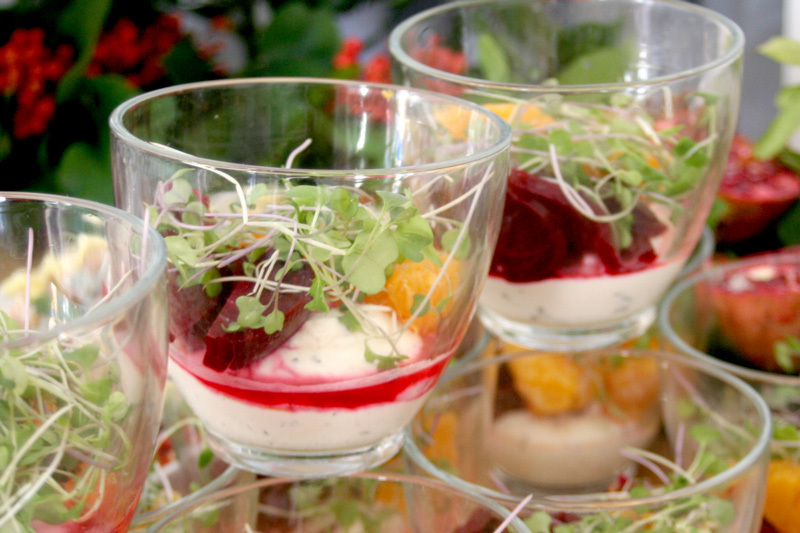 For the party I served in individual bowls, easy to pick up appetizer-style, but this would also be a lovely first course for a sit-down dinner.
Sigh. I had so many lovely glamour shots of this dish, but my hard drive crashed yet again. These are the only ones that survived. It's my own fault for not having everything all backed up (are you reading this, dear students?), but who knew beets could be so chic?
More from my Baby Shower Menu for Rebecca.
Goat Cheese Mousse with Beets and Oranges
Serves 6
For Goat Cheese Mousse
1 1/2 cups whipping cream
12 oz goat cheese (chèvre), room temperature
1 1/2 tablespoons fresh thyme leaves, chopped
1 teaspoon minced garlic
1/2 teaspoon salt
pinch of pepper
In a mixer fitted with a whisk attachment, beat cream to stiff peaks. Remove all but about a half cup of the whipped cream from the mixer bowl and set aside. Add the goat cheese and beat until light and a little fluffy. Add thyme, garlic, salt and pepper, beat until combined. Add the whipped cream back in and beat until just smooth. Taste and add more salt and pepper if needed.
Refrigerate 2 or 3 hours, or until firmed up a bit.
For Assembly
5-6 large beets, peeled and cooked
2 oranges
micro greens for garnish (optional)
If your beets are not already cooked, you can steam or roast them. Once cool, slice or cut into wedges.
Separate the oranges into sections and remove as much of the membranes as possible.
Pipe or spoon mousse into bowls. Top each bowl with beets and oranges (carefully to avoid the beets staining the oranges too much). Top with micro greens if desired.